Moon Cutlery: Polished Gold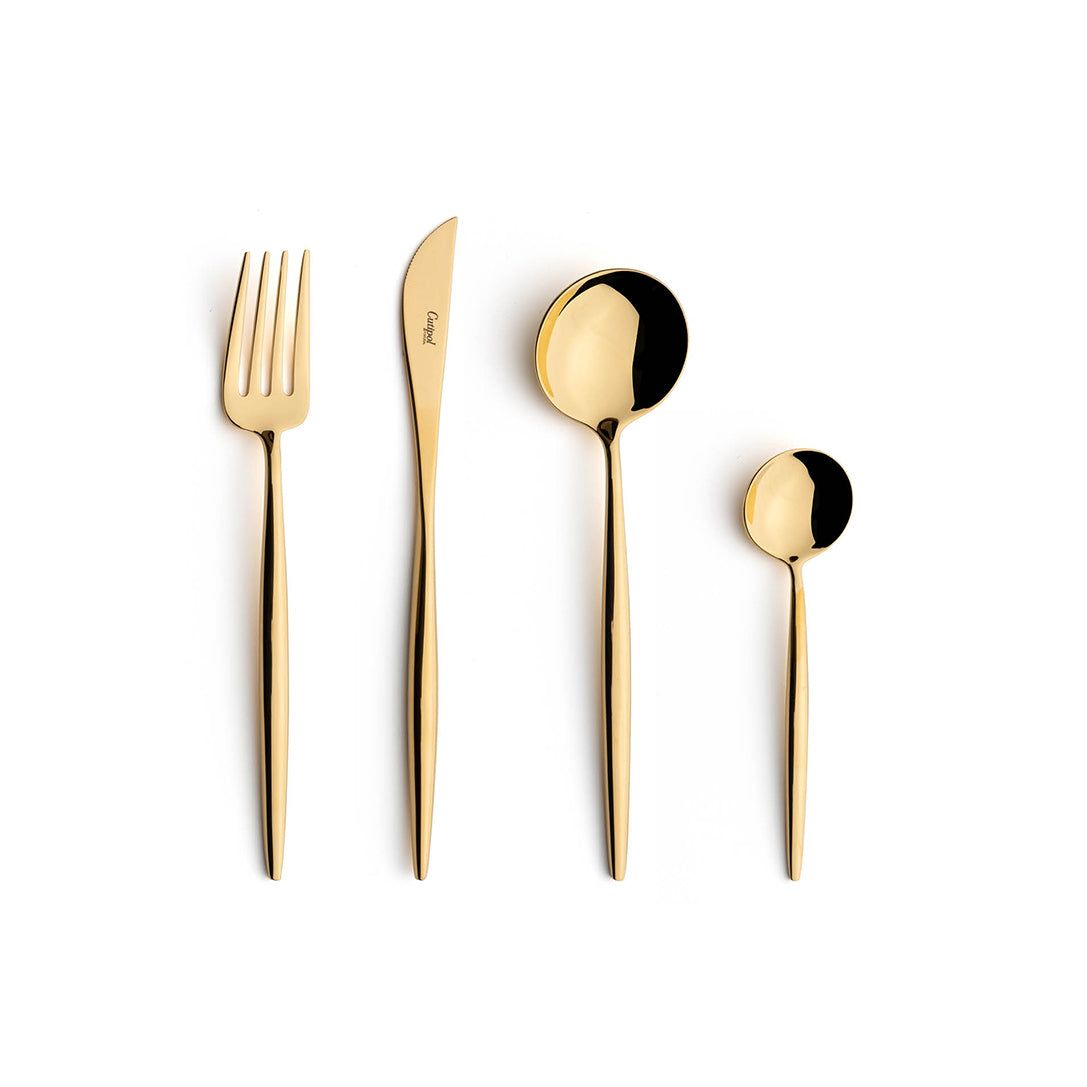 Moon Cutlery: Polished Gold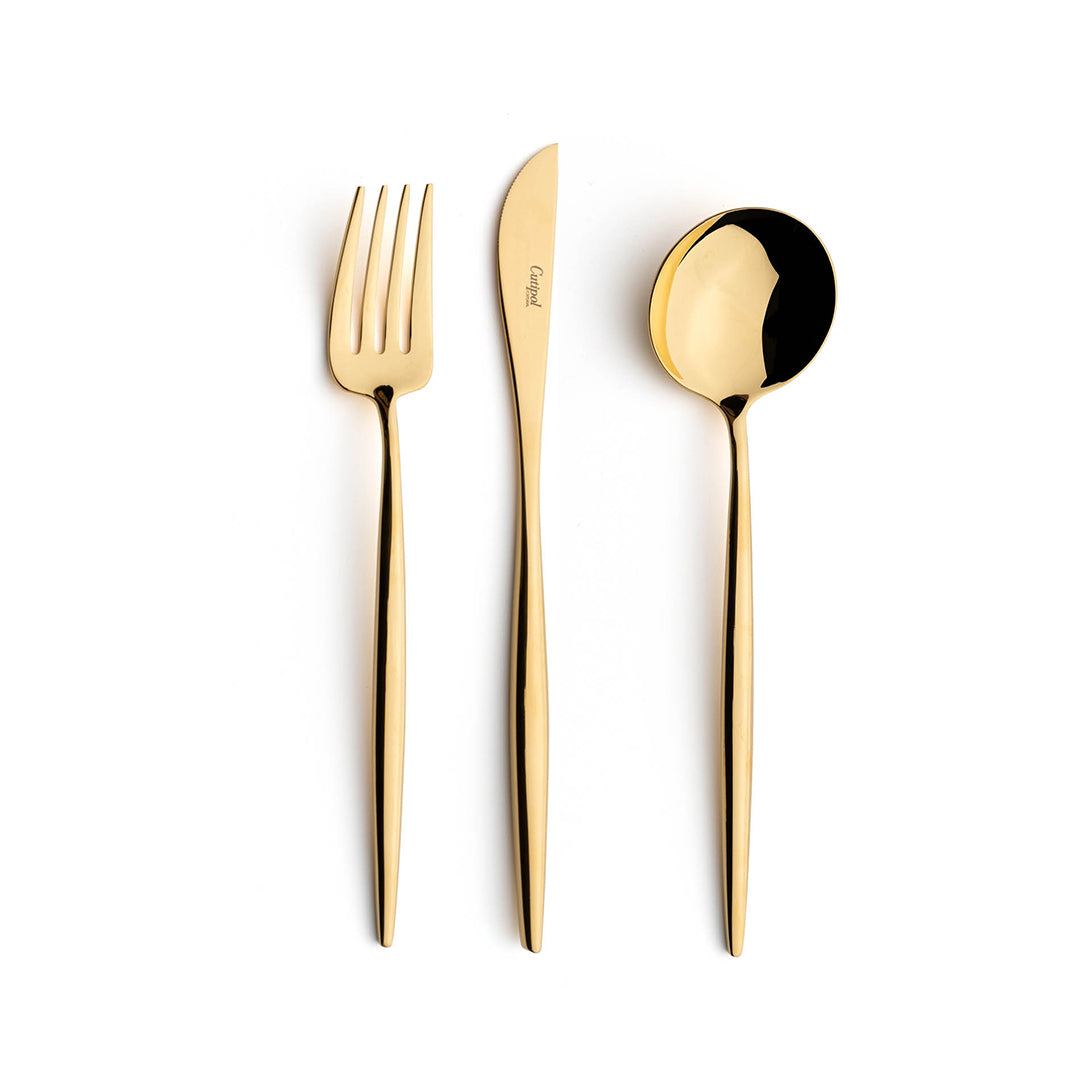 Moon Cutlery: Polished Gold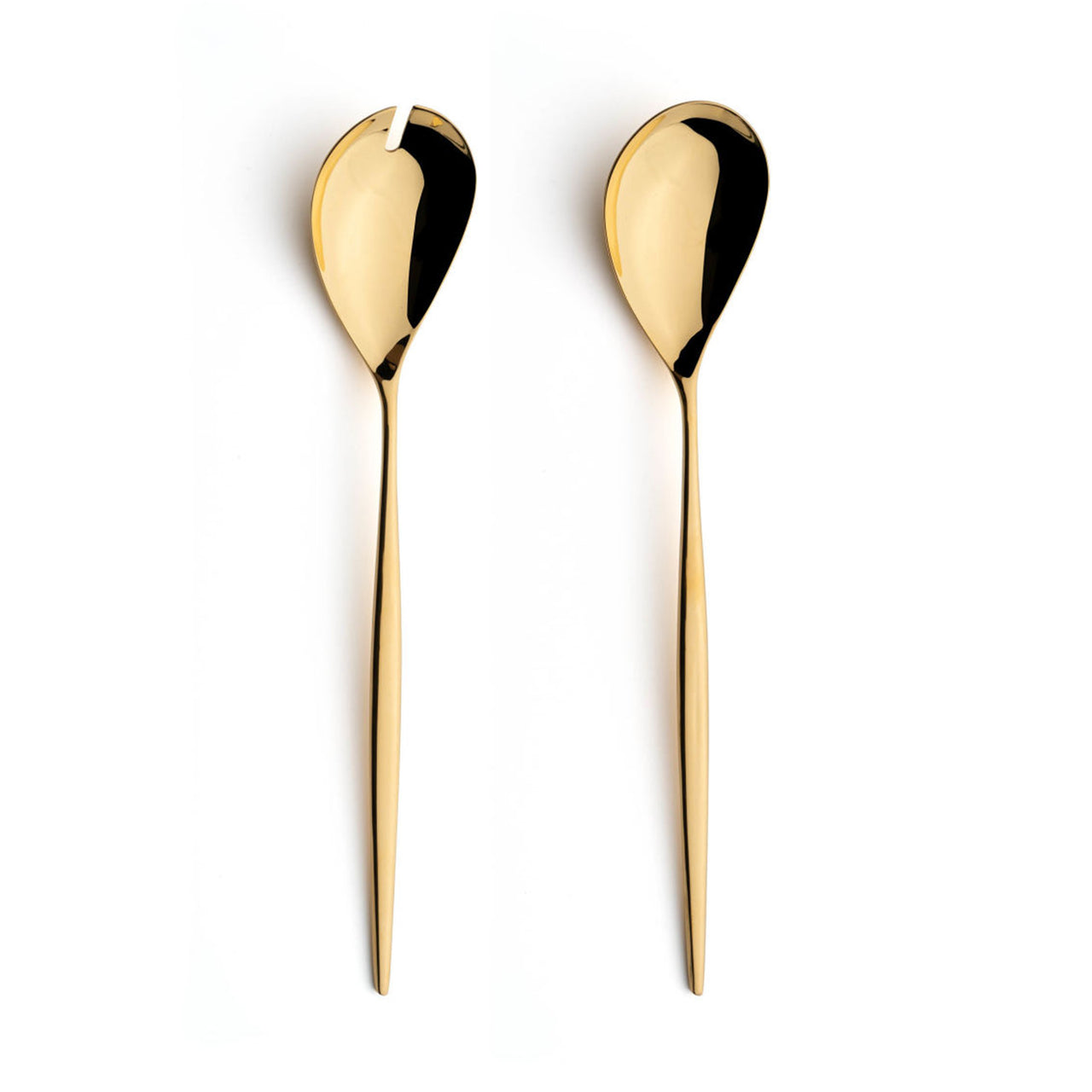 Moon Flatware: Polished Gold: Salad Set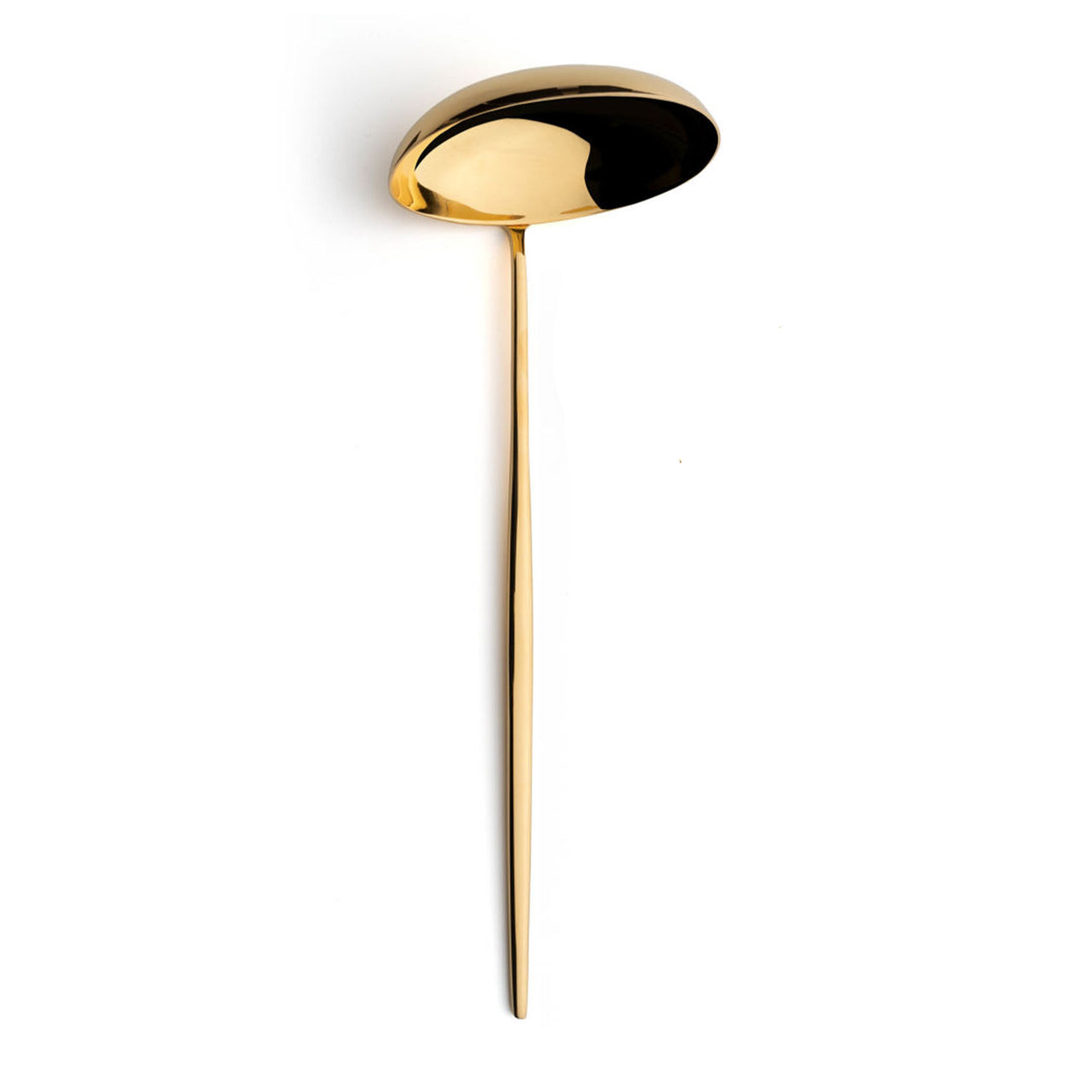 Moon Flatware: Polished Gold: Soup Ladle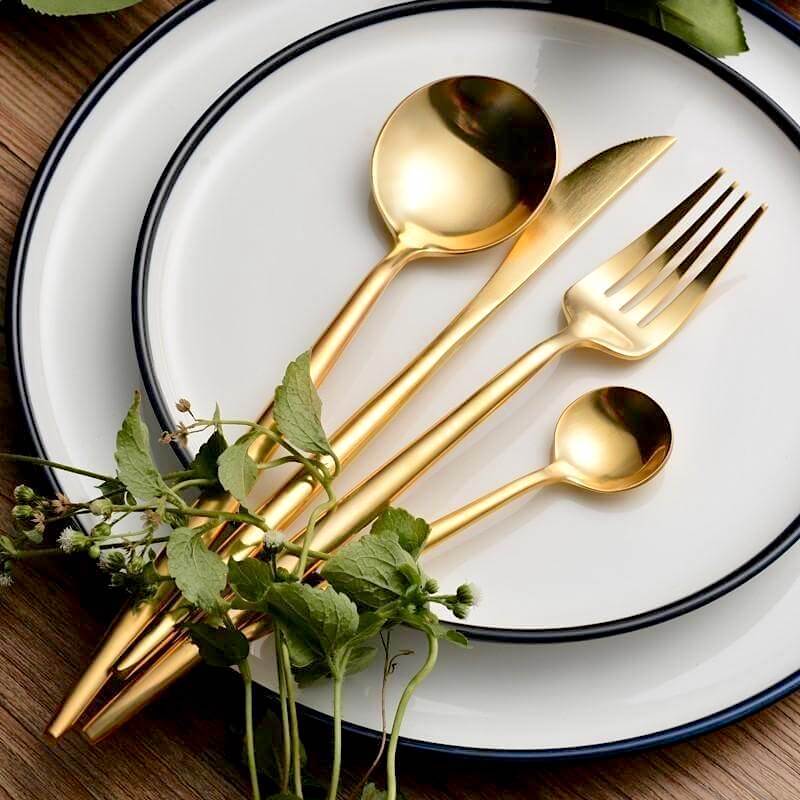 insitu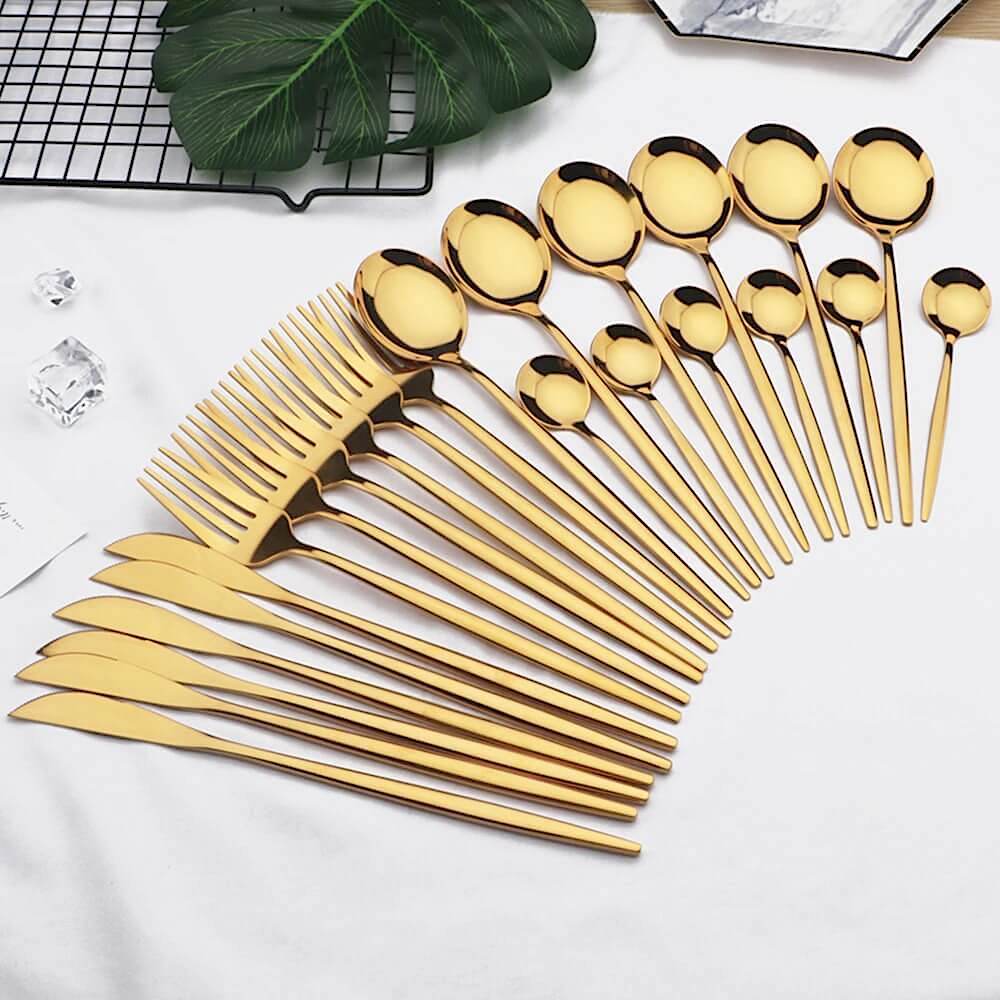 insitu
Moon Cutlery: Polished Gold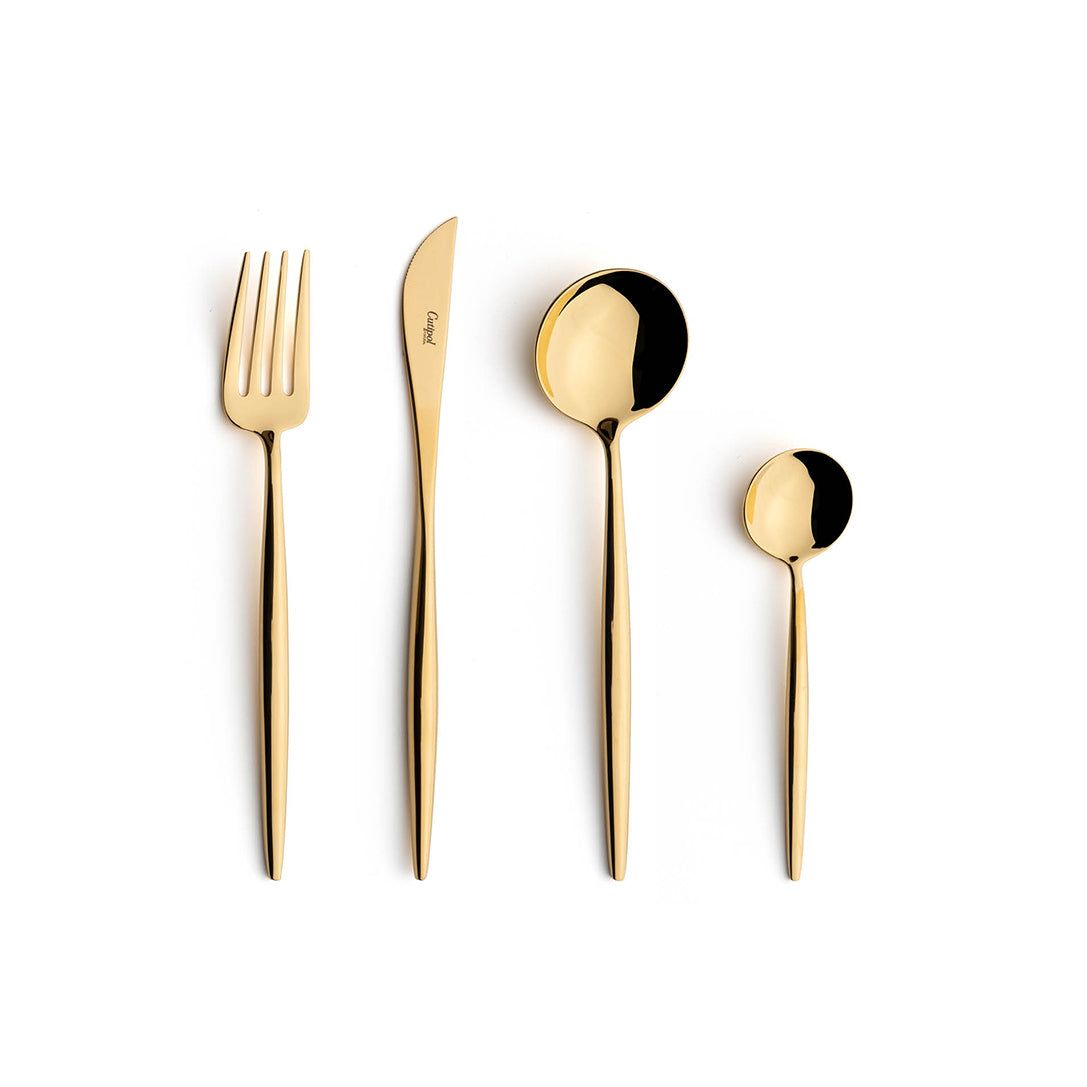 Moon Cutlery: Polished Gold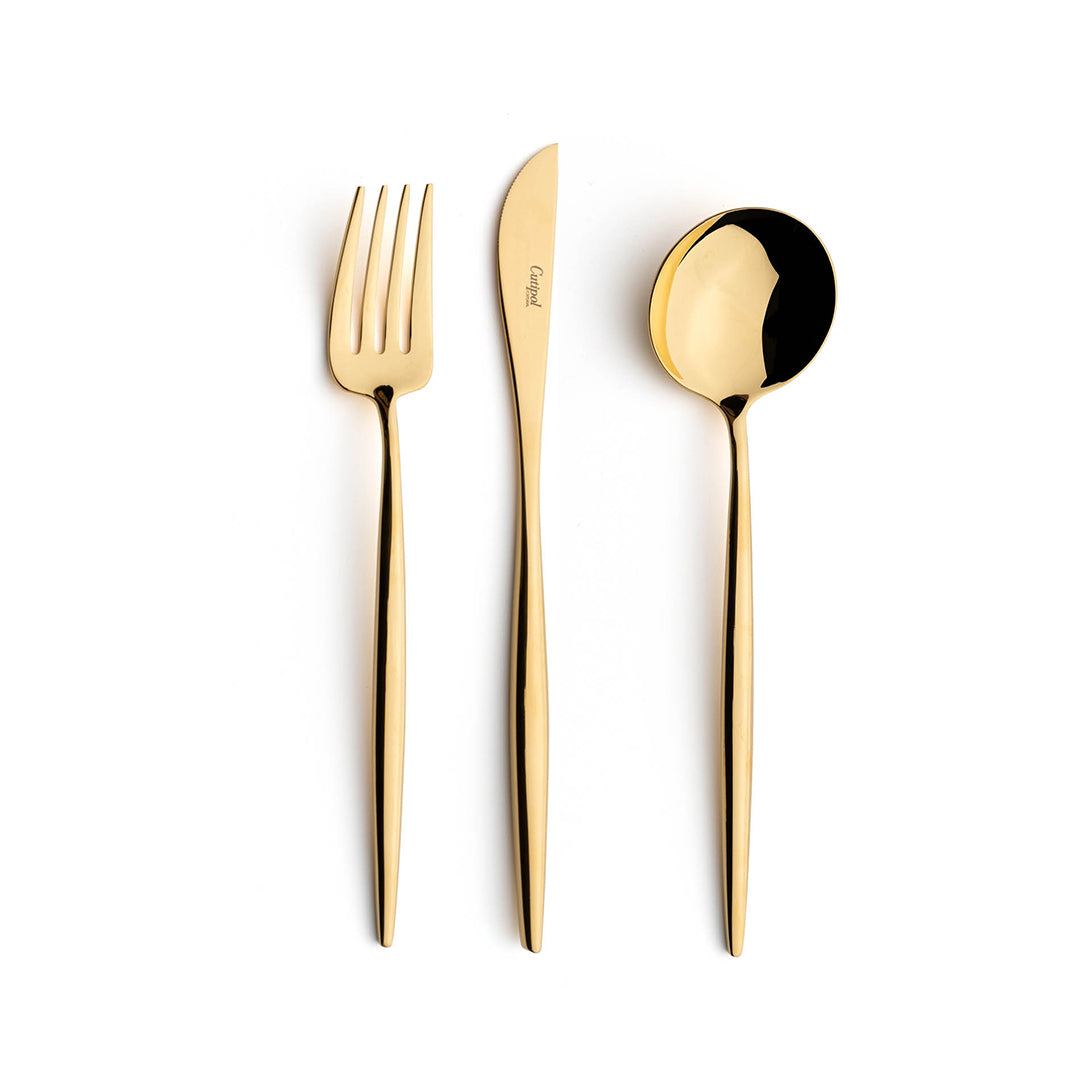 Moon Cutlery: Polished Gold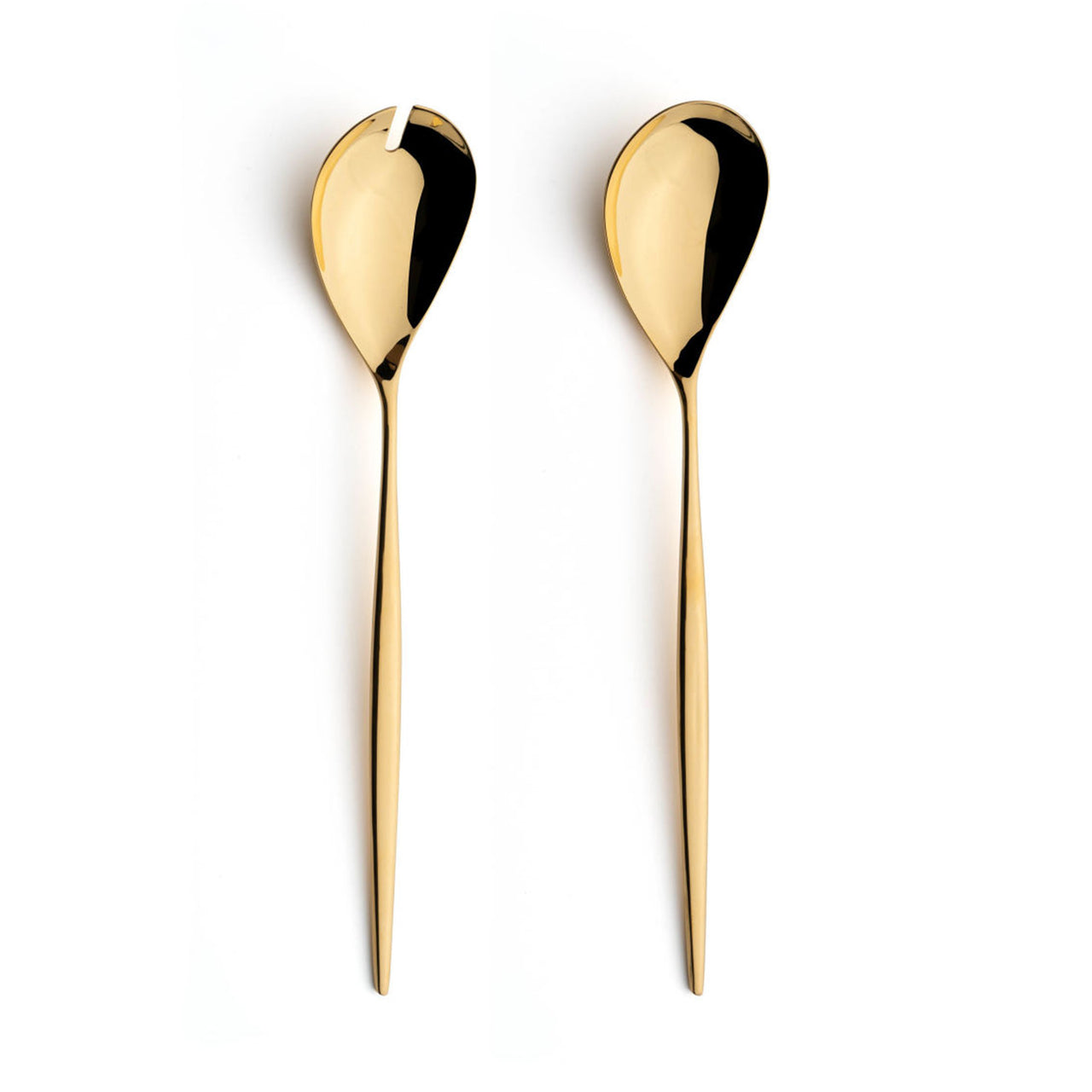 Moon Flatware: Polished Gold: Salad Set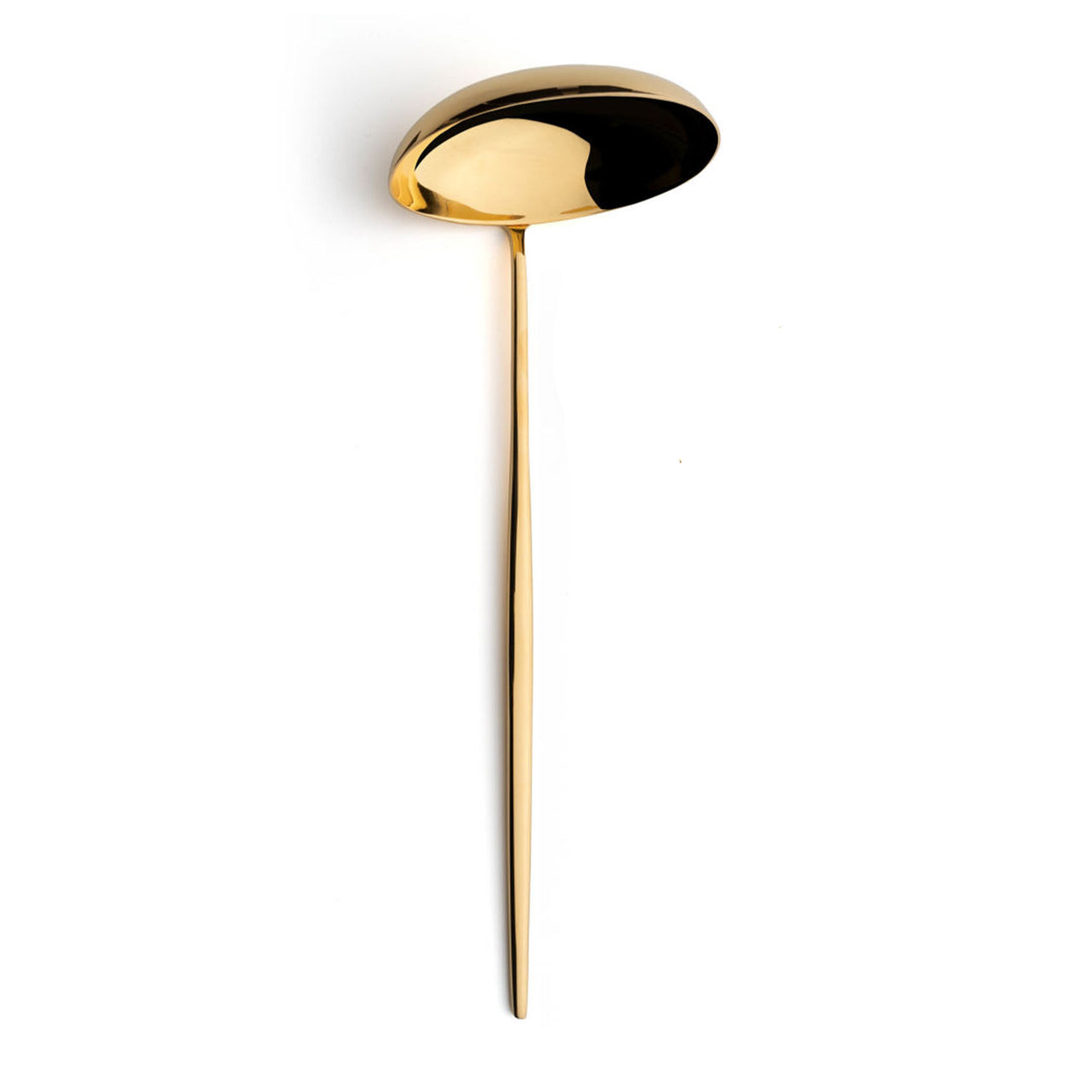 Moon Flatware: Polished Gold: Soup Ladle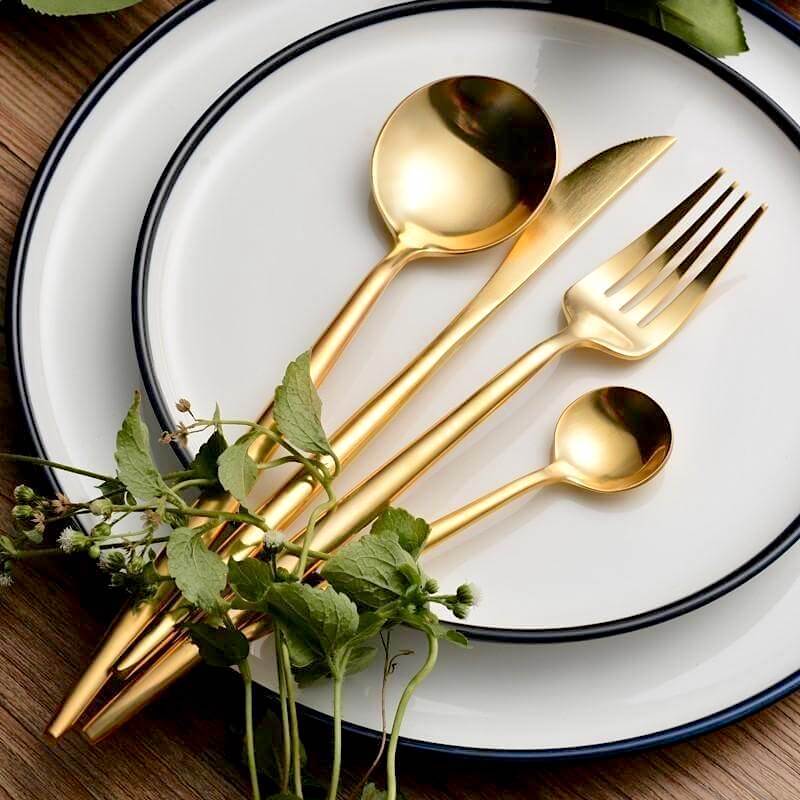 insitu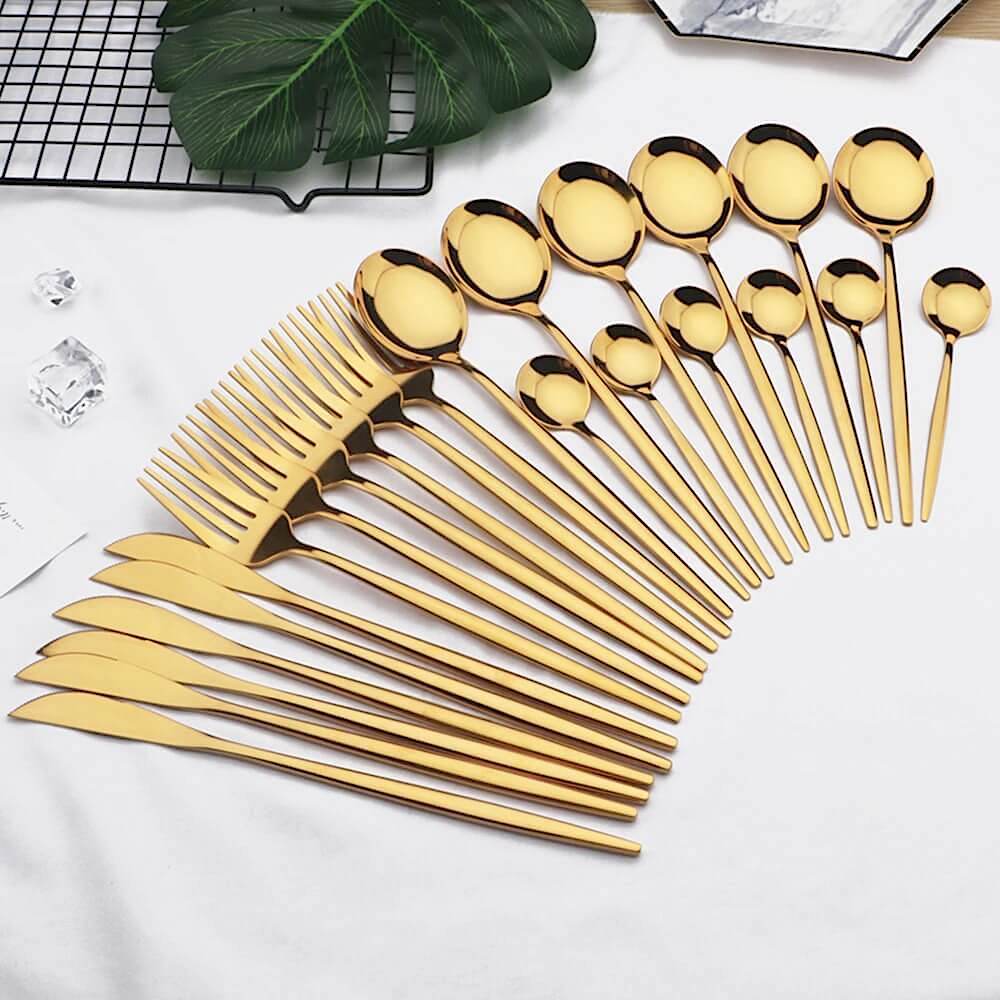 insitu
---
---
Cutipol's award-winning Moon Flatware is stunning in all its countless iterations, yet the gleaming gold of this version truly stands apart. A mirror-polished gold plating over high-quality 18/10 stainless makes for an extraordinary gilded effect on the sparingly elongated form of these utensils. Cutipol is crafted by artisans in the village of São Martinho de Sande, Portugal, where designer José Joaquim Ribeiro helms the heritage house that has endured in his family for 3 generations.

Already committed to stainless flatware? Strike gold with dessert by way of the stand-alone cake server. A perfect gift!
Size
5-Piece Setting (knife): 8.75" l (22.3cm)
Serving Spoon + Fork Set: 10.25" l (26cm)
Salad Set: 11.5" l (29.2cm)
Cake Server: 10" l (25.4cm)
Soup Ladle: 11" (28cm)
Material
Stainless Steel (18/10), gold plating
Details
5-Piece Set comprises of a serrated dinner knife, dinner fork, tablespoon, dessert fork, dessert spoon
Dishwasher safe
Brand
Cutipol
"Almost everyone was involved in making forks" in the northern Portugal village of São Martinho de Sande a century ago, says Cutipol's David Ribeiro explaining the origins of his family's artisanal cutlery brand. Streams and rivers in the region powered the local mills for polishing and David's grandfather found work in the burgeoning trade as a garfeiro, shaping metal cutlery by hand. "The angle of the fork was achieved by the use of a hammer," David says.
From those humble beginnings, Cutipol was founded in 1964 by his father and today David, who handles PR duties, runs the company with his third-generation siblings José Joaquim, who heads design, and Ana Ribeiro, who focuses on retail development. They all started out as teenagers who spent summers working in the factory to earn pocket money and later oversaw the introduction of computer-aided technology. But even with 21st Century robotics at work, they still adhere to the family legacy of fine meticulous craftsmanship.