Dipping Light: Medium - 11.8" + Amber + Brushed Brass
Dipping Light: Medium - 11.8" + Amber + Graphite
Dipping Light: Medium - 11.8" + Blue + Brushed Brass
Dipping Light: Medium - 11.8" + Blue + Graphite
Dipping Light: Medium - 11.8" + Green + Graphite
Dipping Light: Medium - 11.8" + Green + Brushed Brass
Dipping Light: Medium - 11.8" + White + Graphite
Dipping Light: Medium - 11.8" + White + Brushed Brass
Dipping Light: Medium - 11.8" + Pink + Graphite
Dipping Light: Medium - 11.8" + Pink + Brushed Brass
Dipping Light: Small - 7.9" + Amber + Brushed Brass
Dipping Light: Small - 7.9" + Amber + Graphite
Dipping Light: Small - 7.9" + Blue + Graphite
Dipping Light: Small - 7.9" + Blue + Brushed Brass
Dipping Light: Small - 7.9" + Green + Graphite
Dipping Light: Small - 7.9" + Green + Brushed Brass
Dipping Light: Small - 7.9" + White + Graphite
Dipping Light: Small - 7.9" + White + Brushed Brass
Dipping Light: Small - 7.9" + Pink + Graphite
Dipping Light: Small - 7.9" + Pink + Brushed Brass
Dipping Light: Extra Small - 4.9" + Amber + Graphite
Dipping Light: Extra Small - 4.9" + Amber + Brushed Brass
Dipping Light: Extra Small - 4.9" + Blue + Graphite
Dipping Light: Extra Small - 4.9" + Blue + Brushed Brass
Dipping Light: Extra Small - 4.9" + Green + Brushed Brass
Dipping Light: Extra Small - 4.9" + Green + Graphite
Dipping Light: Extra Small - 4.9" + White + Graphite
Dipping Light: Extra Small - 4.9" + White + Brushed Brass
Dipping Light: Extra Small - 4.9" + Pink + Graphite
Dipping Light: Extra Small - 4.9" + Pink + Brushed Brass
Dipping Light
Dipping Light
Dipping Light
Dipping Light
Dipping Light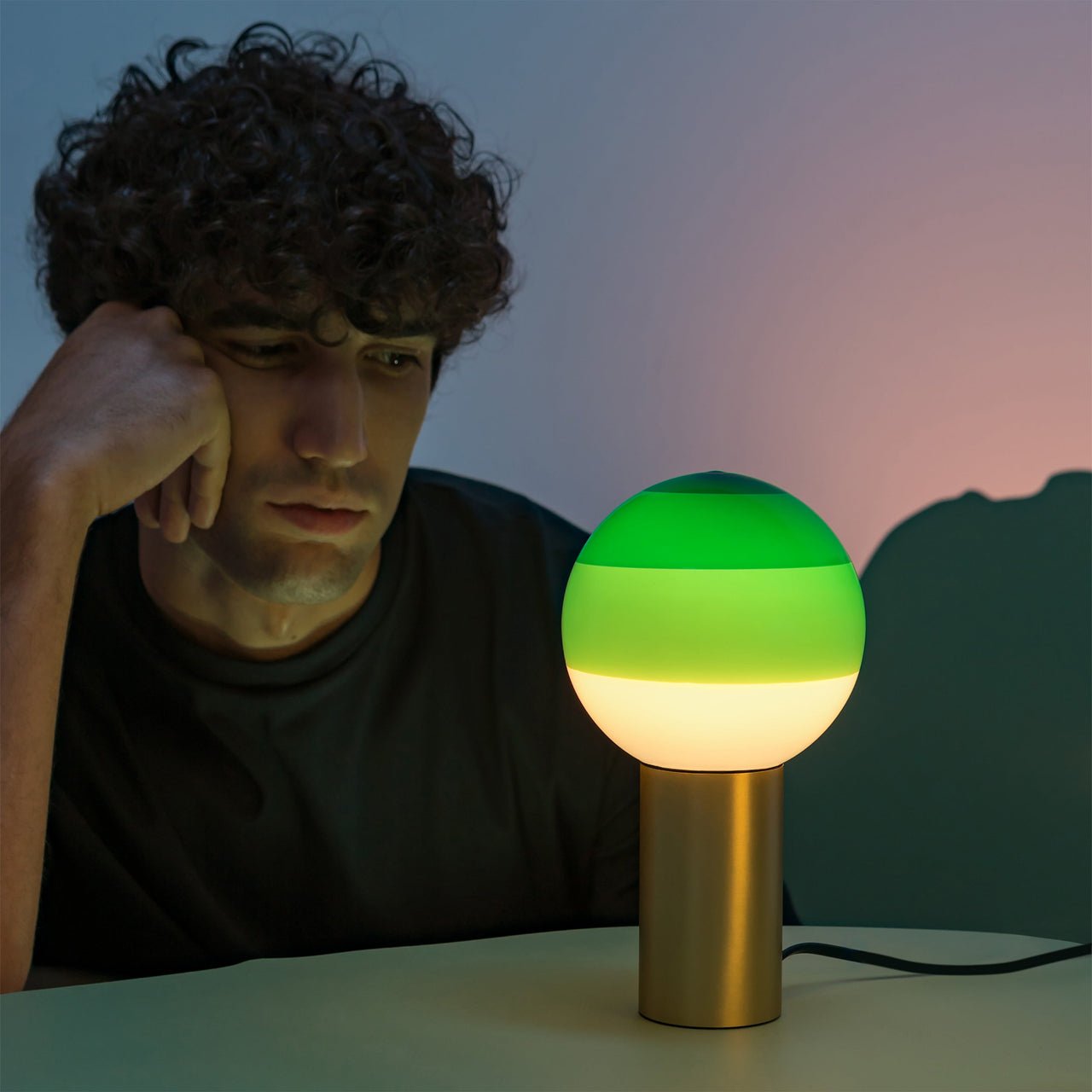 Dipping Light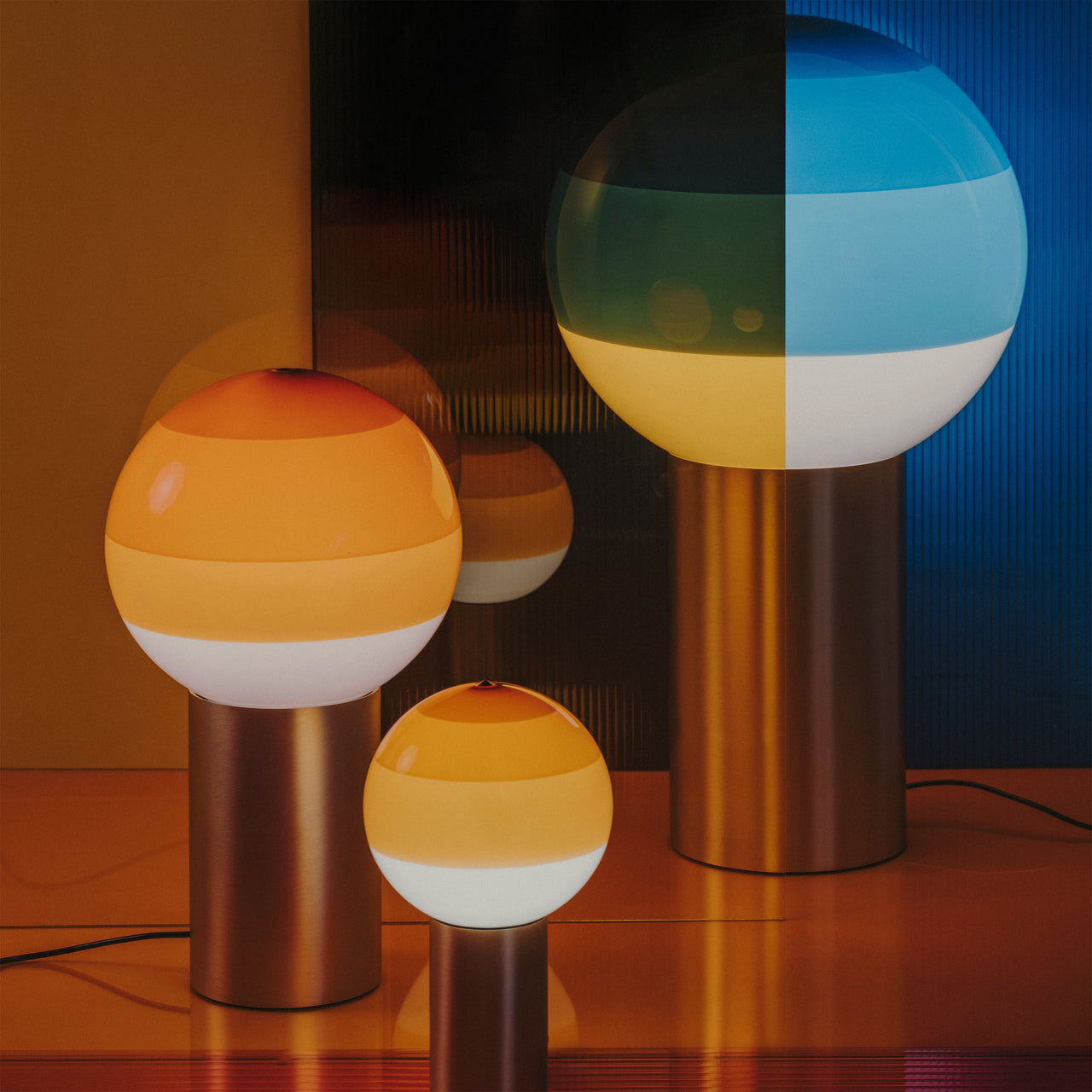 Dipping Light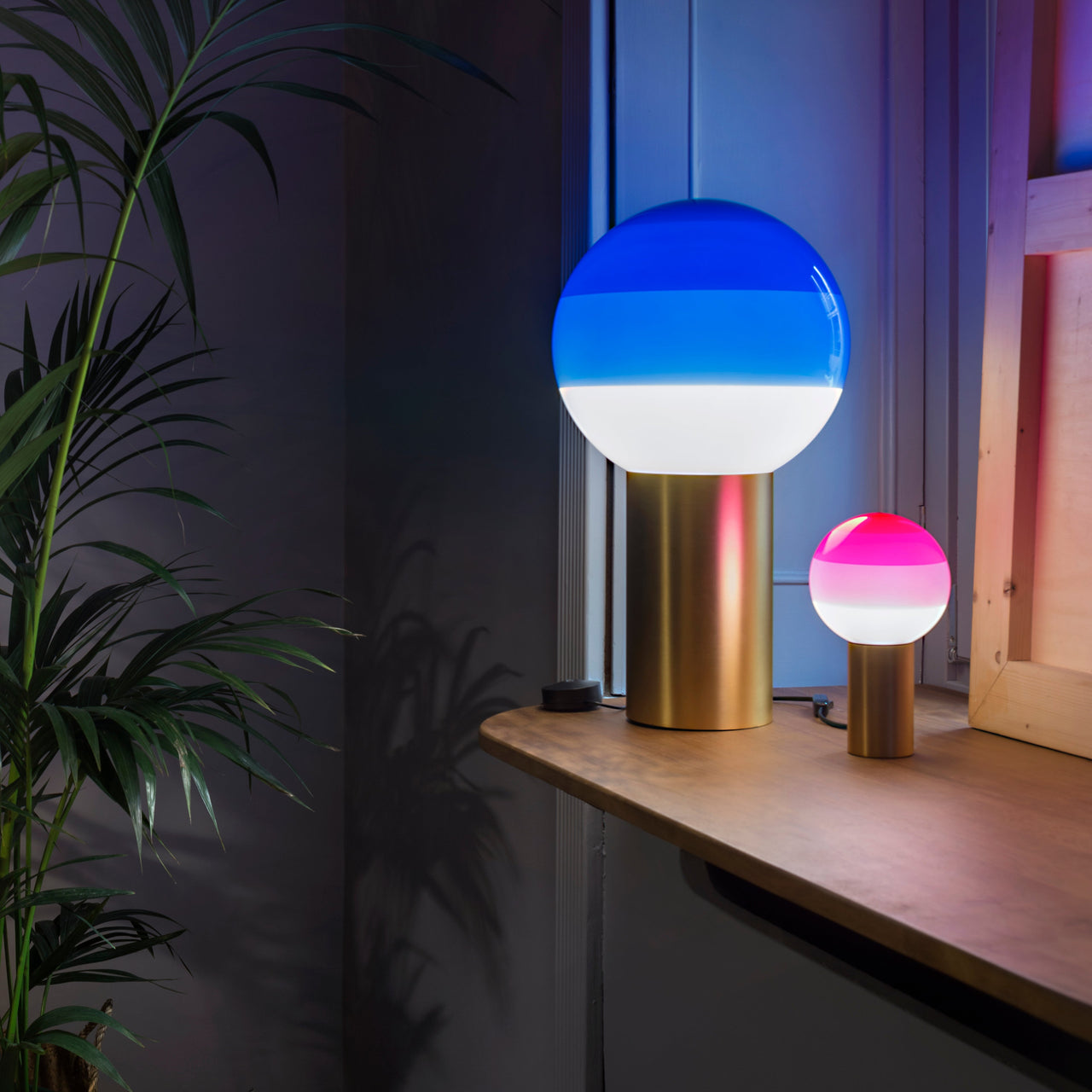 Dipping Light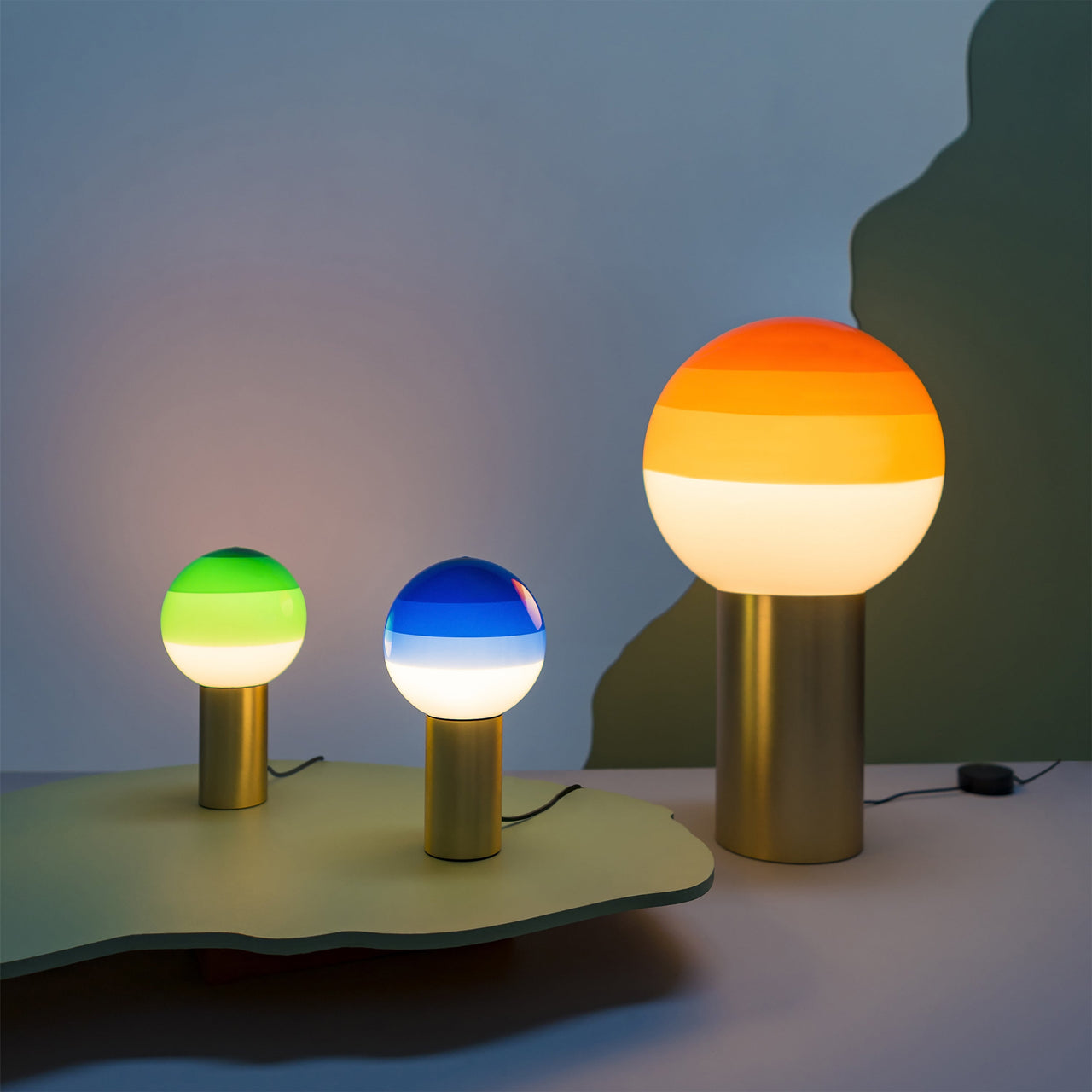 insitu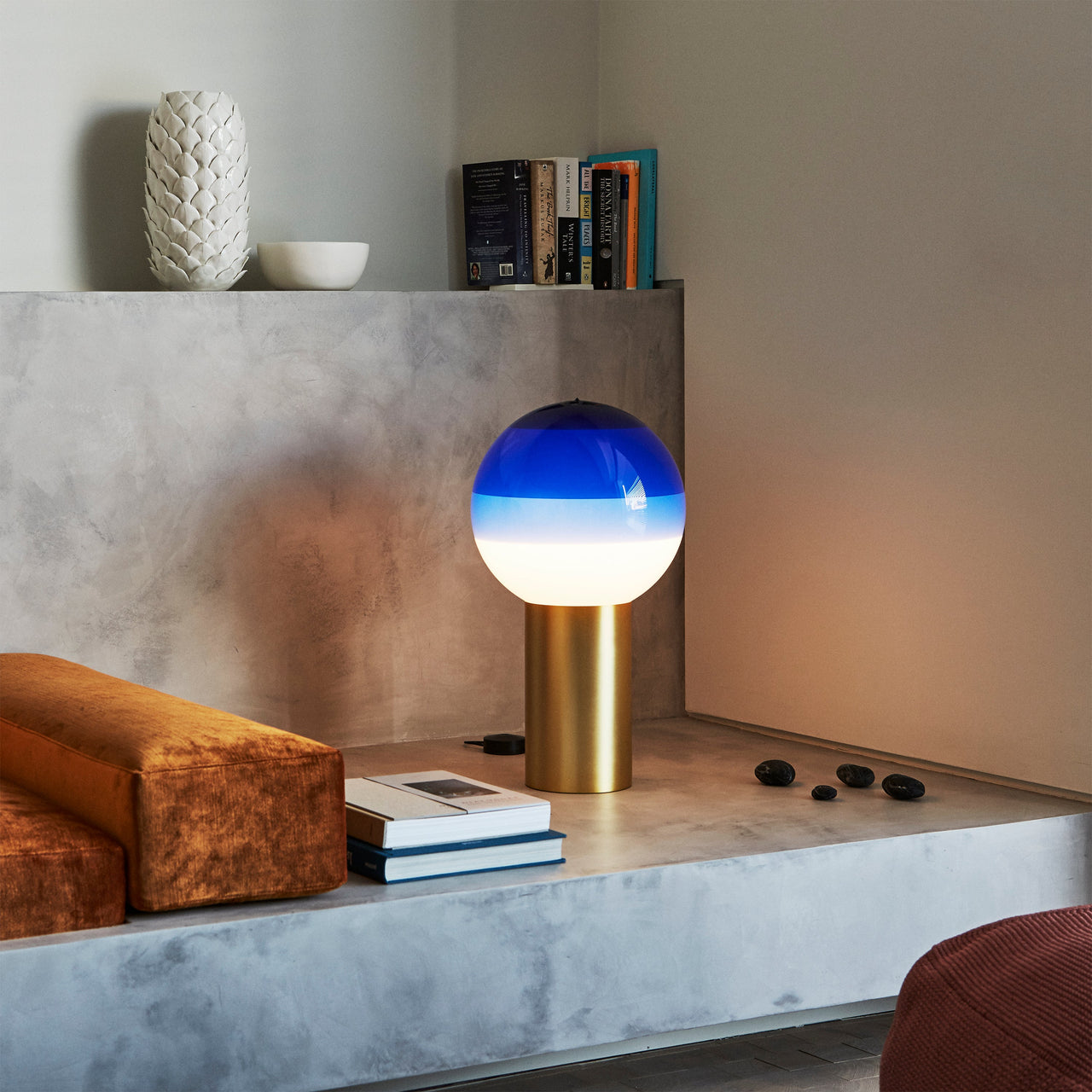 insitu
Dipping Light: Medium - 11.8" + Amber + Brushed Brass
Dipping Light: Medium - 11.8" + Amber + Graphite
Dipping Light: Medium - 11.8" + Blue + Brushed Brass
Dipping Light: Medium - 11.8" + Blue + Graphite
Dipping Light: Medium - 11.8" + Green + Graphite
Dipping Light: Medium - 11.8" + Green + Brushed Brass
Dipping Light: Medium - 11.8" + White + Graphite
Dipping Light: Medium - 11.8" + White + Brushed Brass
Dipping Light: Medium - 11.8" + Pink + Graphite
Dipping Light: Medium - 11.8" + Pink + Brushed Brass
Dipping Light: Small - 7.9" + Amber + Brushed Brass
Dipping Light: Small - 7.9" + Amber + Graphite
Dipping Light: Small - 7.9" + Blue + Graphite
Dipping Light: Small - 7.9" + Blue + Brushed Brass
Dipping Light: Small - 7.9" + Green + Graphite
Dipping Light: Small - 7.9" + Green + Brushed Brass
Dipping Light: Small - 7.9" + White + Graphite
Dipping Light: Small - 7.9" + White + Brushed Brass
Dipping Light: Small - 7.9" + Pink + Graphite
Dipping Light: Small - 7.9" + Pink + Brushed Brass
Dipping Light: Extra Small - 4.9" + Amber + Graphite
Dipping Light: Extra Small - 4.9" + Amber + Brushed Brass
Dipping Light: Extra Small - 4.9" + Blue + Graphite
Dipping Light: Extra Small - 4.9" + Blue + Brushed Brass
Dipping Light: Extra Small - 4.9" + Green + Brushed Brass
Dipping Light: Extra Small - 4.9" + Green + Graphite
Dipping Light: Extra Small - 4.9" + White + Graphite
Dipping Light: Extra Small - 4.9" + White + Brushed Brass
Dipping Light: Extra Small - 4.9" + Pink + Graphite
Dipping Light: Extra Small - 4.9" + Pink + Brushed Brass
Dipping Light
Dipping Light
Dipping Light
Dipping Light
Dipping Light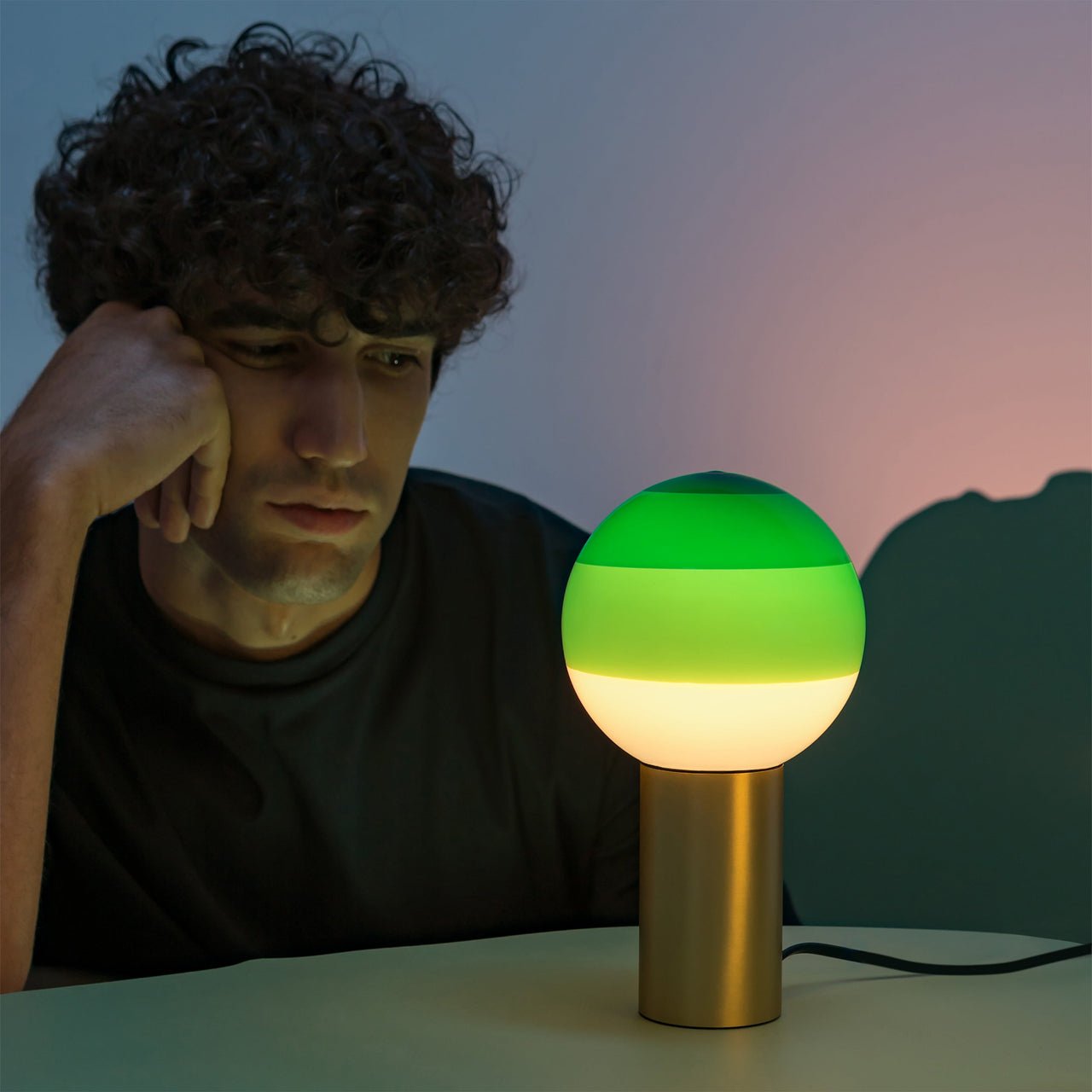 Dipping Light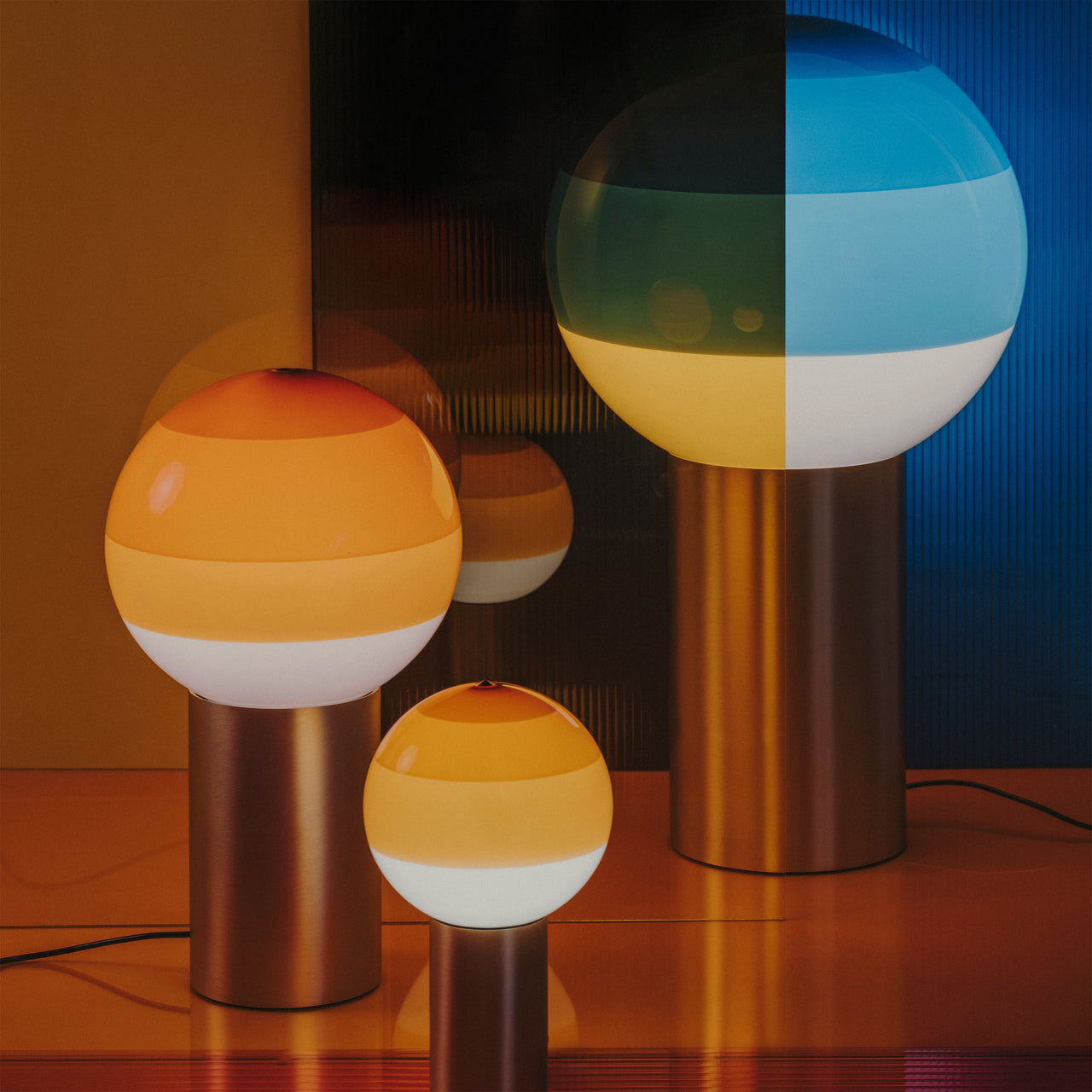 Dipping Light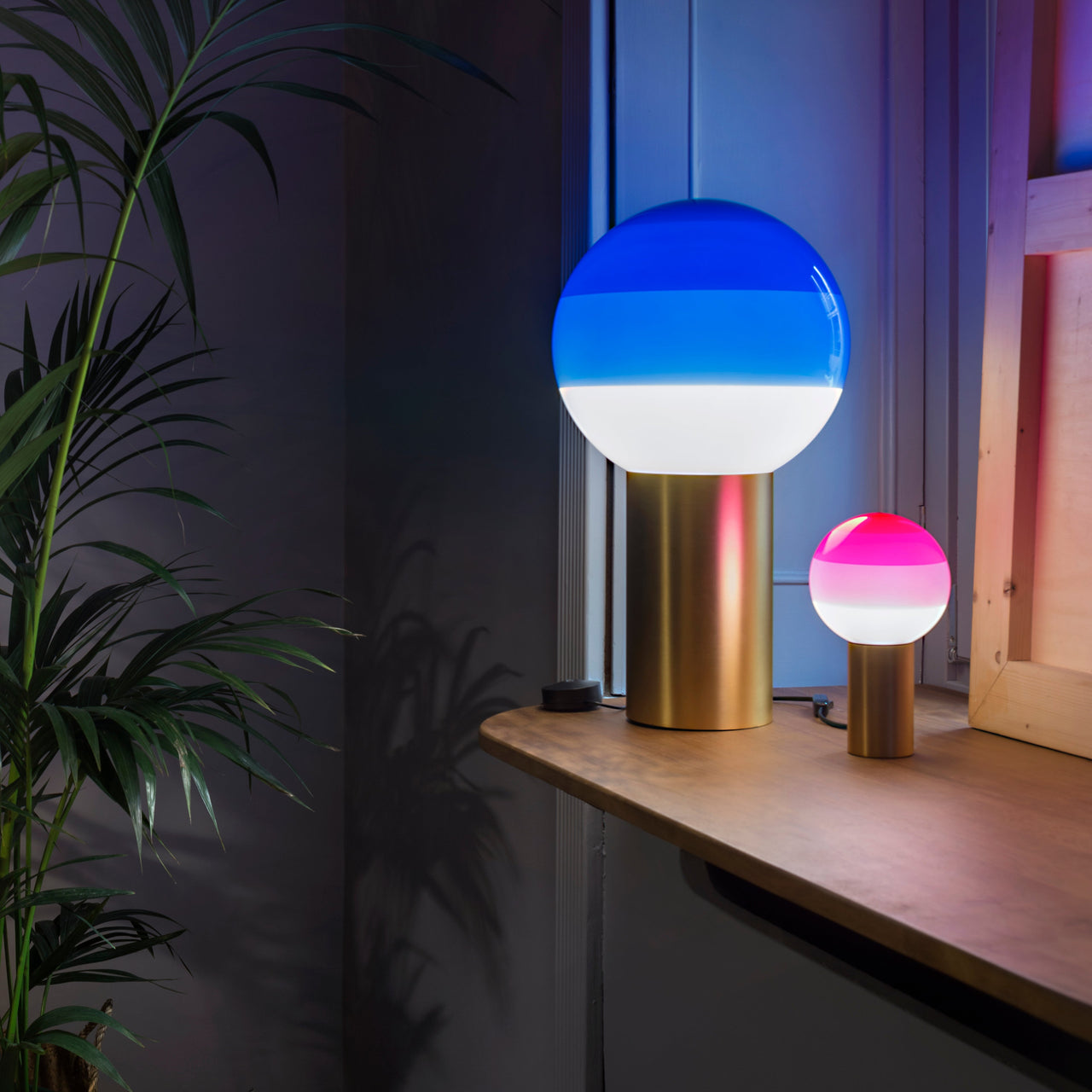 Dipping Light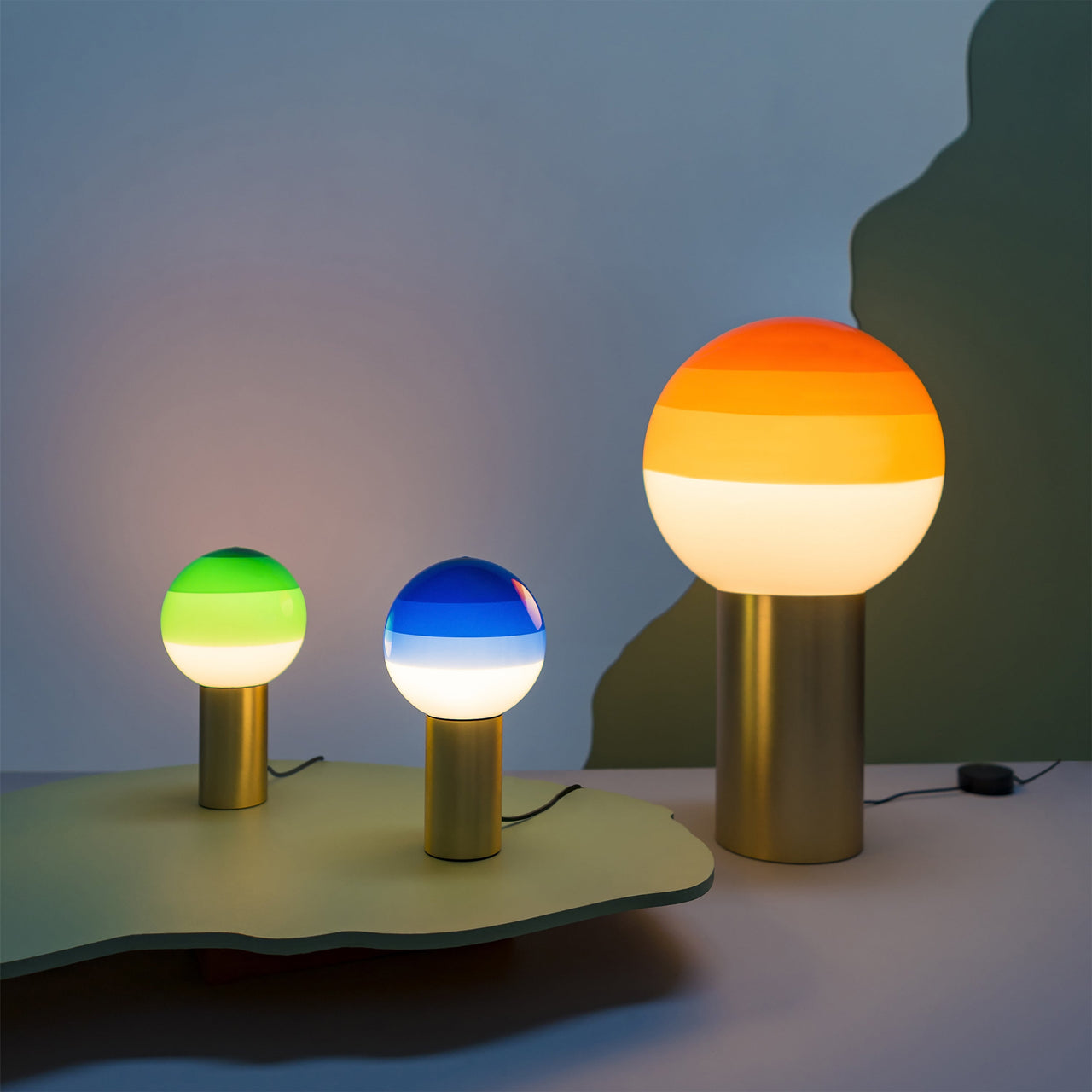 insitu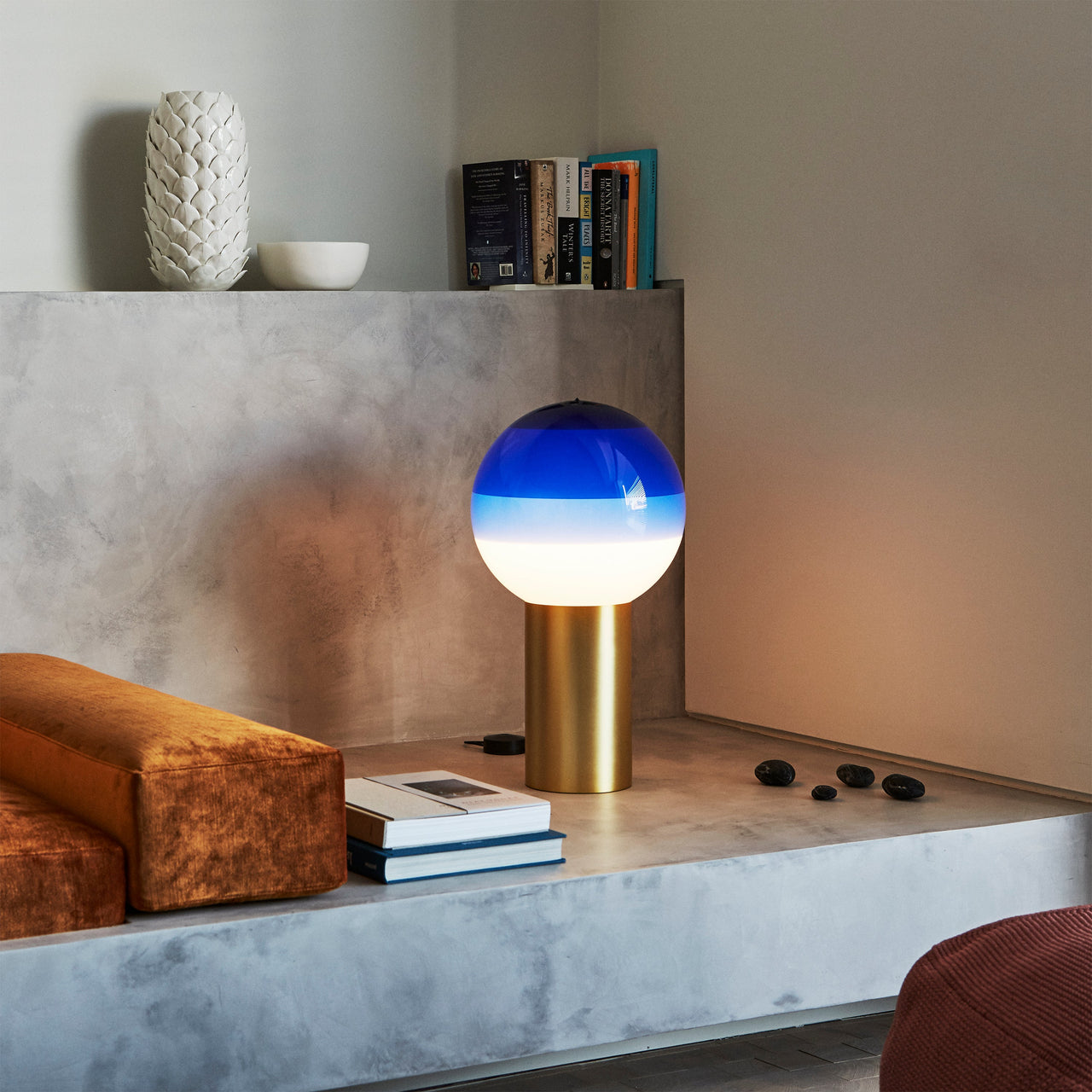 insitu
Dipping Light
$2,360

SKU: MARS-A691-318
$2,360

SKU: MARS-A691-319
$2,360

SKU: MARS-A691-320
$2,360

SKU: MARS-A691-321
$2,360

SKU: MARS-A691-322
$1,435

SKU: MARS-A691-306
$1,435

SKU: MARS-A691-307
$1,435

SKU: MARS-A691-308
$1,435

SKU: MARS-A691-309
$1,435

SKU: MARS-A691-310
$1,435

SKU: MARS-A691-311
$1,435

SKU: MARS-A691-312
$1,435

SKU: MARS-A691-313
$1,435

SKU: MARS-A691-314
$1,435

SKU: MARS-A691-315
$2,360

SKU: MARS-A691-019
$2,360

SKU: MARS-A691-020
$2,360

SKU: MARS-A691-021
$2,360

SKU: MARS-A691-022
$2,360

SKU: MARS-A691-023
---
---
Turning the phrase on its head, this extraordinary table lamp lights with paint. When Dipping Light is illuminated, different shades of color create a magical ambient effect. Designer Jordi Canudas' wizardry employs an artisanal dipping process that makes each lamp unique. When turned off, the striped glass orb with a brass base becomes an eye-catching objet. Perfect for a shelf, table or at bedside.
Size
Extra Small: 

8.7

" h x

4.9

" dia (22.1x12.5cm)

Base: 2.4" dia (6.1cm)
Cable length: 79.2" (201.2cm)

Small:

14.2

" h x

7.9

" dia (36.1x20.1cm)
Medium:

21.3

" h x

11.8

" dia (54.1x30cm)
Cable length: 68.9" (175cm)
Material
Blown glass, metal
Technical
UL listed

LED
Color temperature: 2700K
Dimmable
Bulb included
Brand
Marset
"Marset is more than lamps: We take care of light in its different nuances and effects, to create atmospheres with character, helping to improve people's quality of life," declares the Barcelona-based company. Marset's dual preoccupation with both crisp contemporary design and the more elusive ambiance of lighting has firmly fixed the firm on the design world's cutting-edge radar. A series of attention-grabbing and innovative fixtures account for the recent revitalization of the brand, though Marset has actually been around since the 1940s.
A family business, Marset was originally a foundry, not a lighting company. It segued into lighting design when Francisco Marset formally established Marset Illuminacion in 1965. Decades devoted to metalwork easily translated to the contemporary lighting industry, with a dexterity of materials available to create unexpected, atmospheric lighting effects. Not to mention the influence of its Barcelona home, a city renowned for architecture, design and visual inspiration.