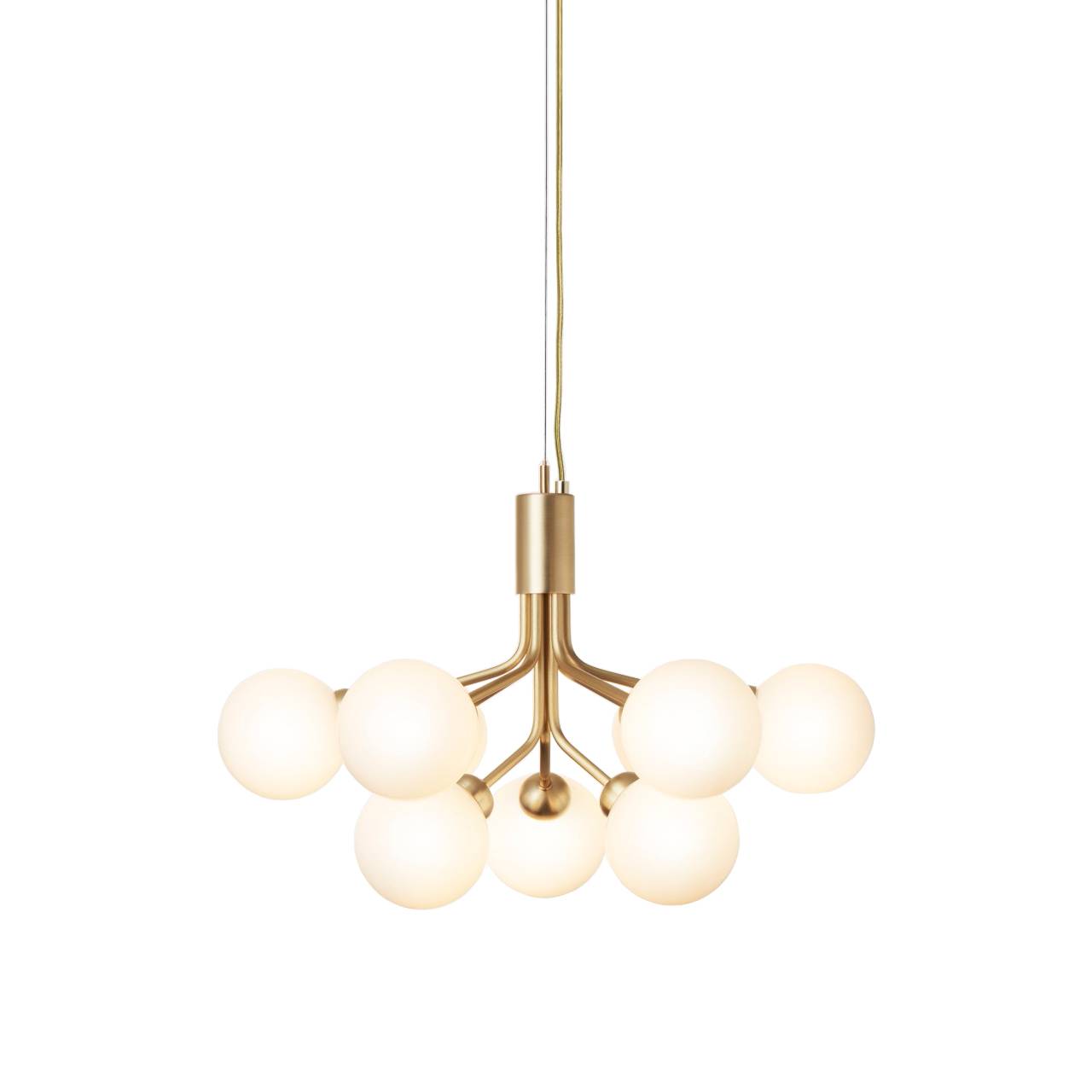 Apiales 9 Chandelier: Brushed Brass + Opal White + Gold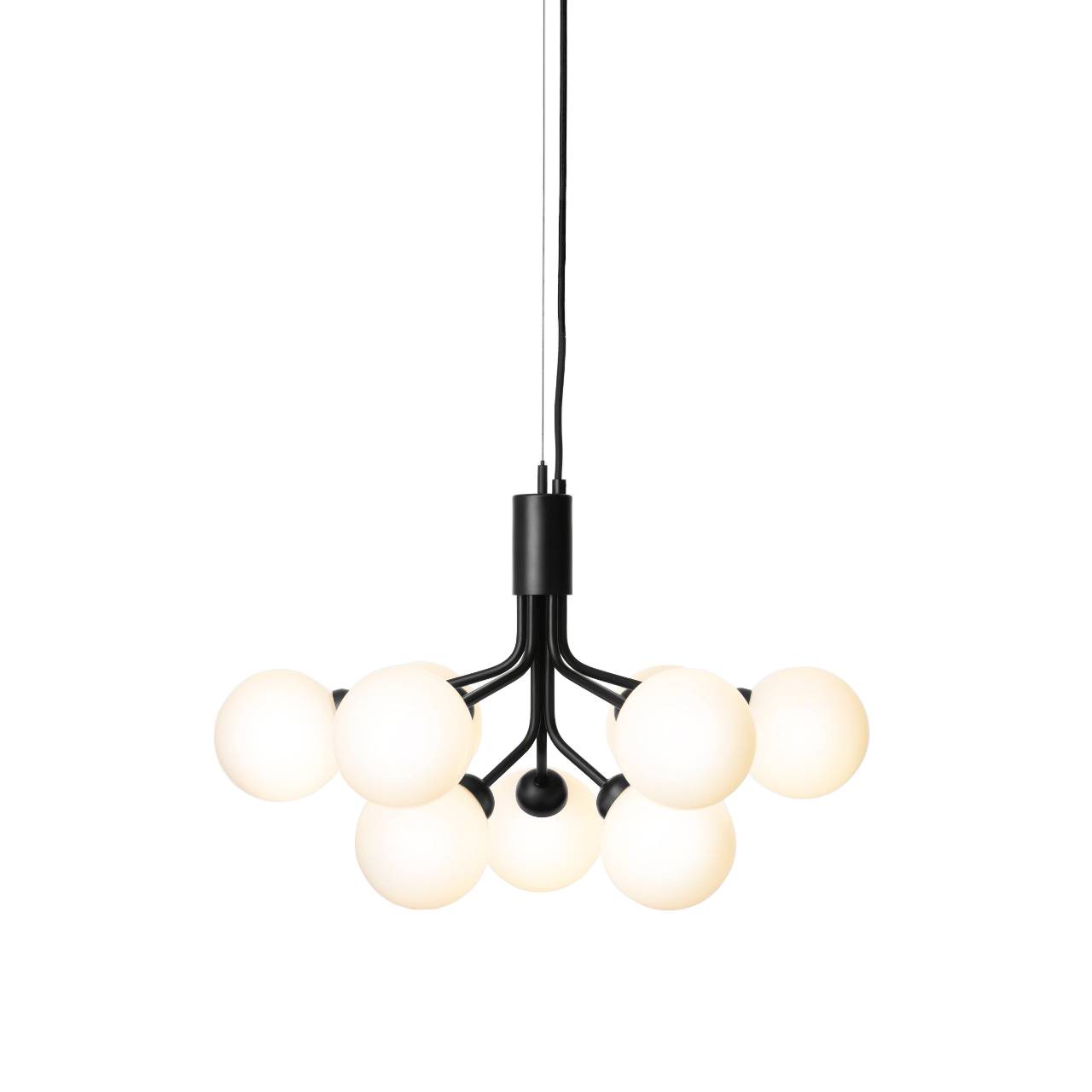 Apiales 9 Chandelier: Satin Black + Opal White + Black
Apiales 9 Chandelier: Satin Black + Optic Smoked + Black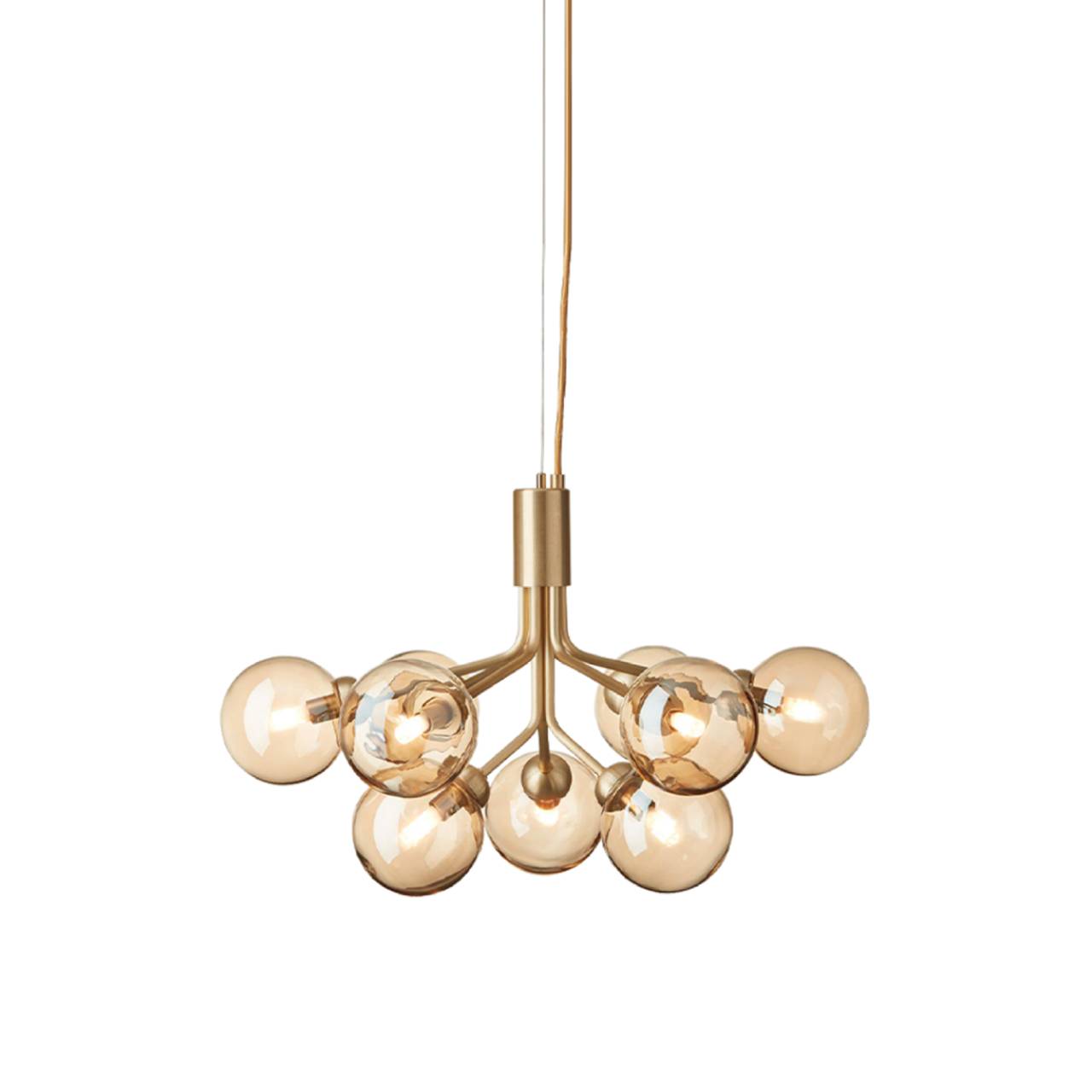 Apiales 9 Chandelier: Brushed Brass + Optic Gold + Gold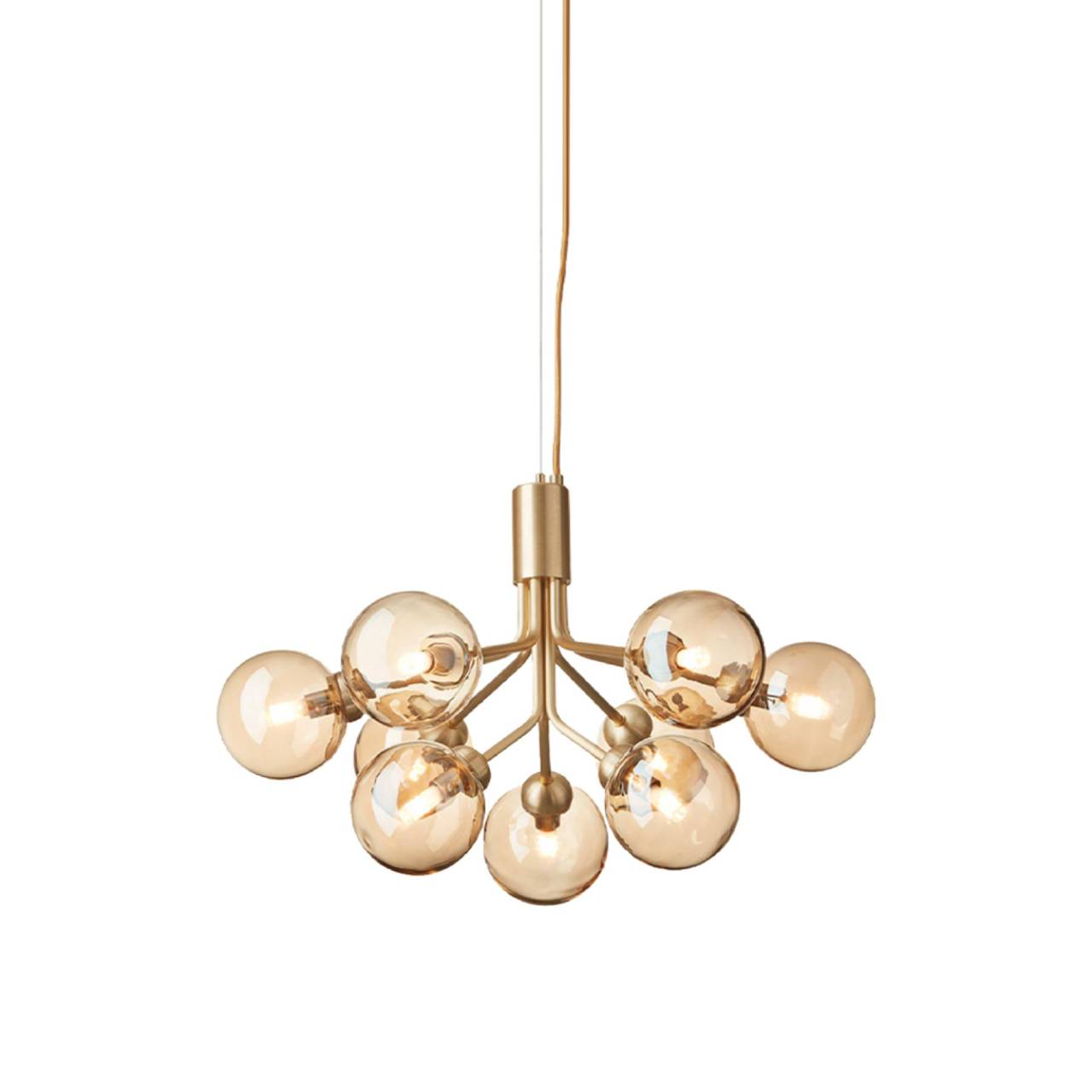 Apiales 9 Chandelier: Brushed Brass + Optic Gold + Gold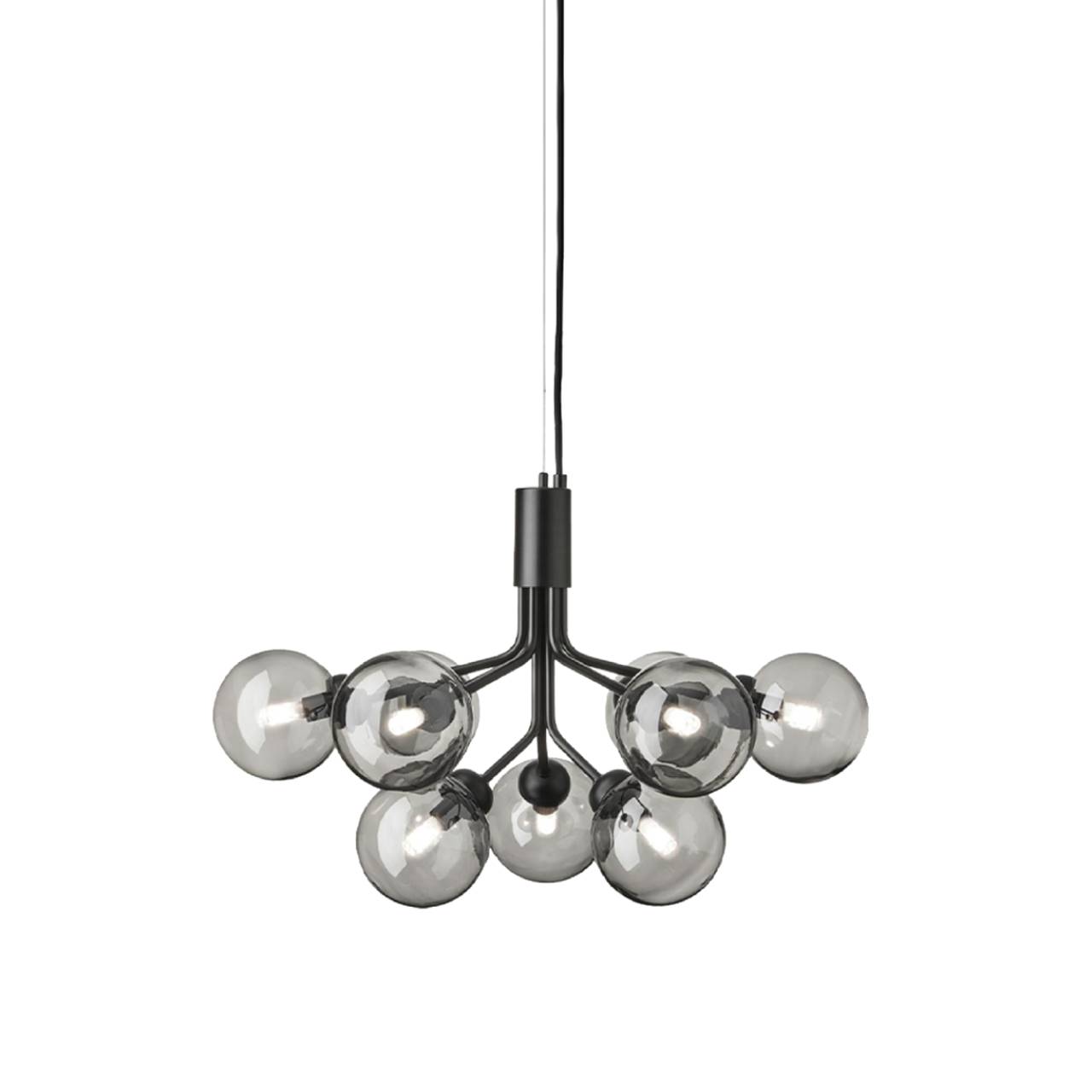 Apiales 9 Chandelier: Satin Black + Optic Smoked + Black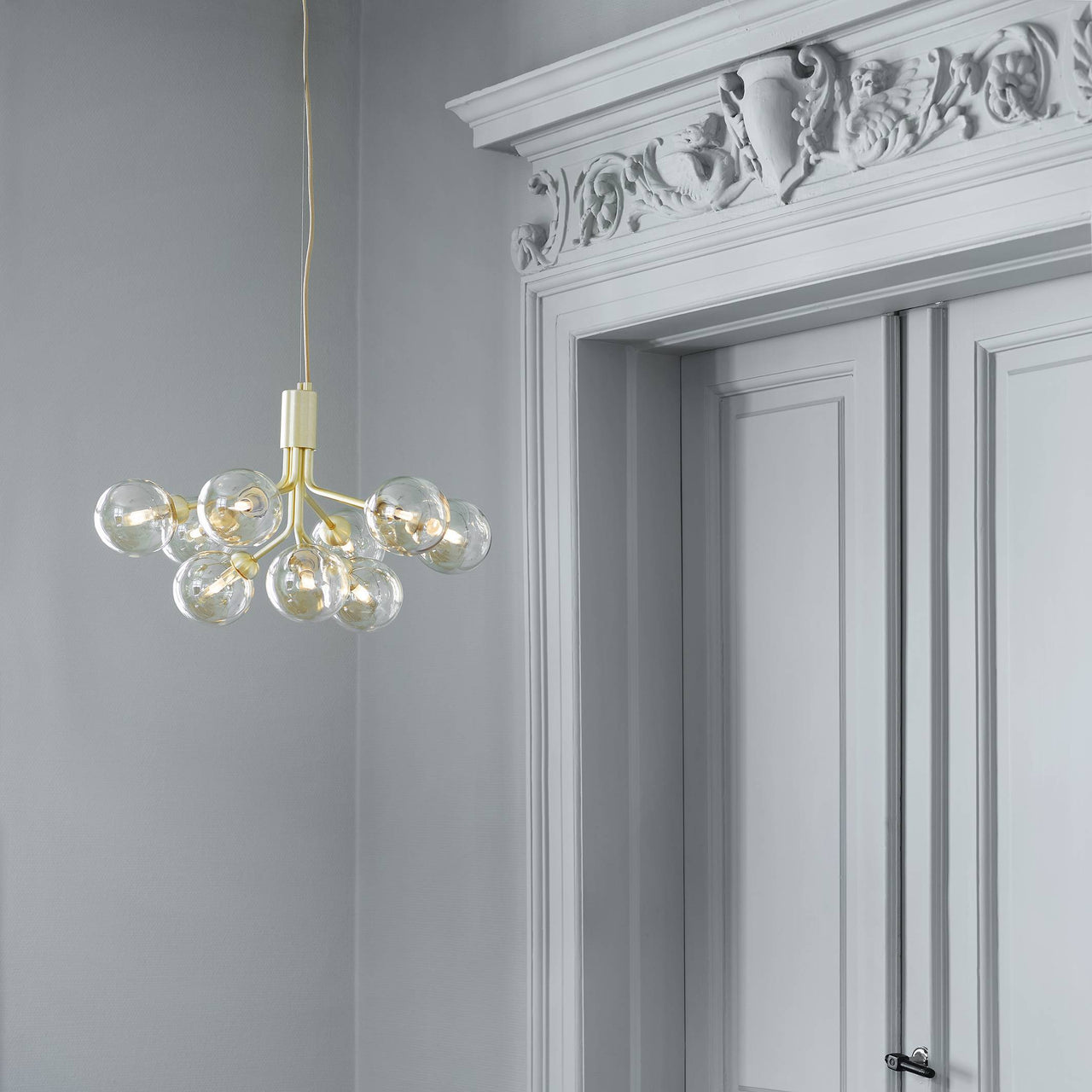 Apiales 9 Chandelier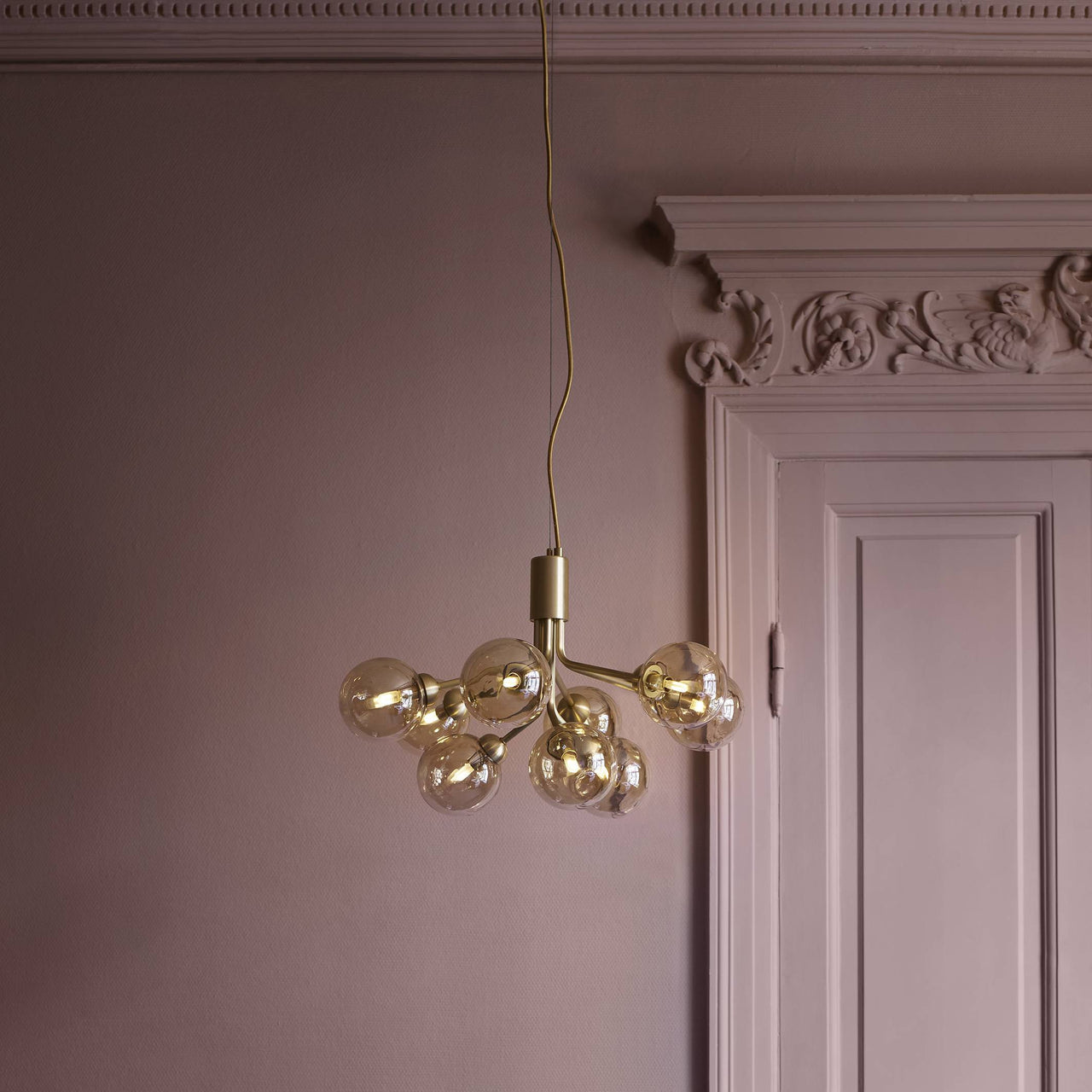 Apiales 9 Chandelier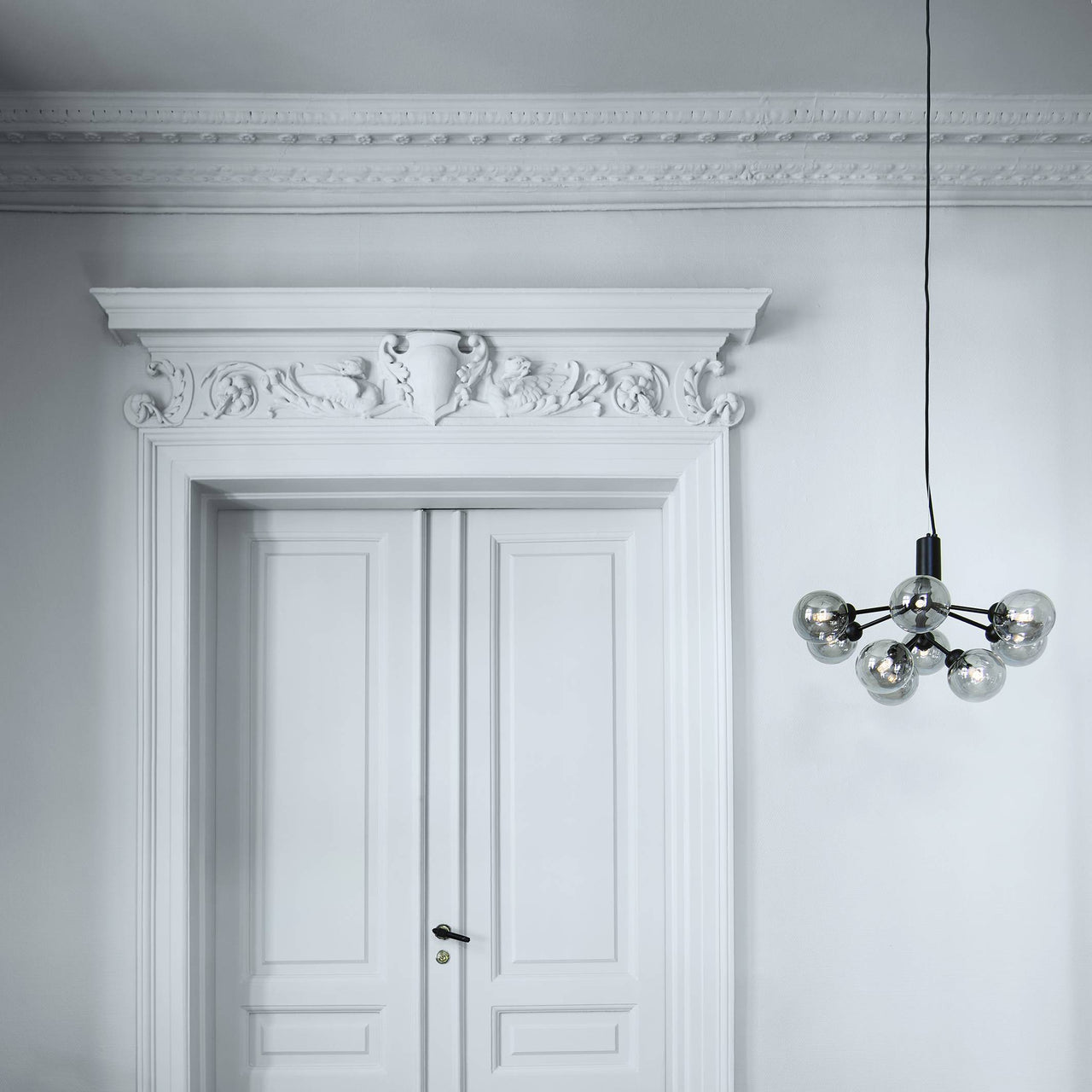 Apiales 9 Chandelier
Apiales 9 Chandelier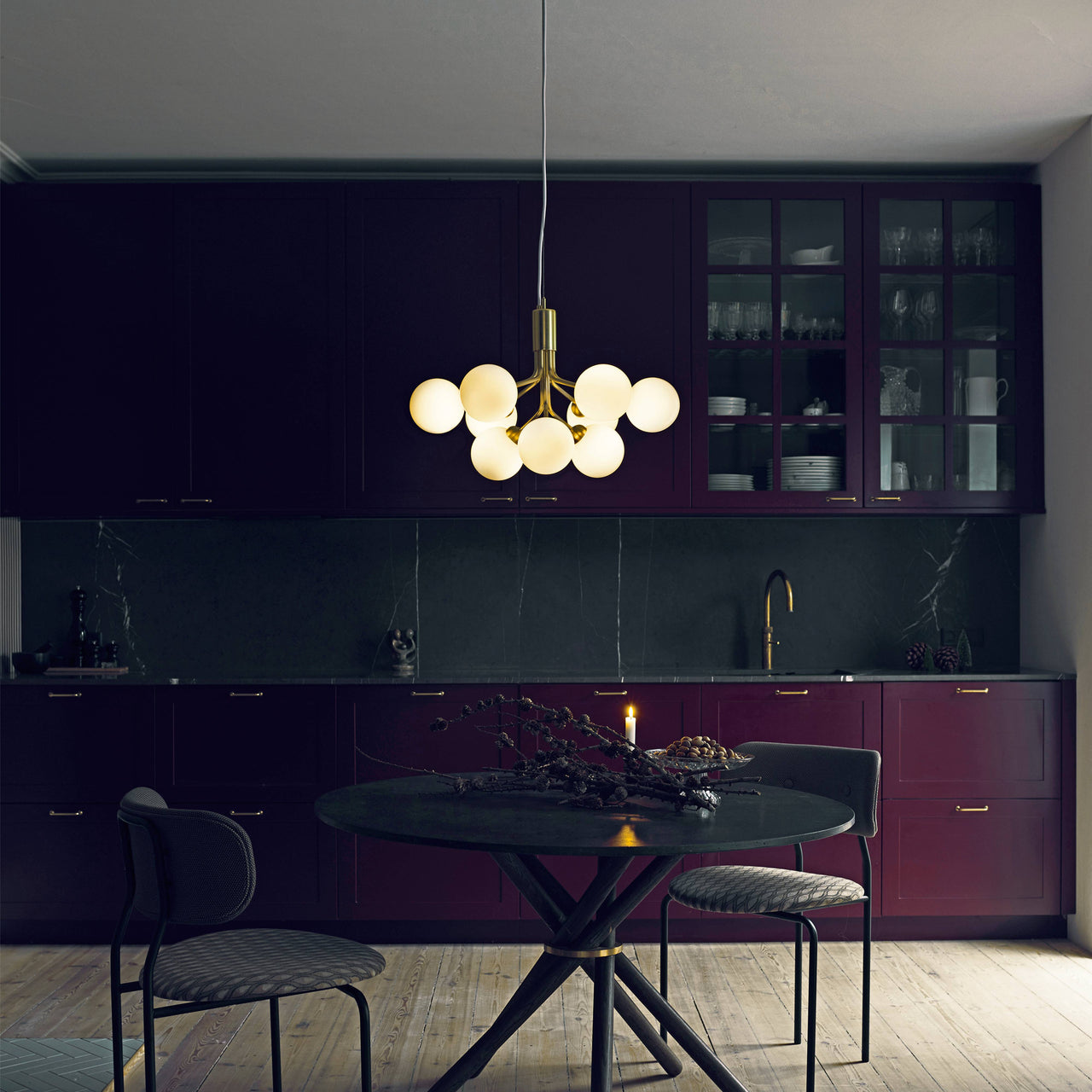 Apiales 9 Chandelier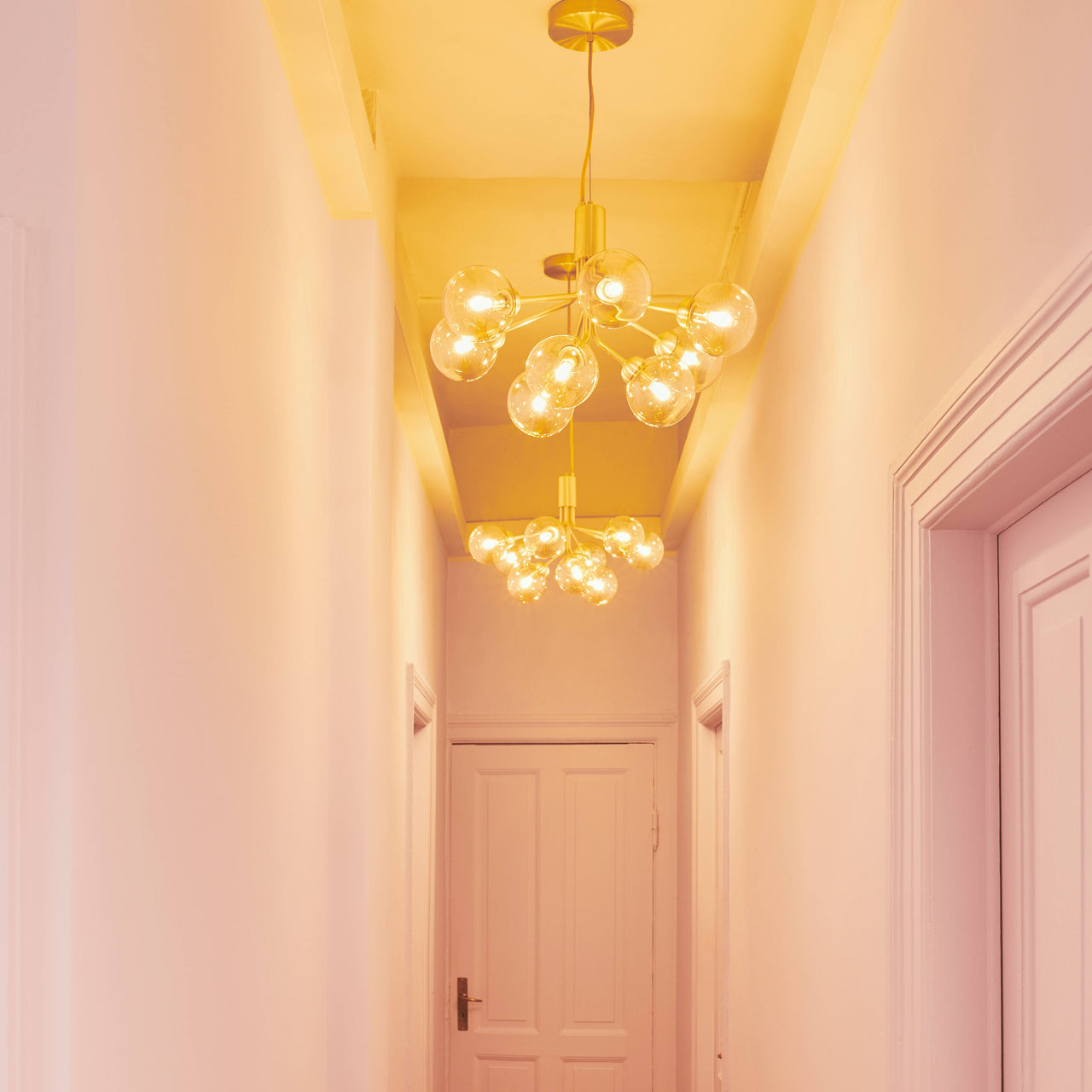 Apiales 9 Chandelier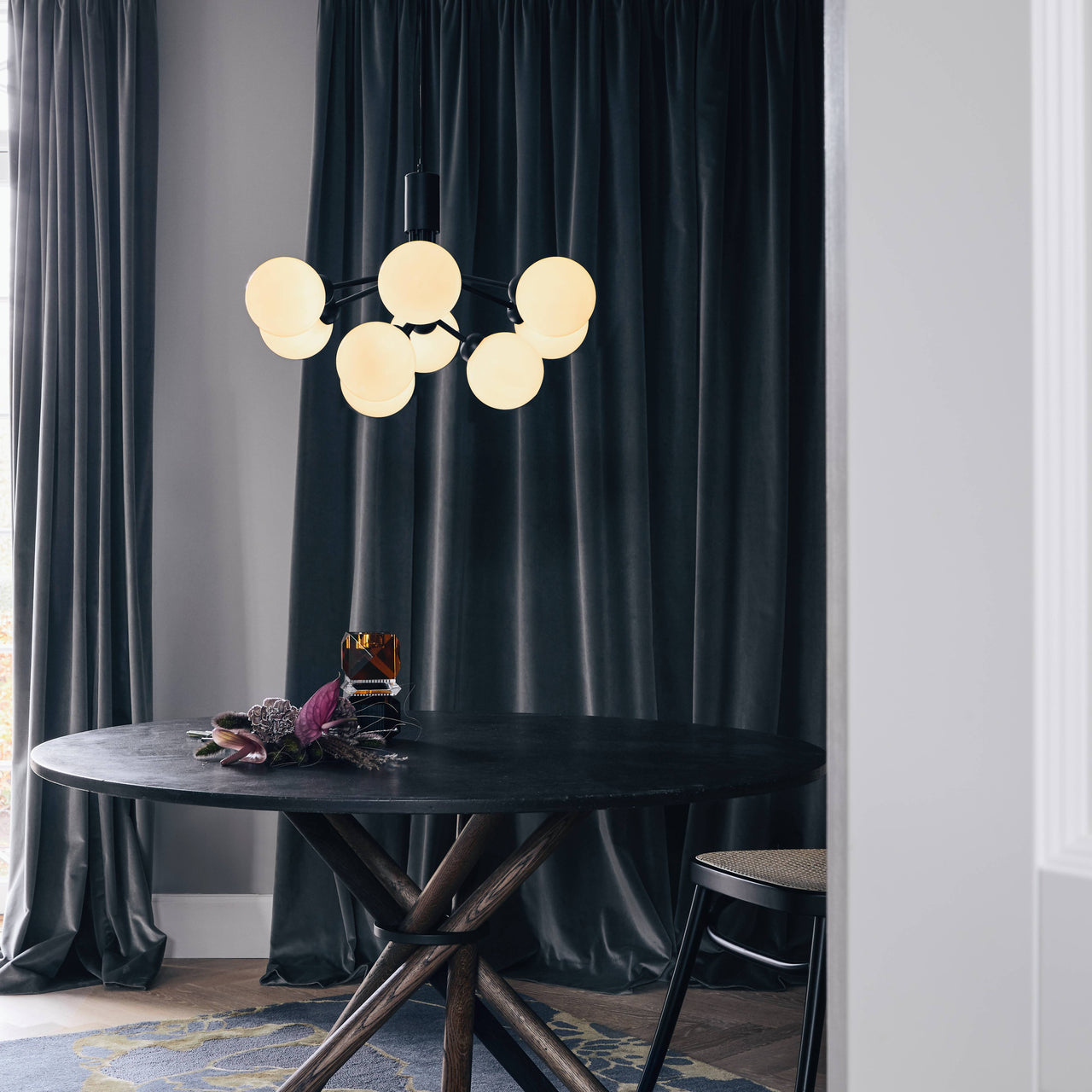 Apiales 9 Chandelier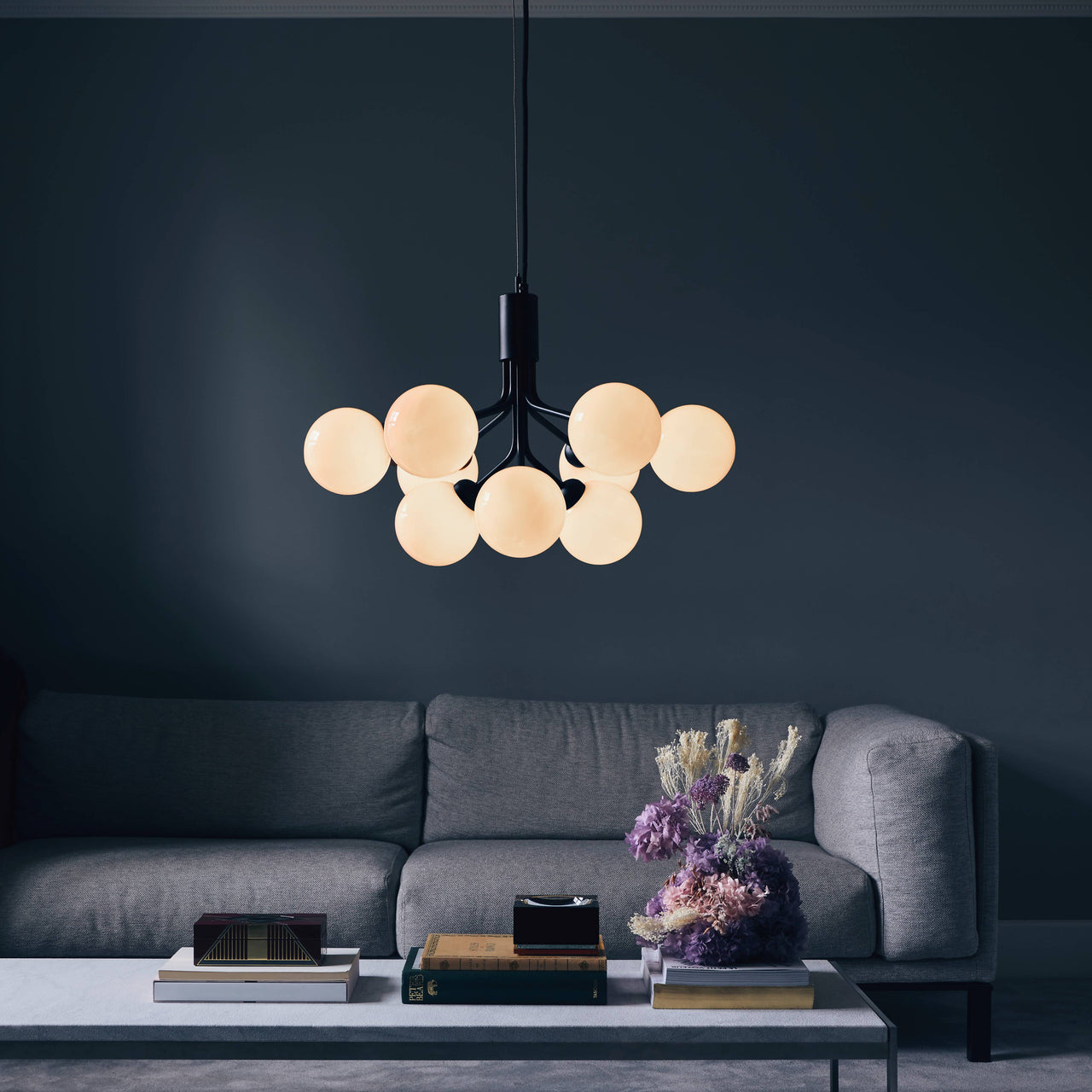 Apiales 9 Chandelier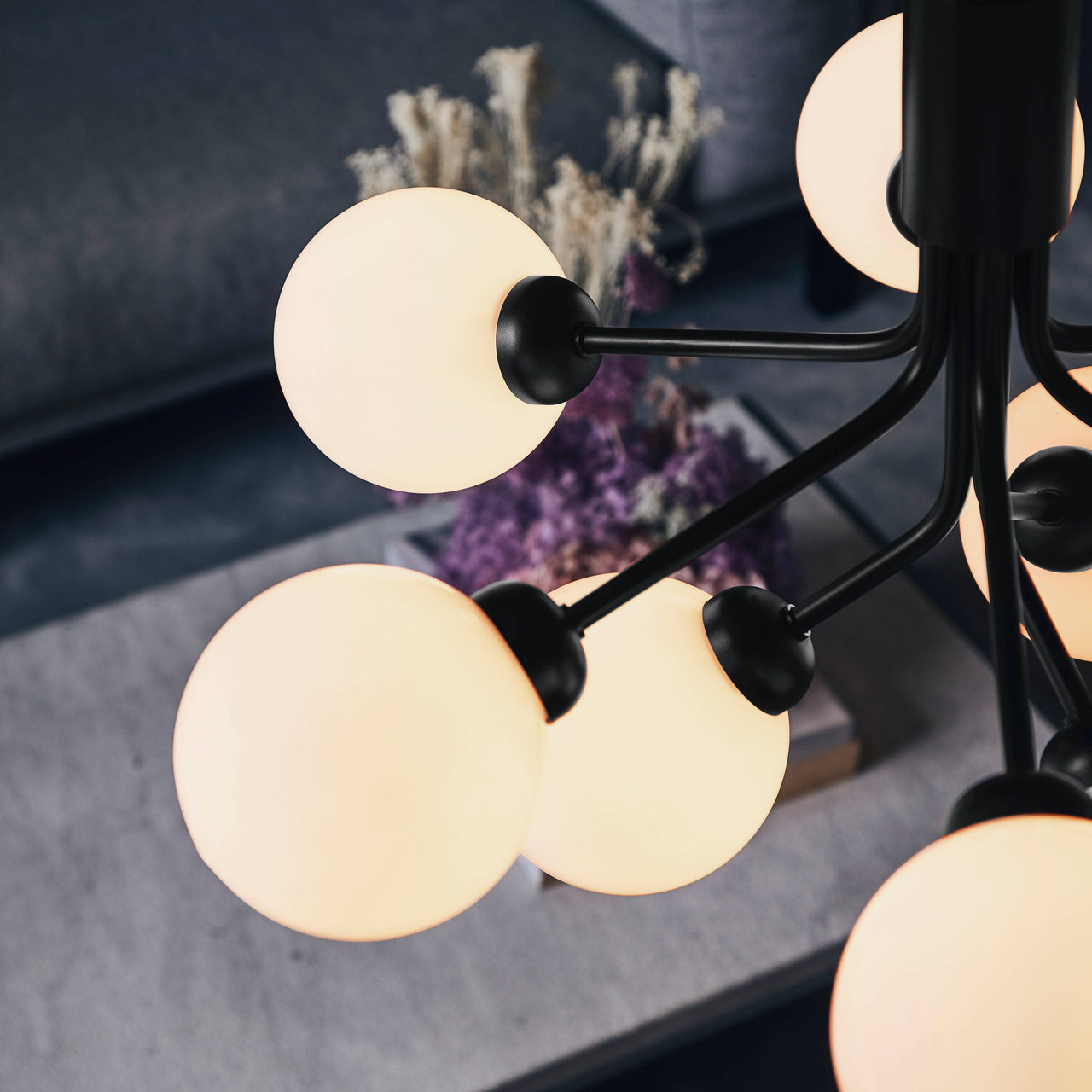 Apiales 9 Chandelier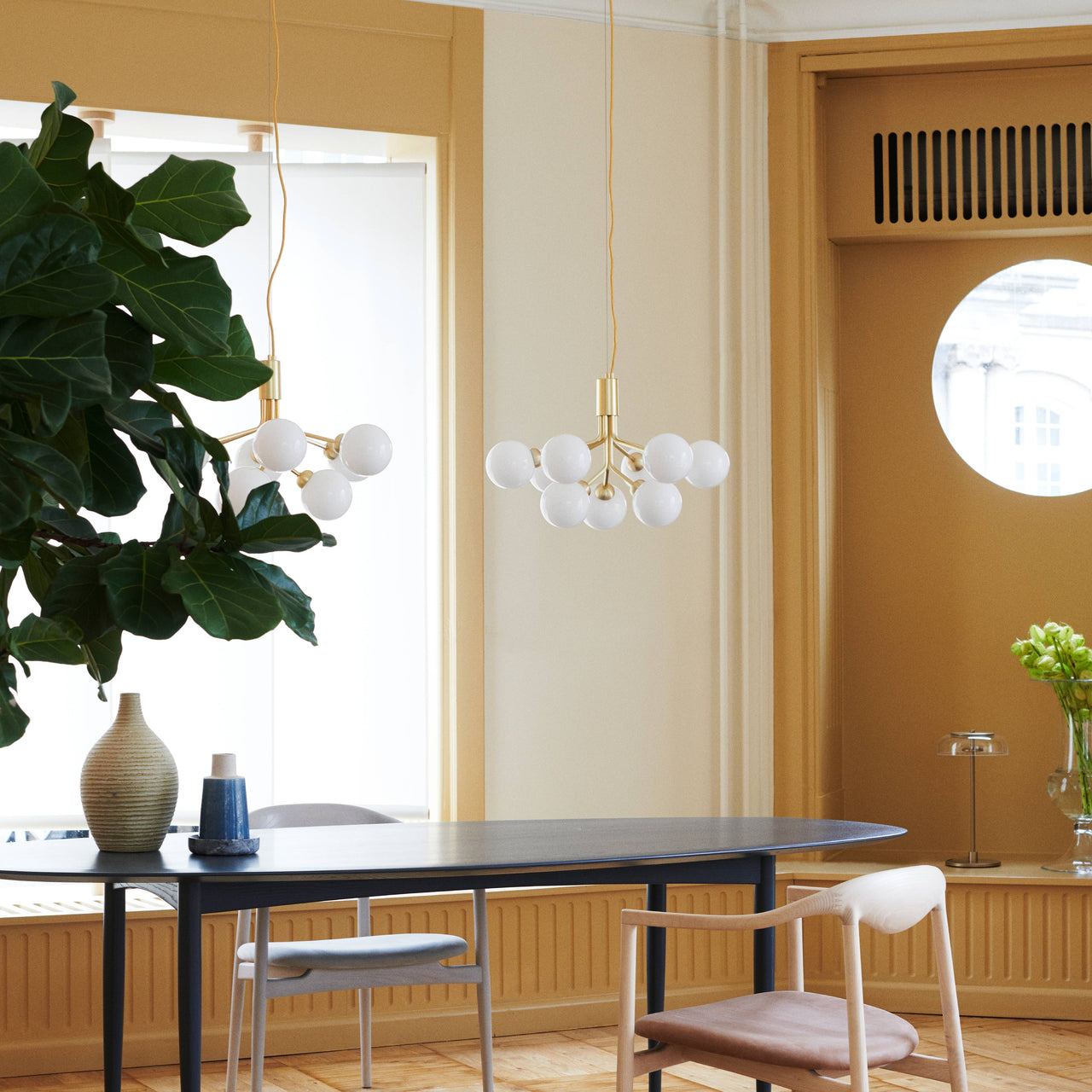 Apiales 9 Chandelier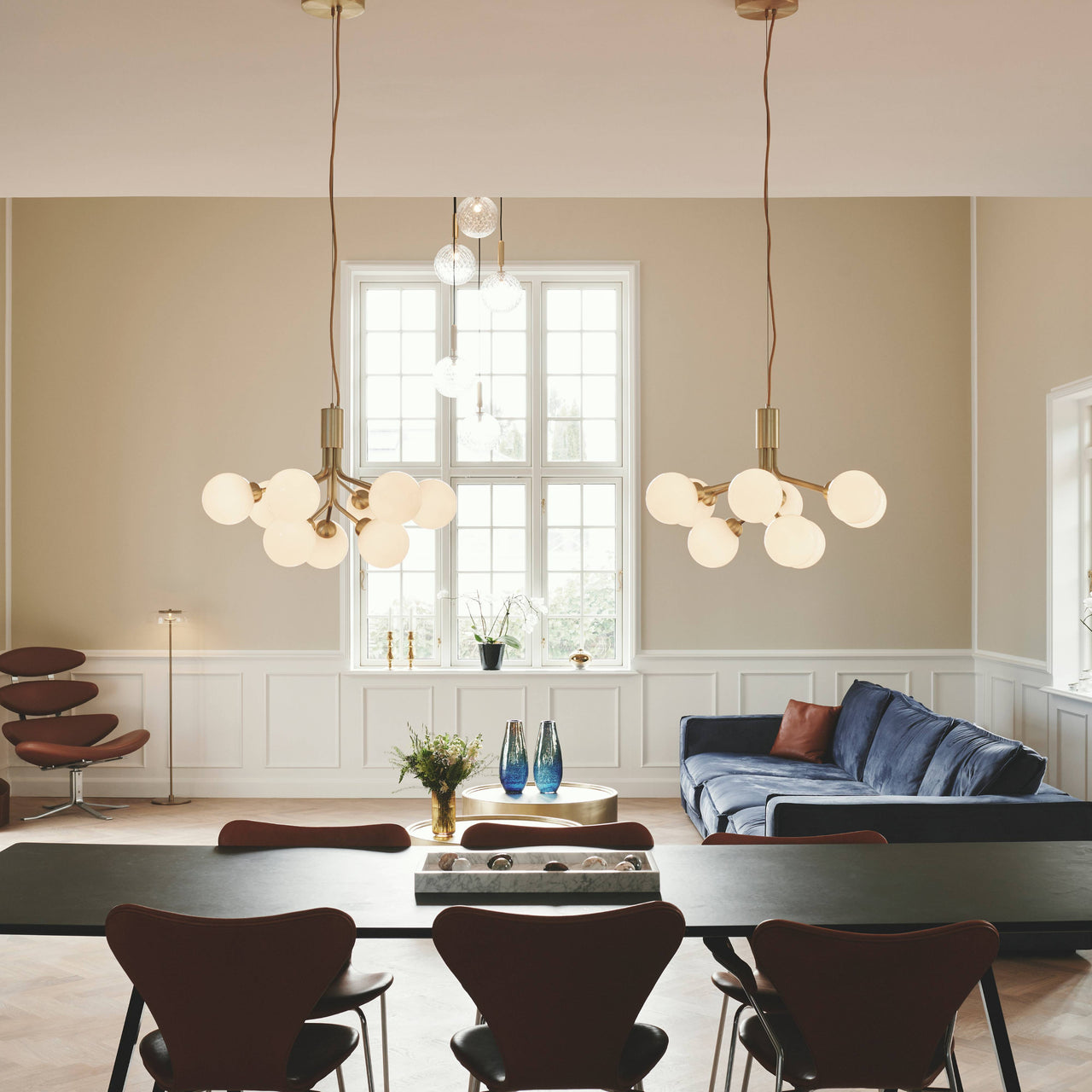 Apiales 9 Chandelier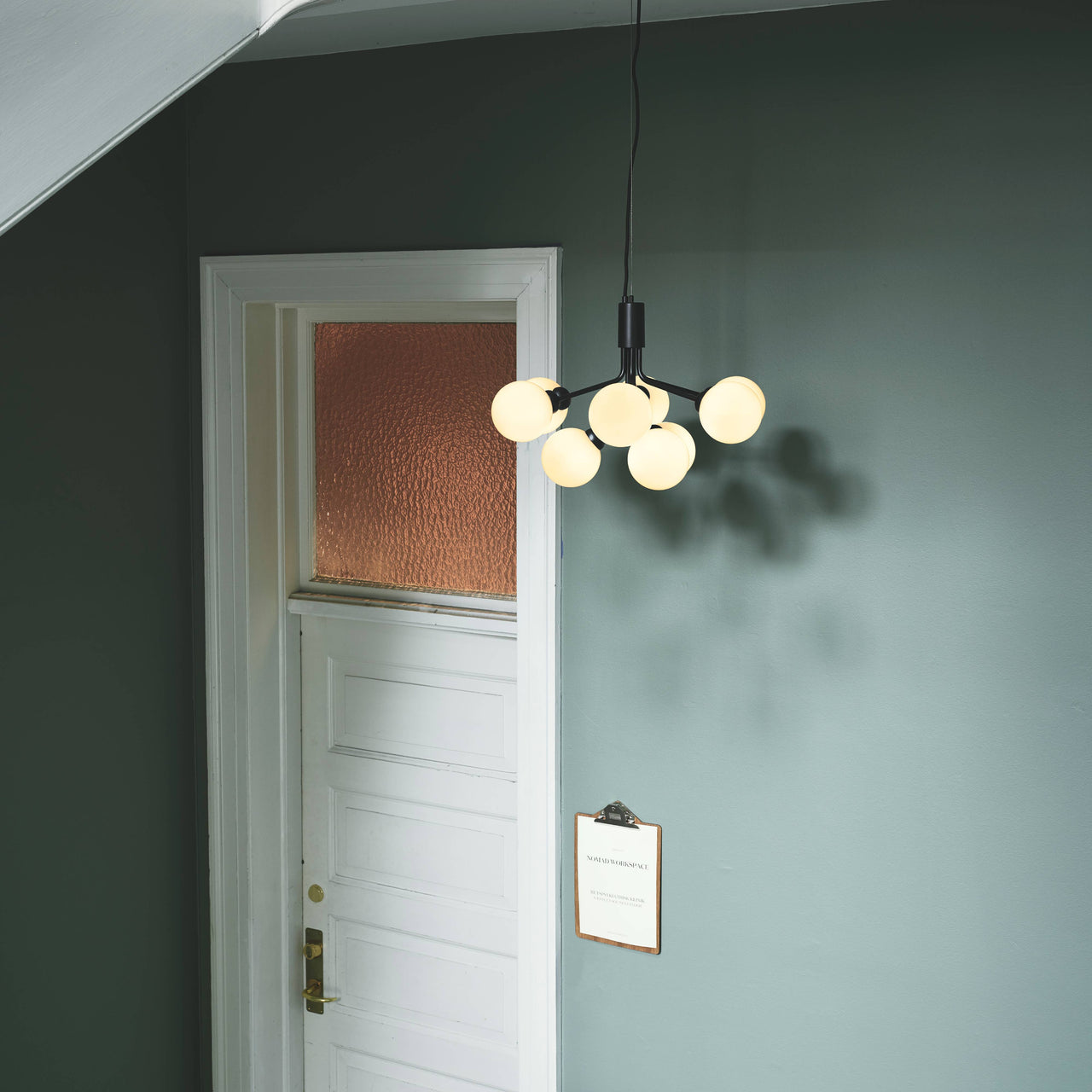 Apiales 9 Chandelier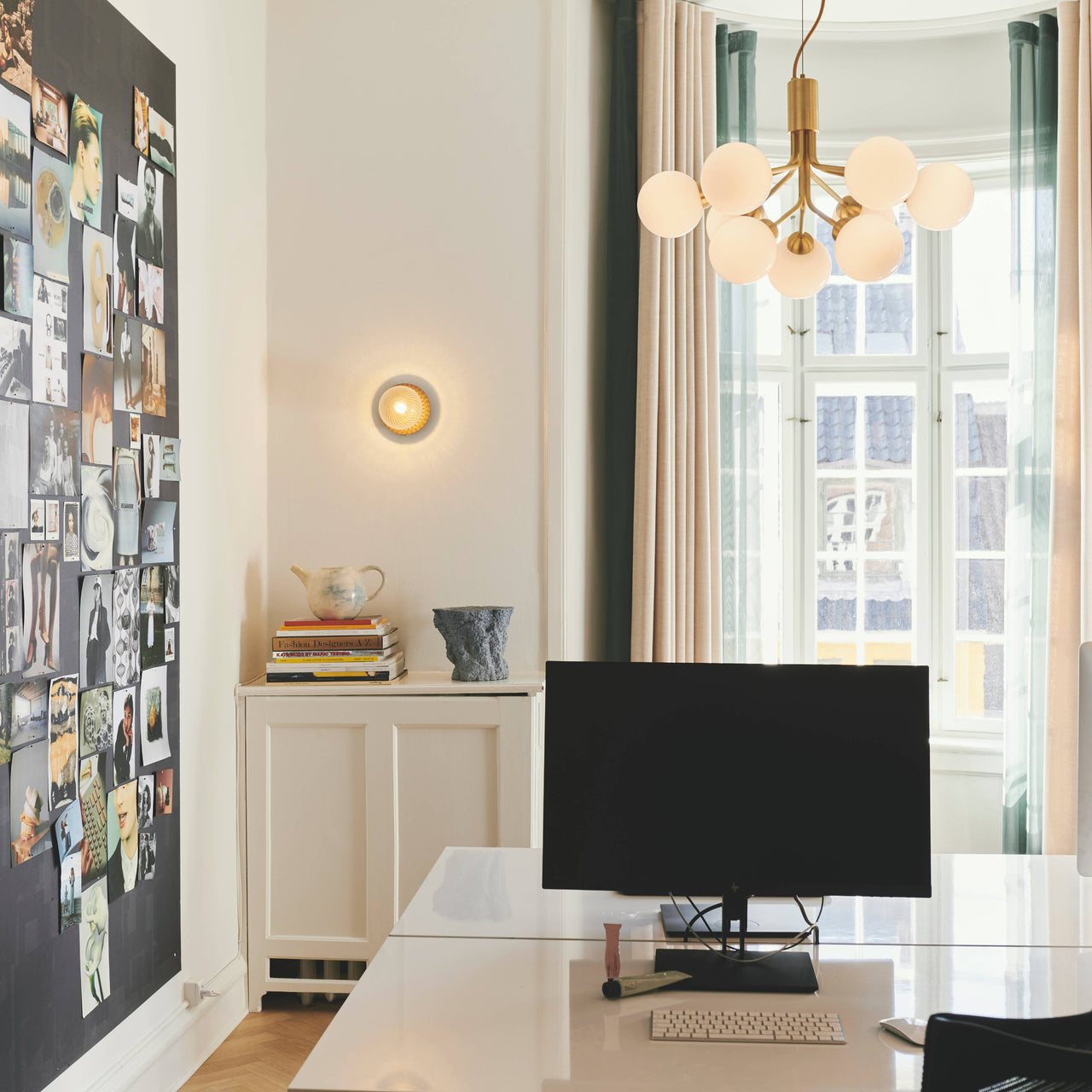 Apiales 9 Chandelier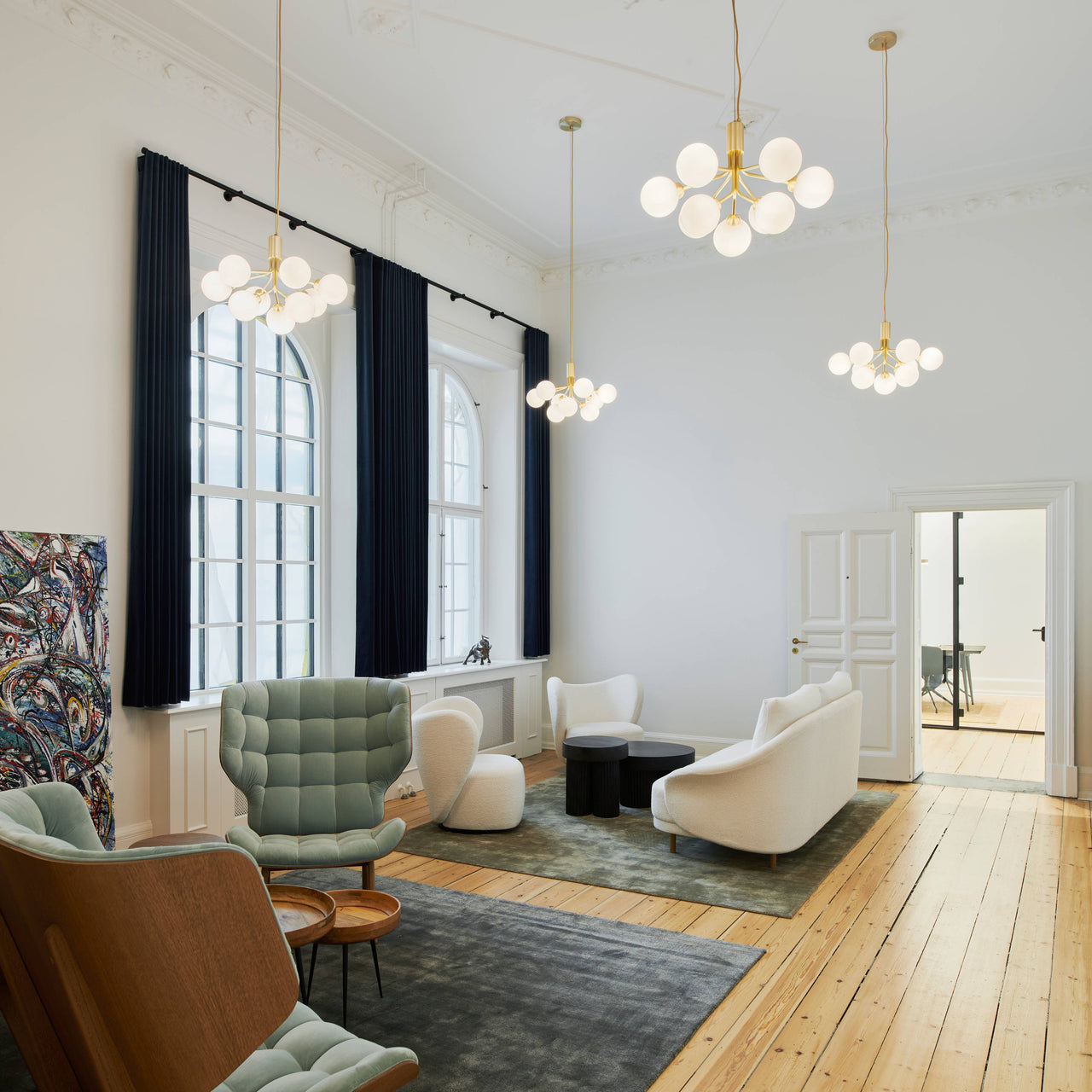 Apiales 9 Chandelier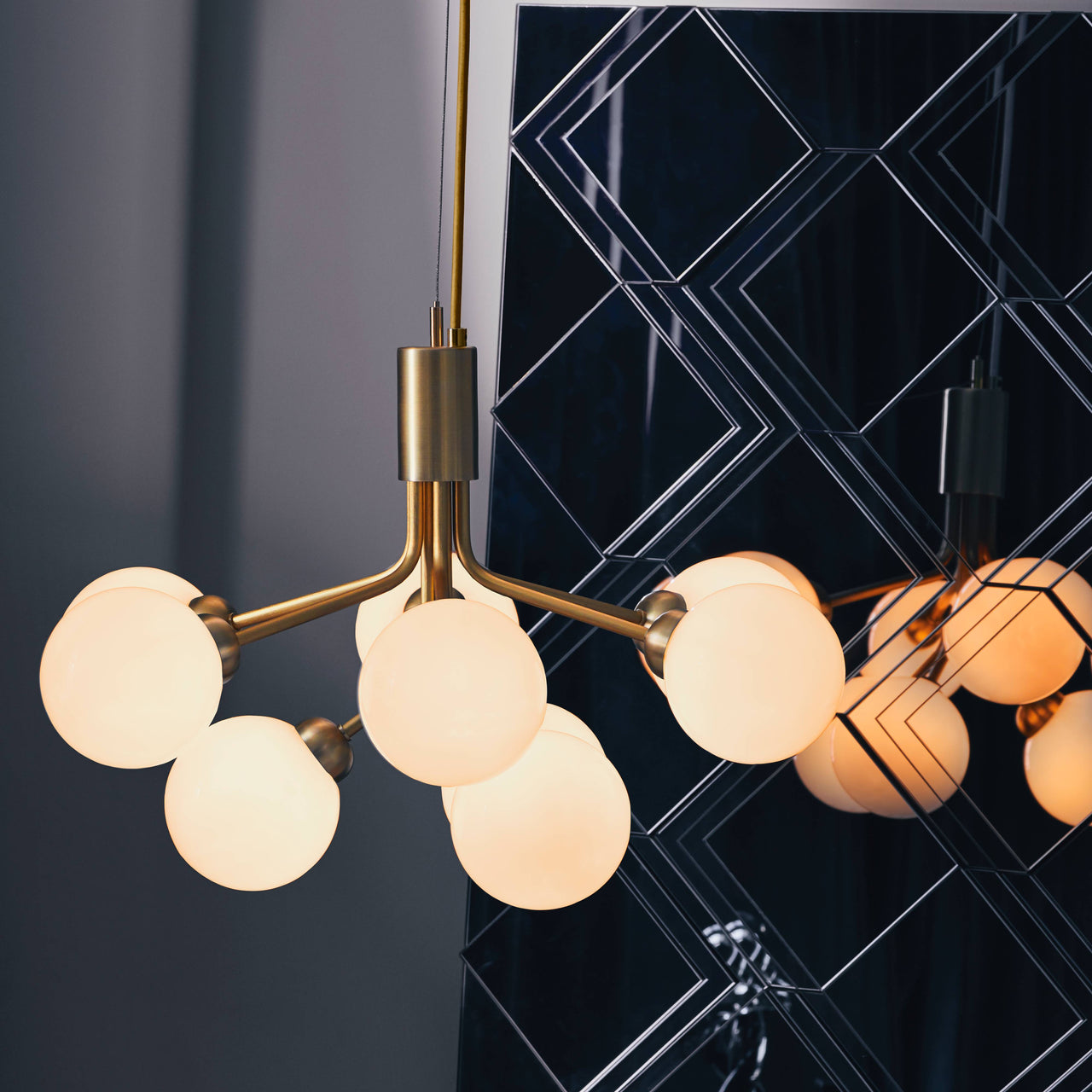 Apiales 9 Chandelier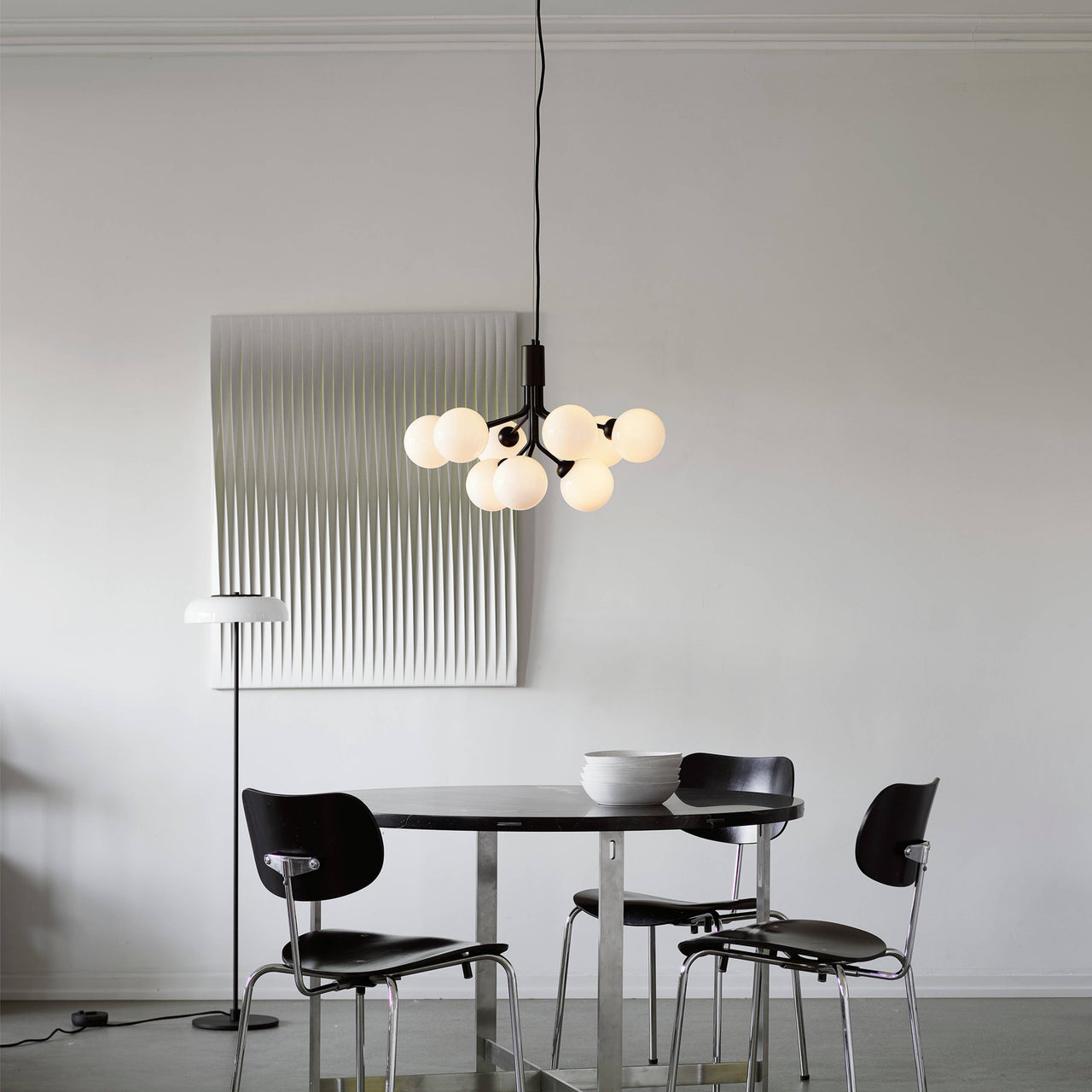 Apiales 9 Chandelier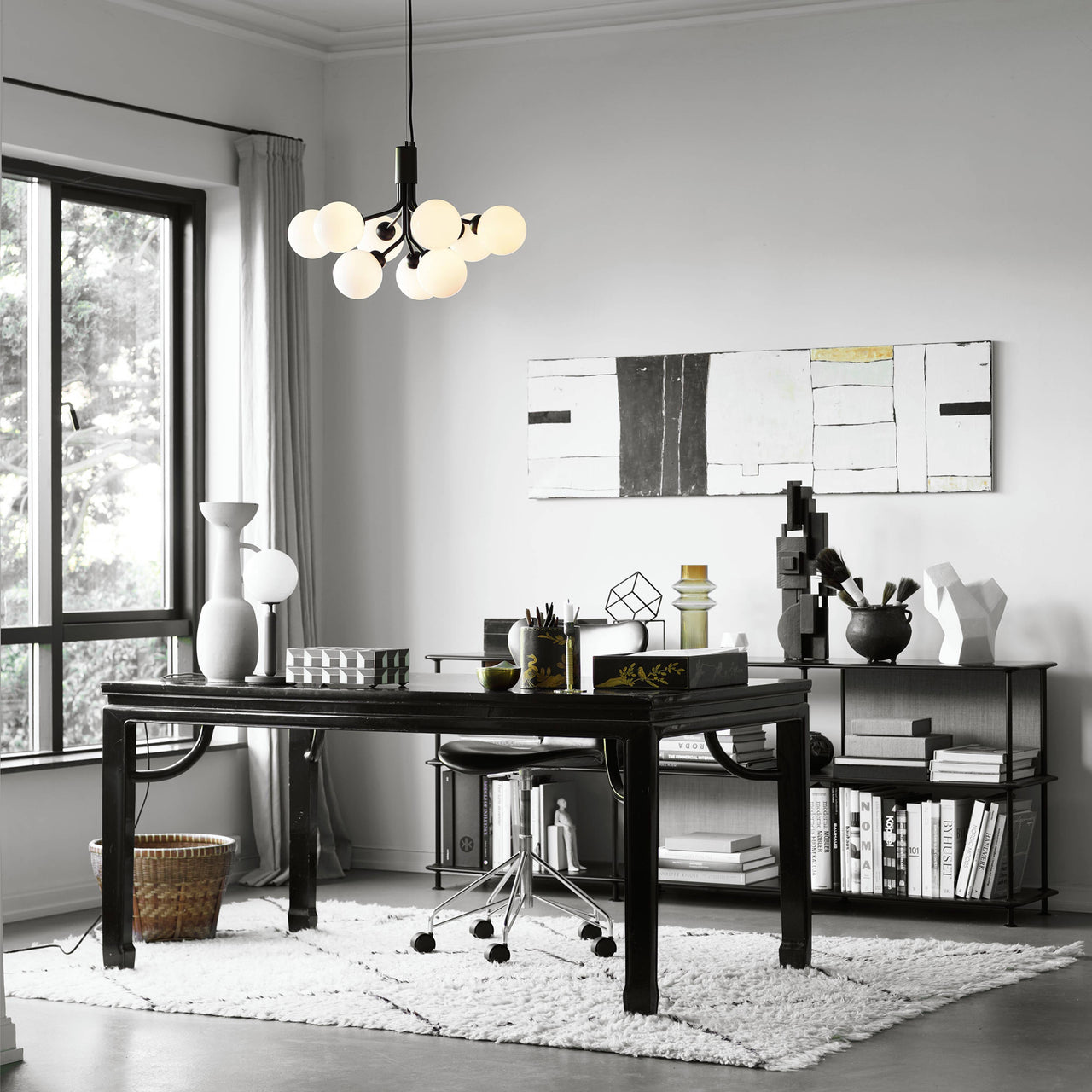 Apiales 9 Chandelier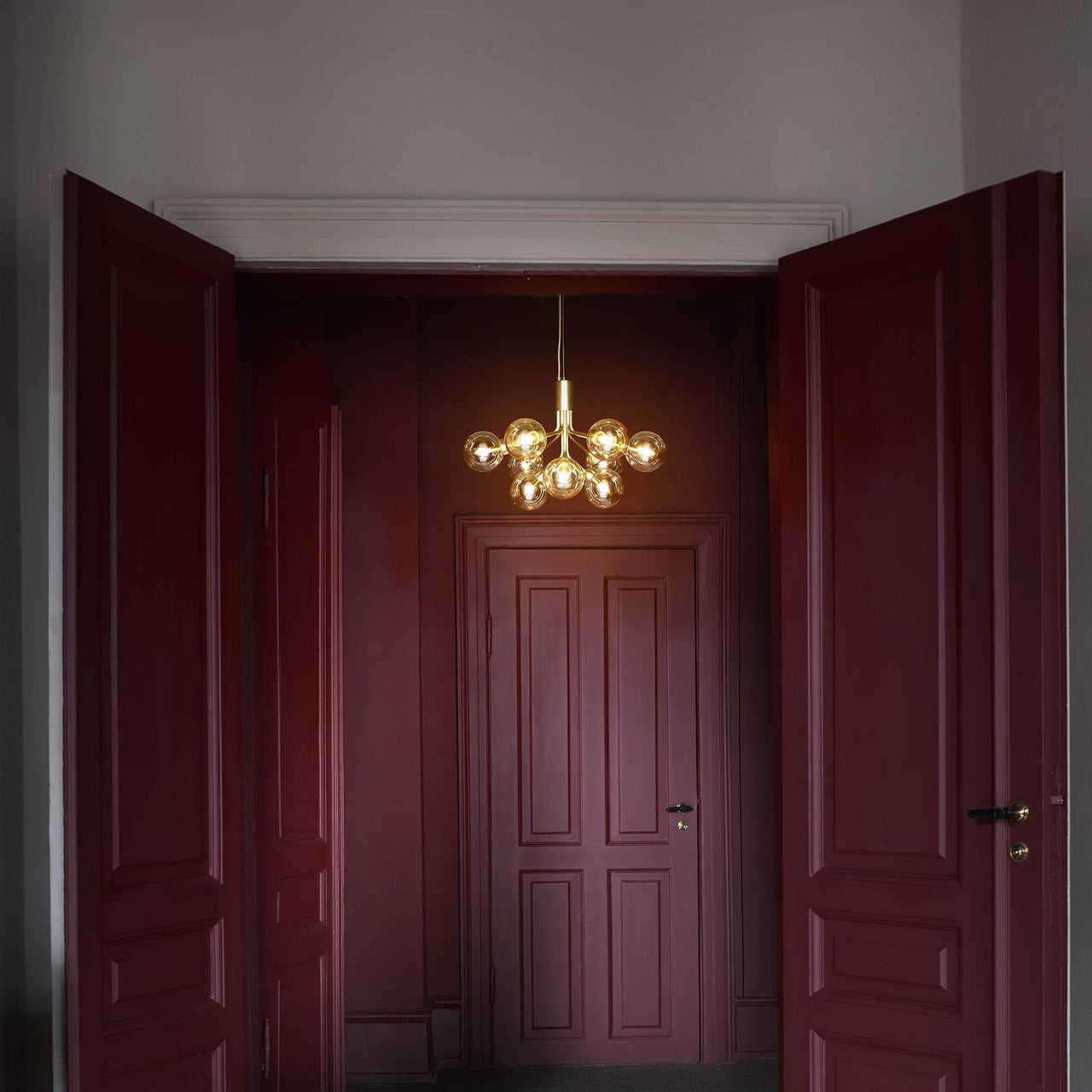 insitu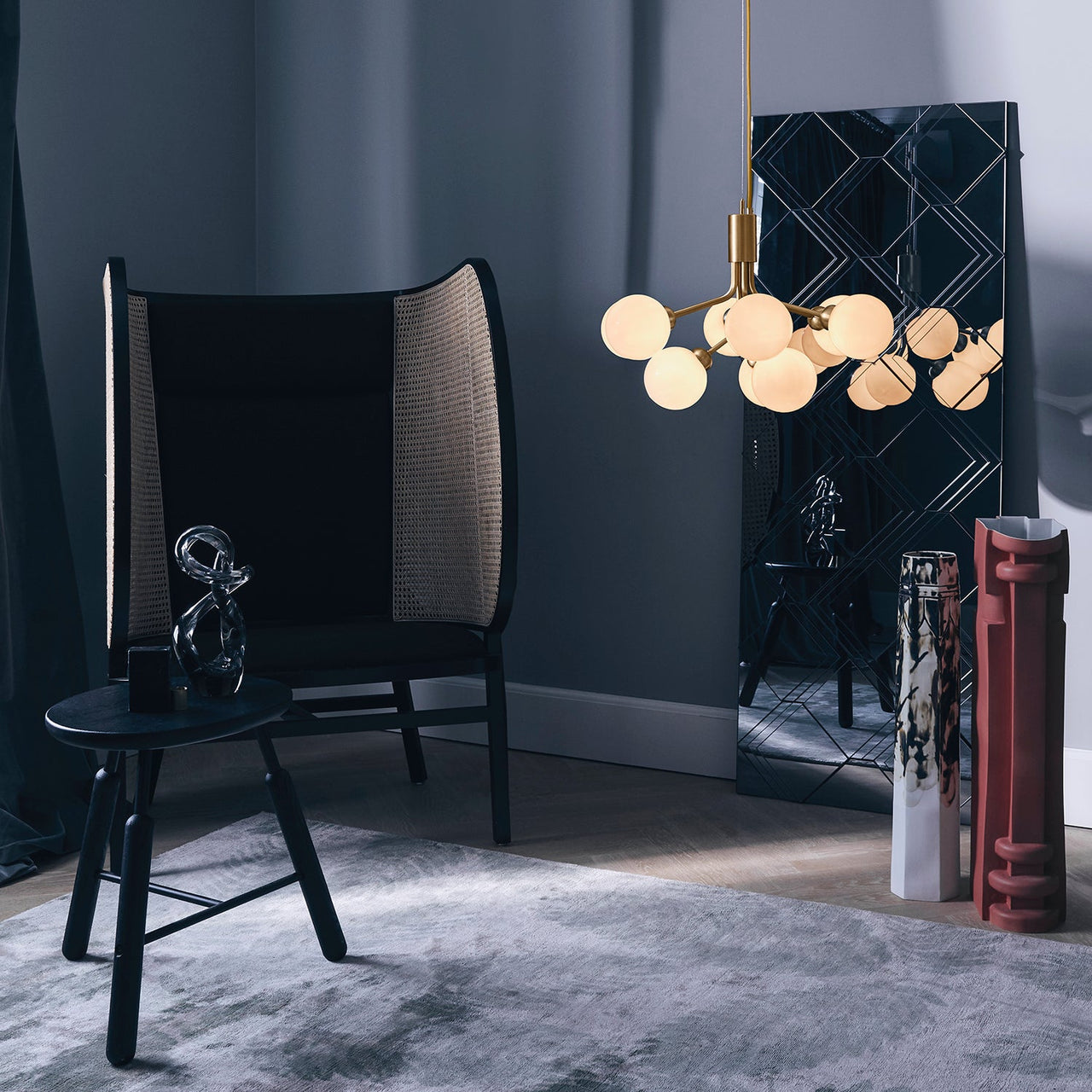 insitu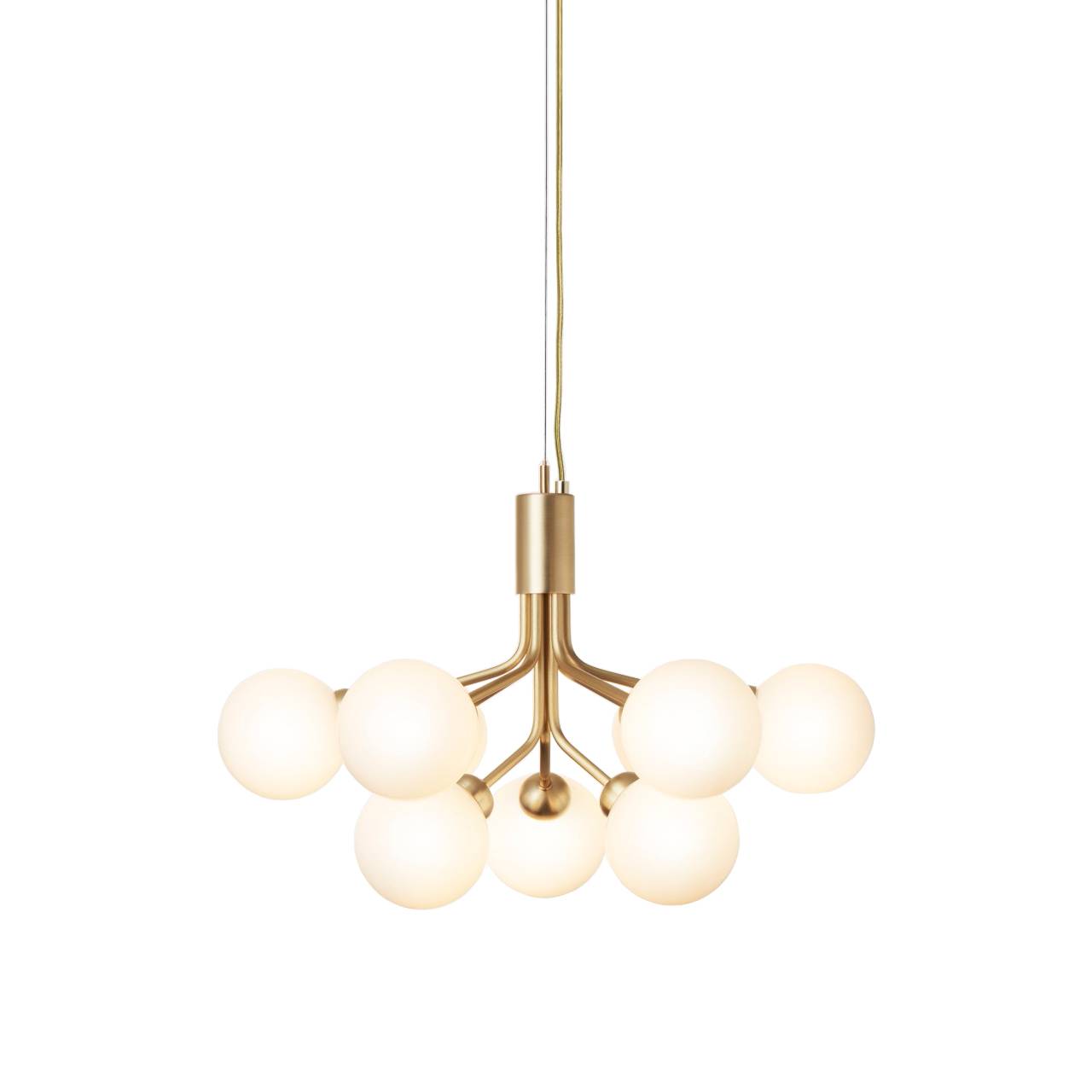 Apiales 9 Chandelier: Brushed Brass + Opal White + Gold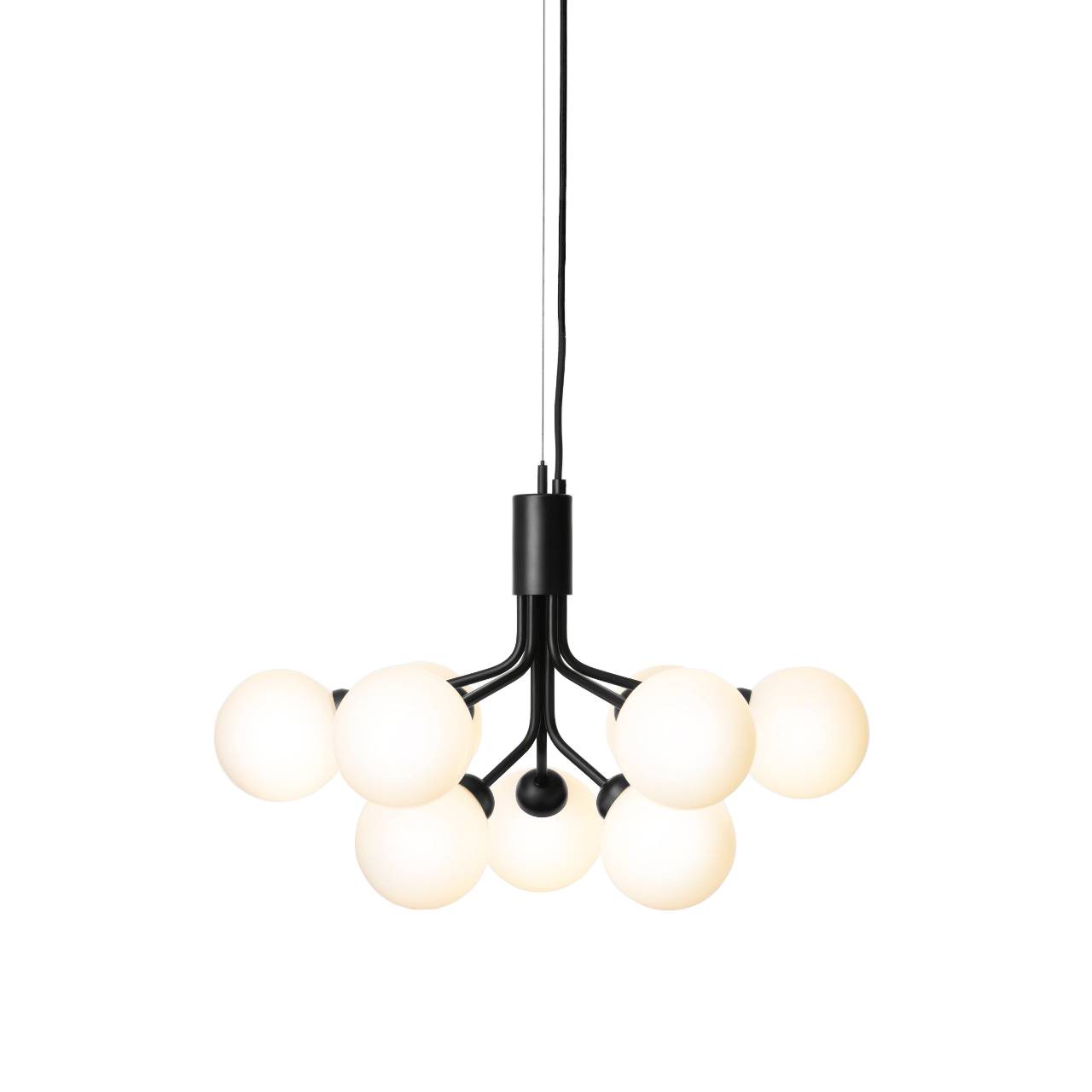 Apiales 9 Chandelier: Satin Black + Opal White + Black
Apiales 9 Chandelier: Satin Black + Optic Smoked + Black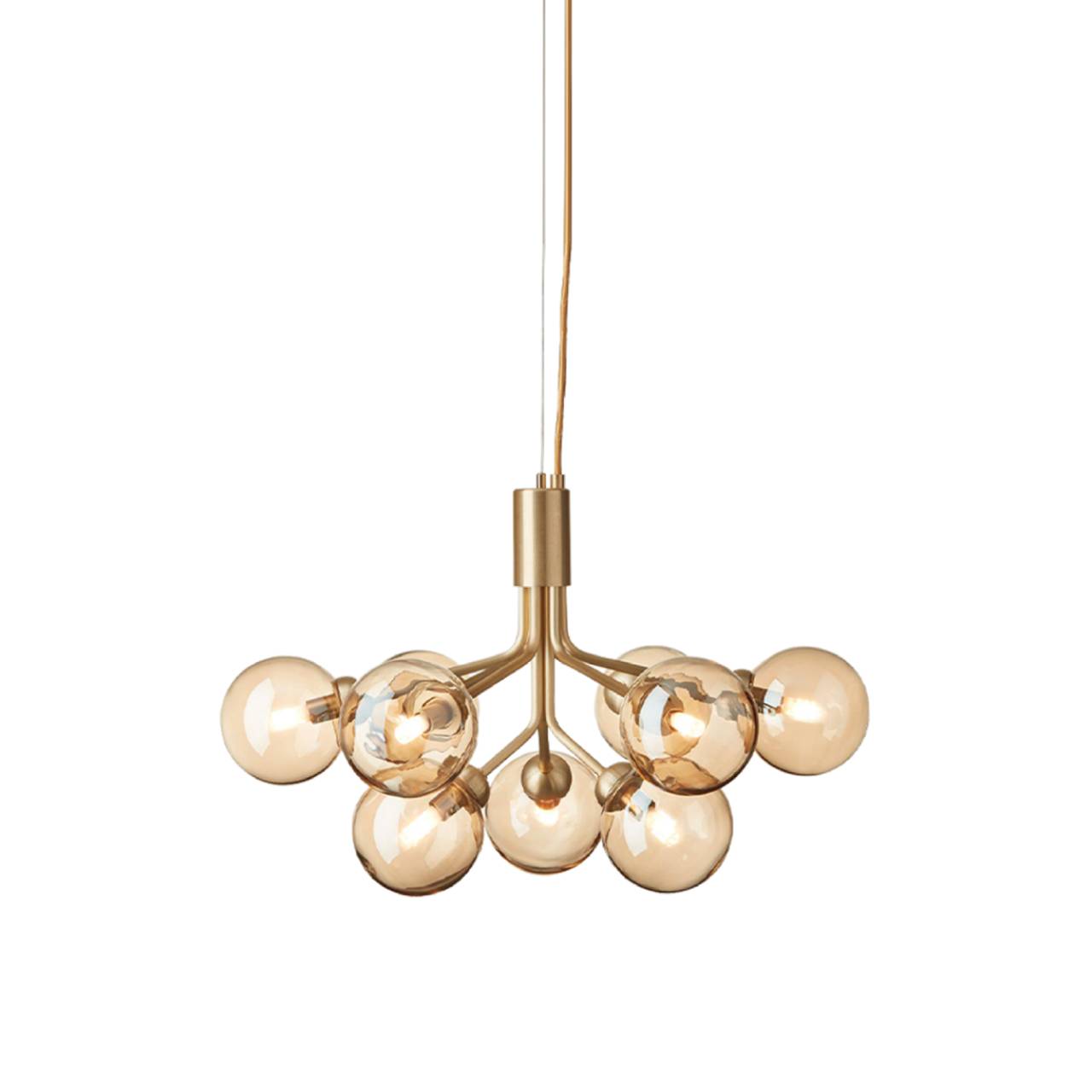 Apiales 9 Chandelier: Brushed Brass + Optic Gold + Gold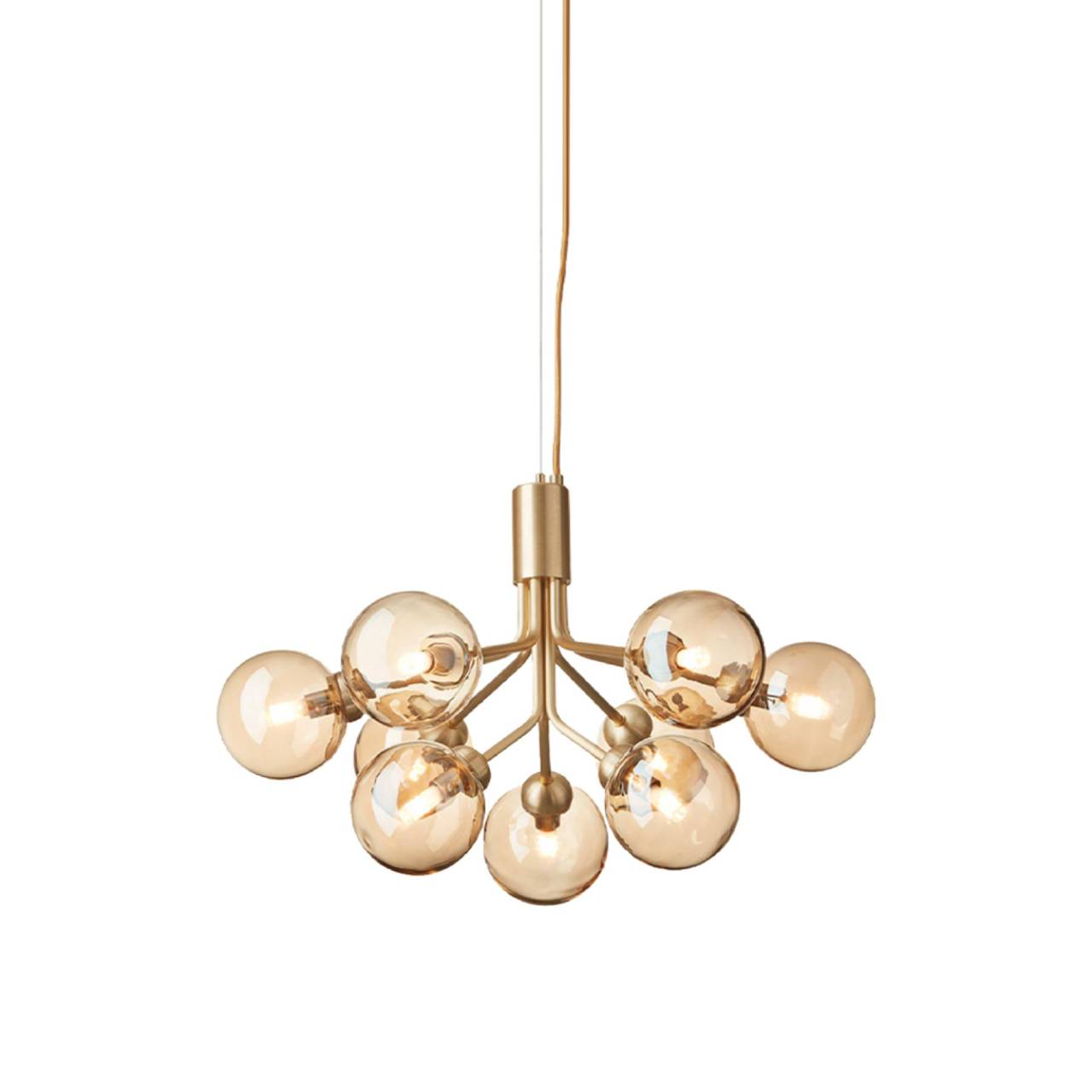 Apiales 9 Chandelier: Brushed Brass + Optic Gold + Gold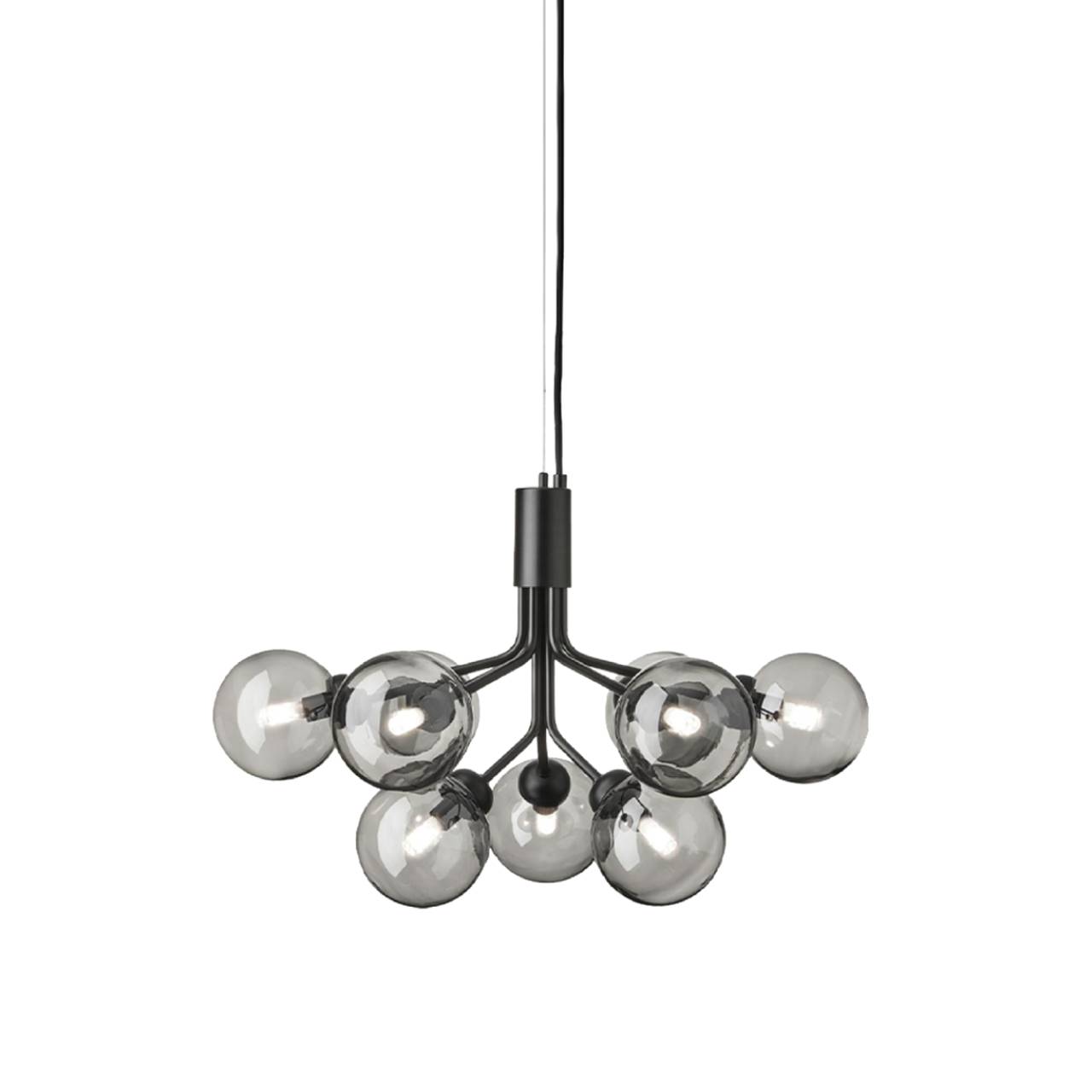 Apiales 9 Chandelier: Satin Black + Optic Smoked + Black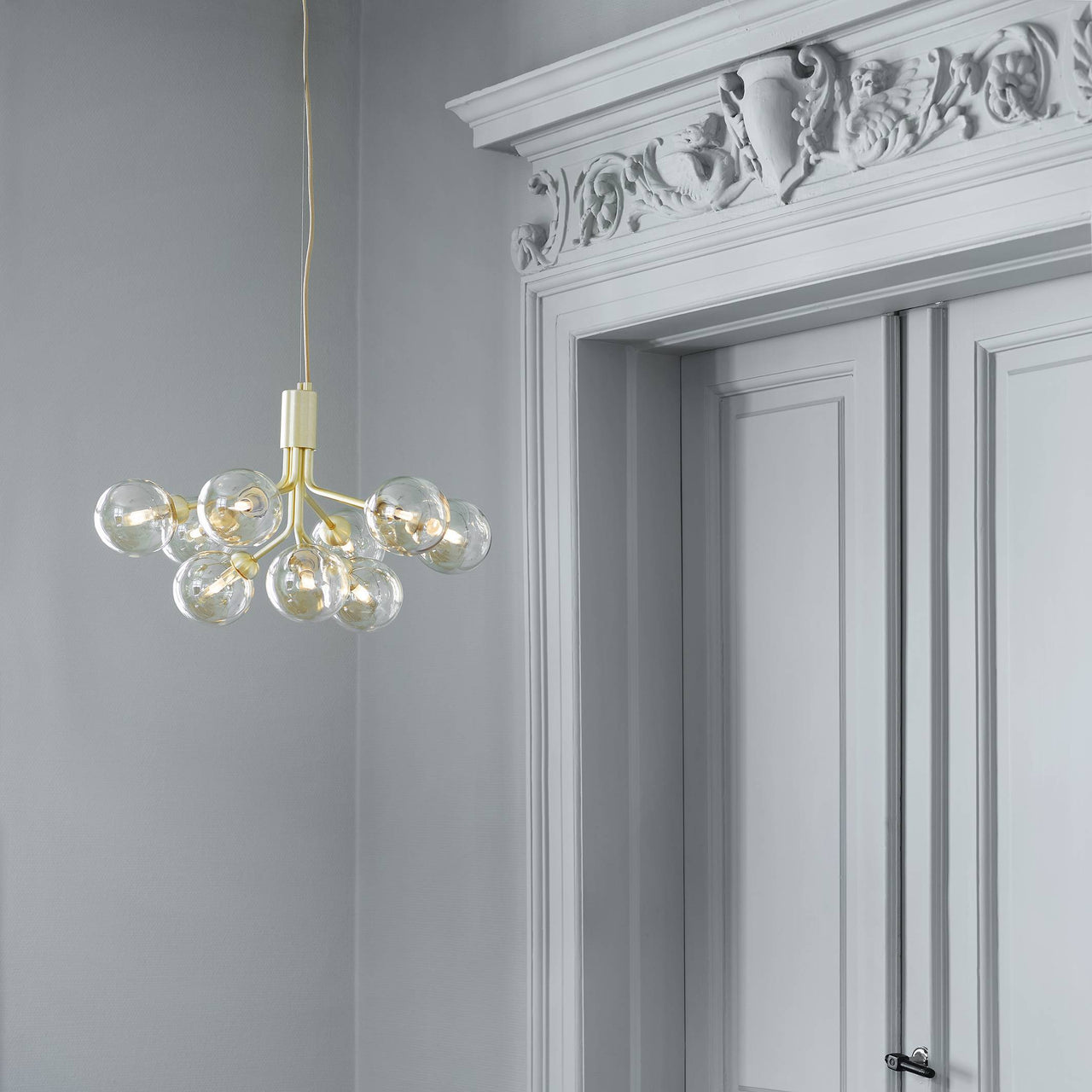 Apiales 9 Chandelier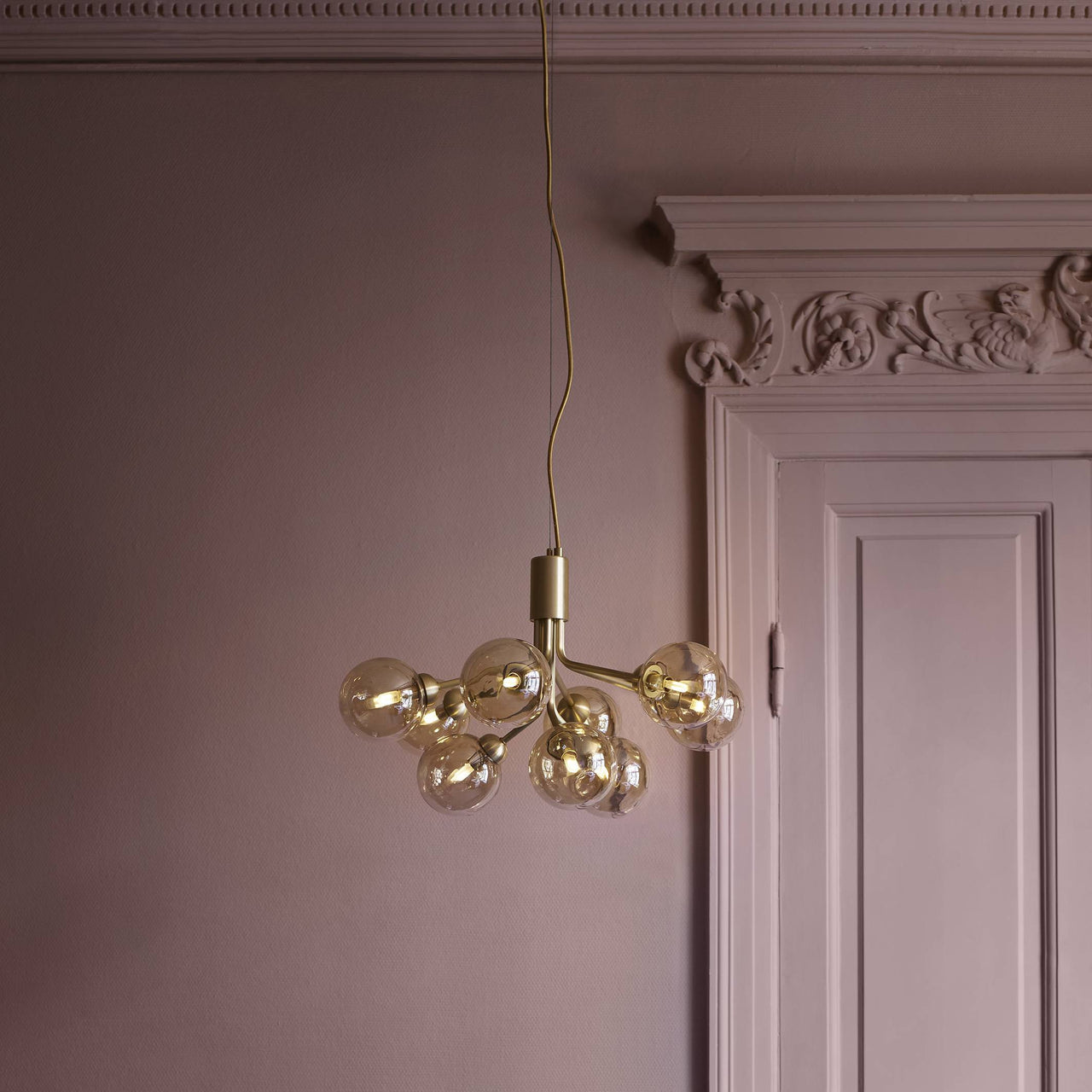 Apiales 9 Chandelier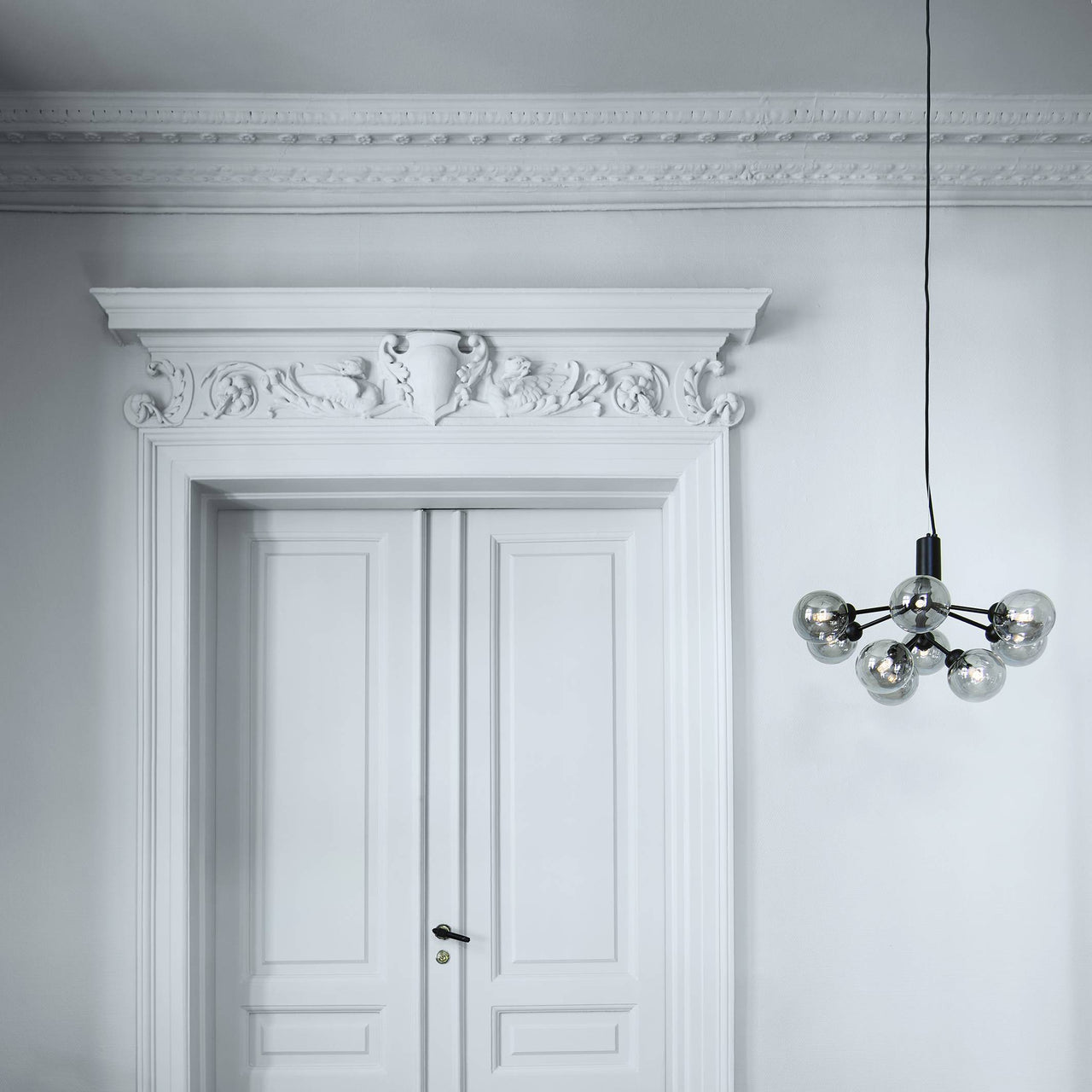 Apiales 9 Chandelier
Apiales 9 Chandelier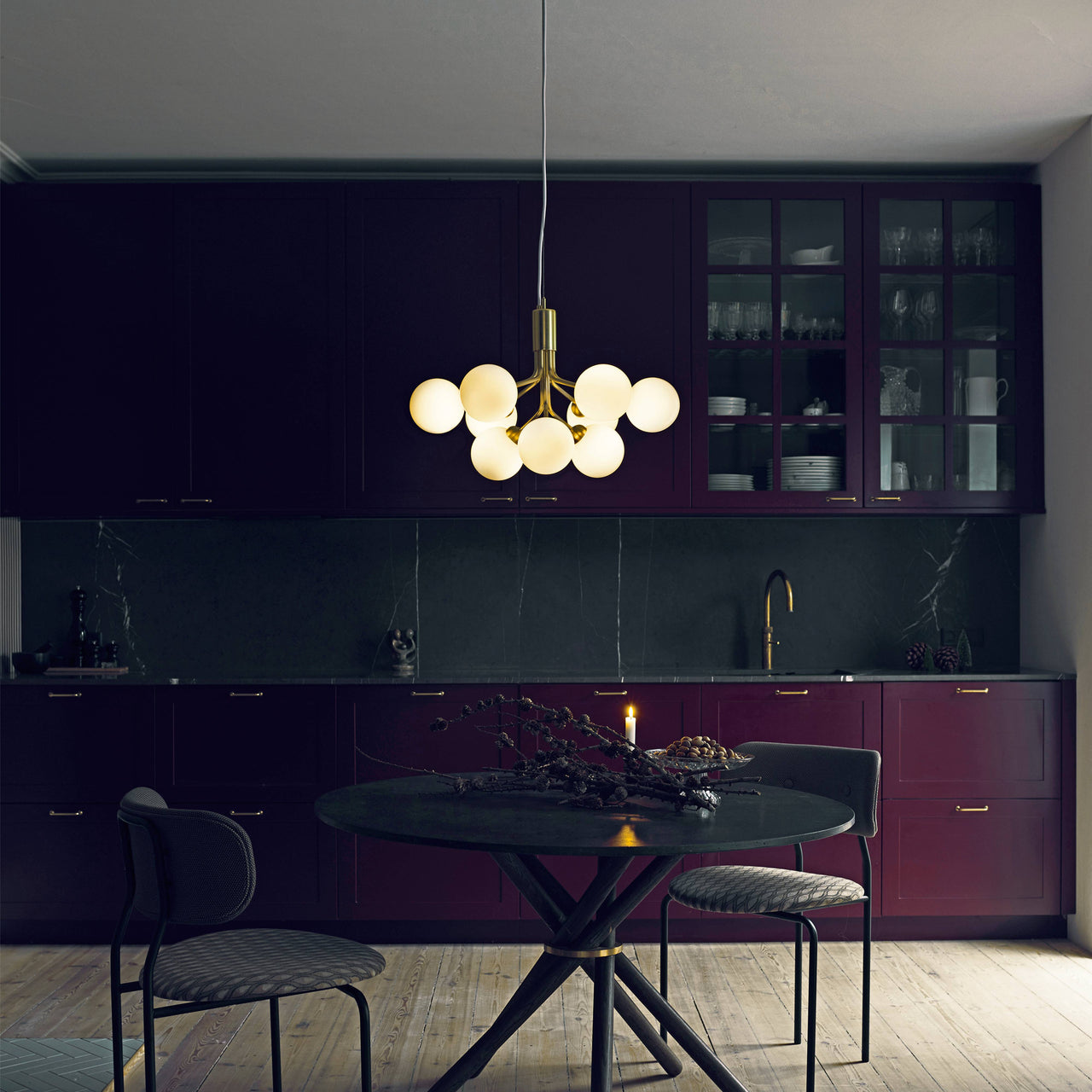 Apiales 9 Chandelier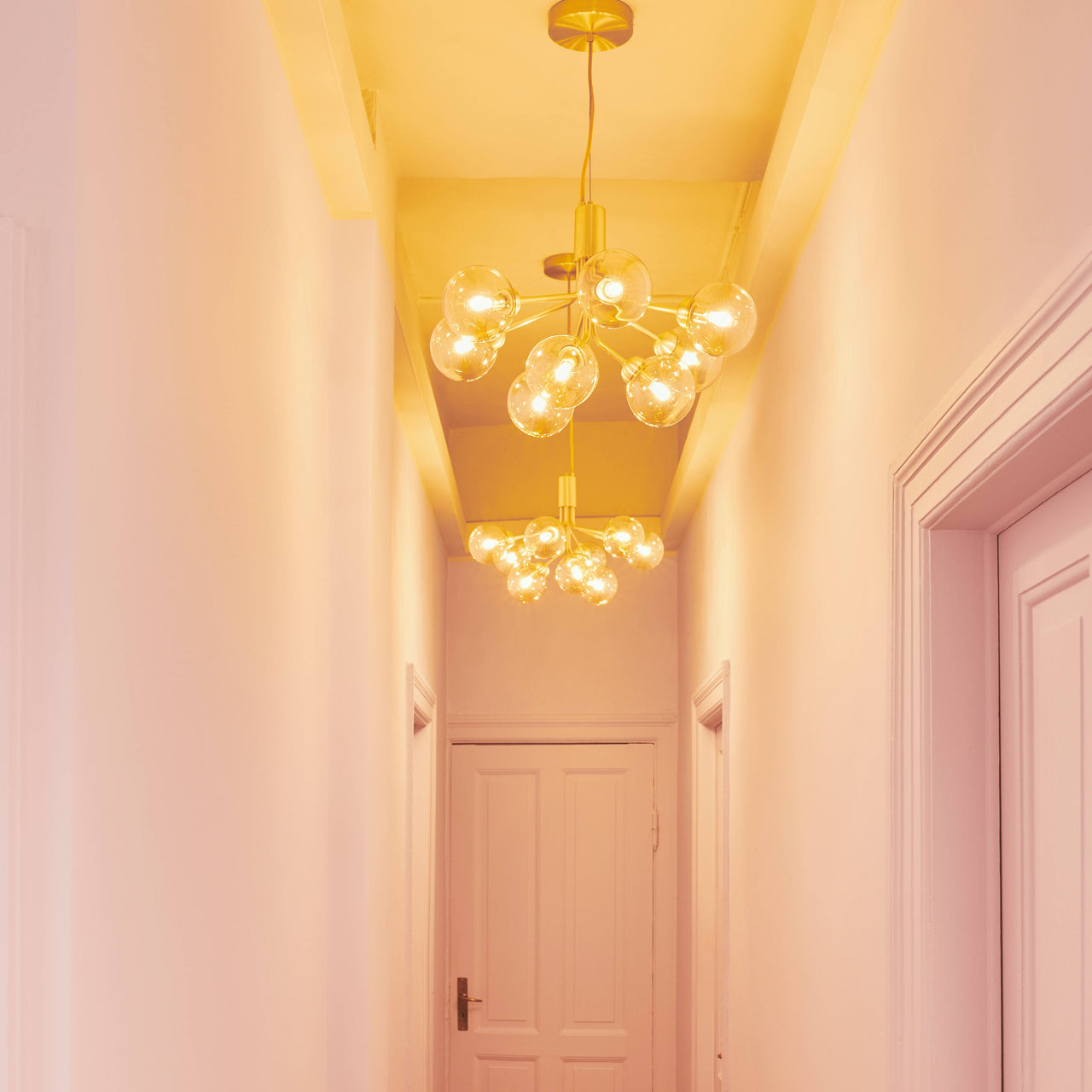 Apiales 9 Chandelier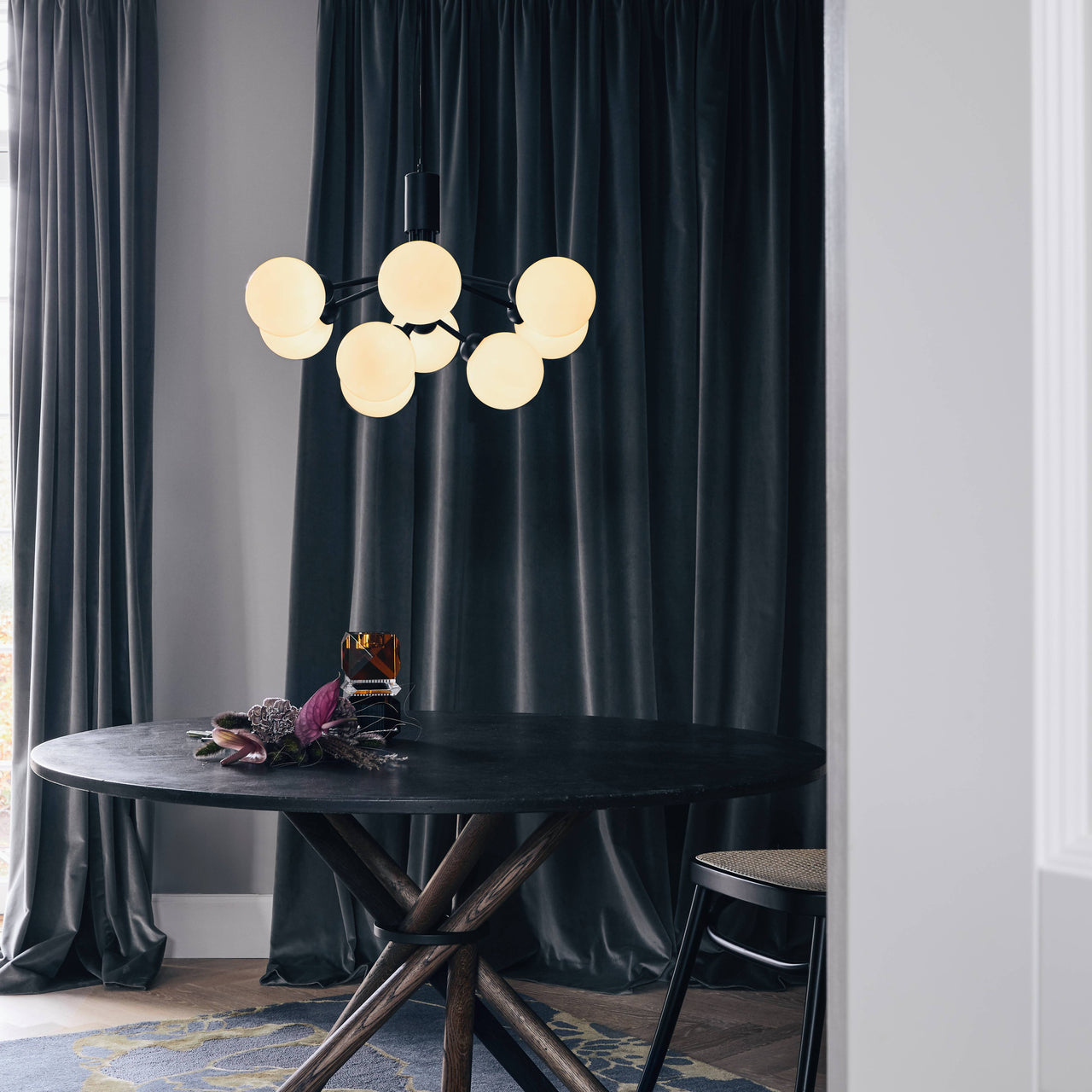 Apiales 9 Chandelier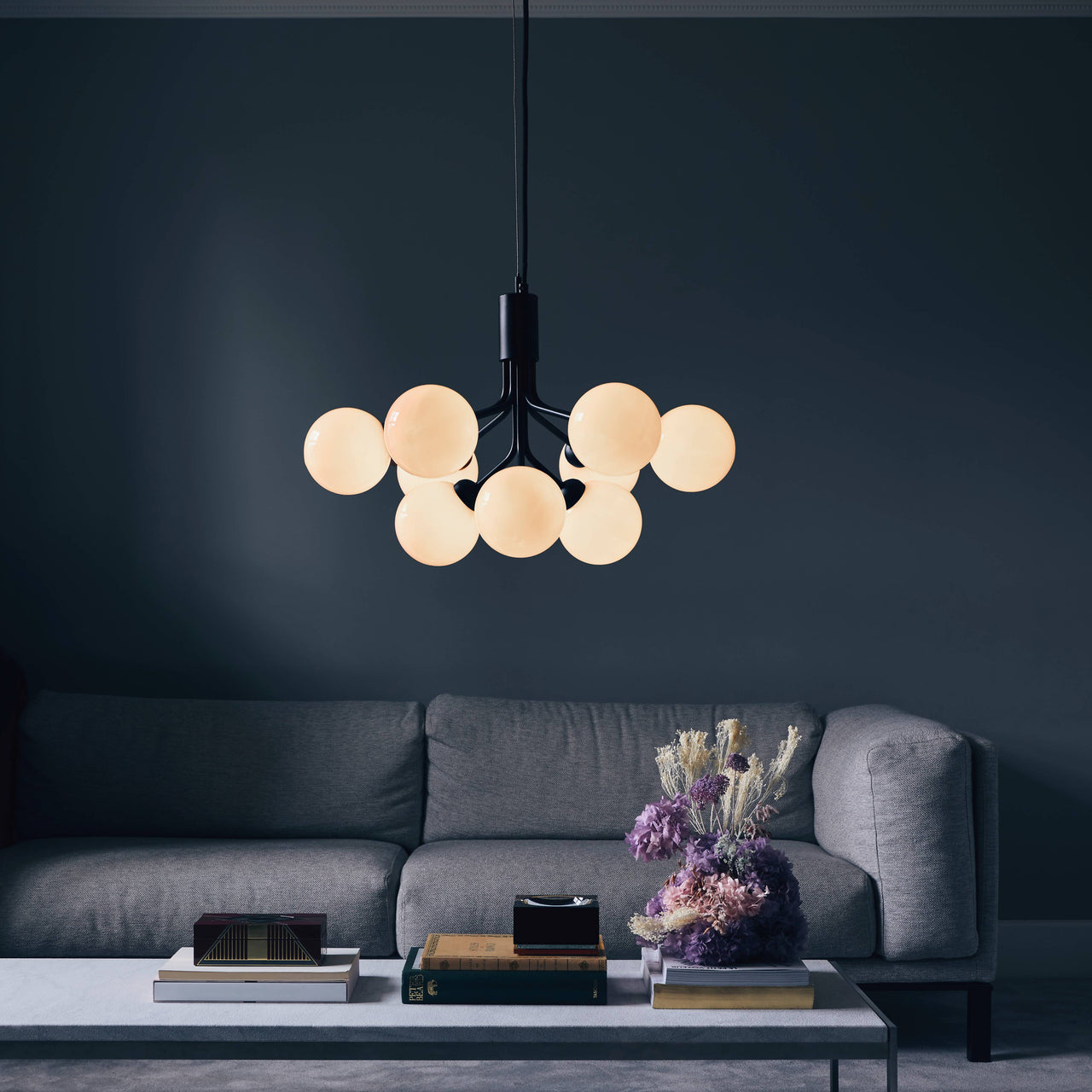 Apiales 9 Chandelier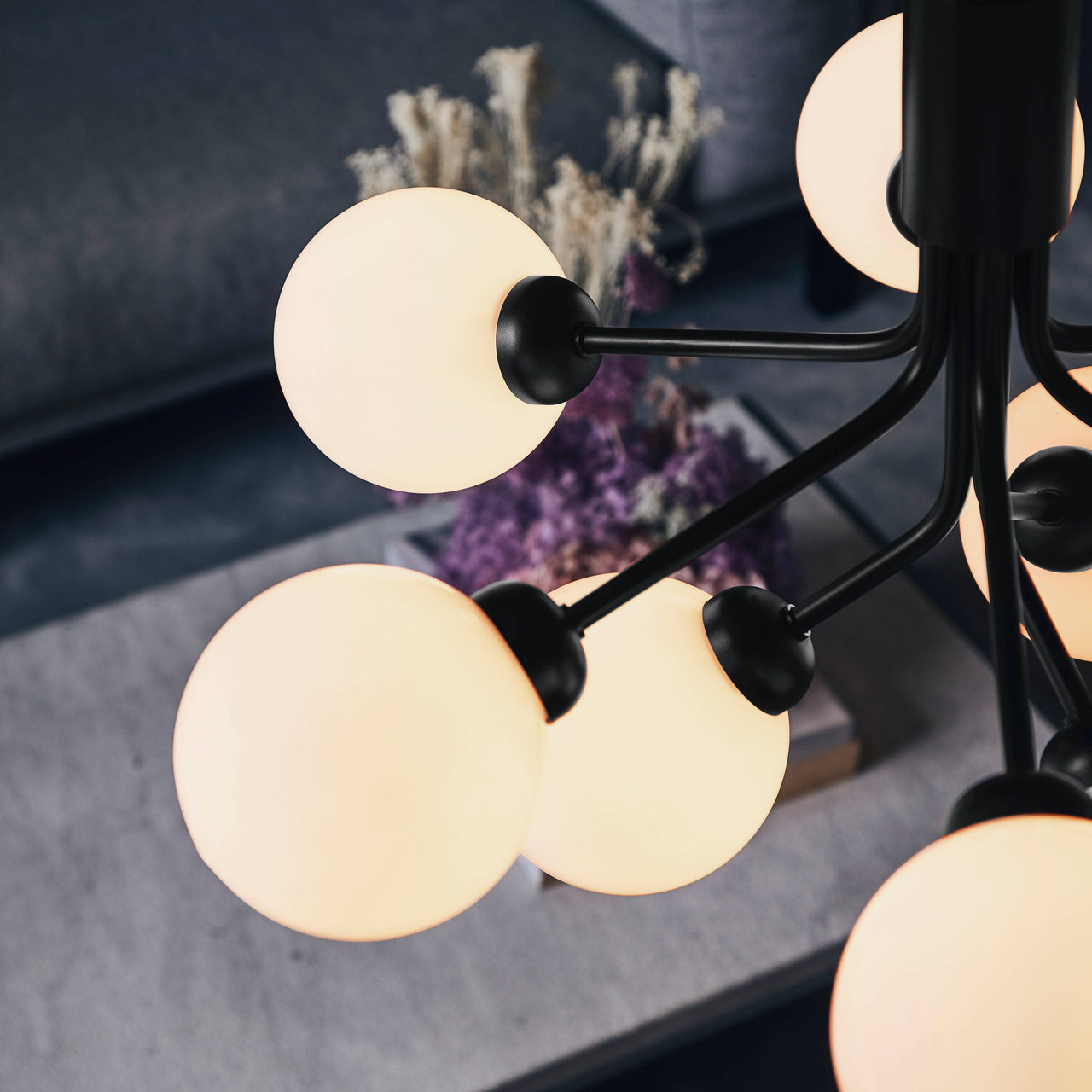 Apiales 9 Chandelier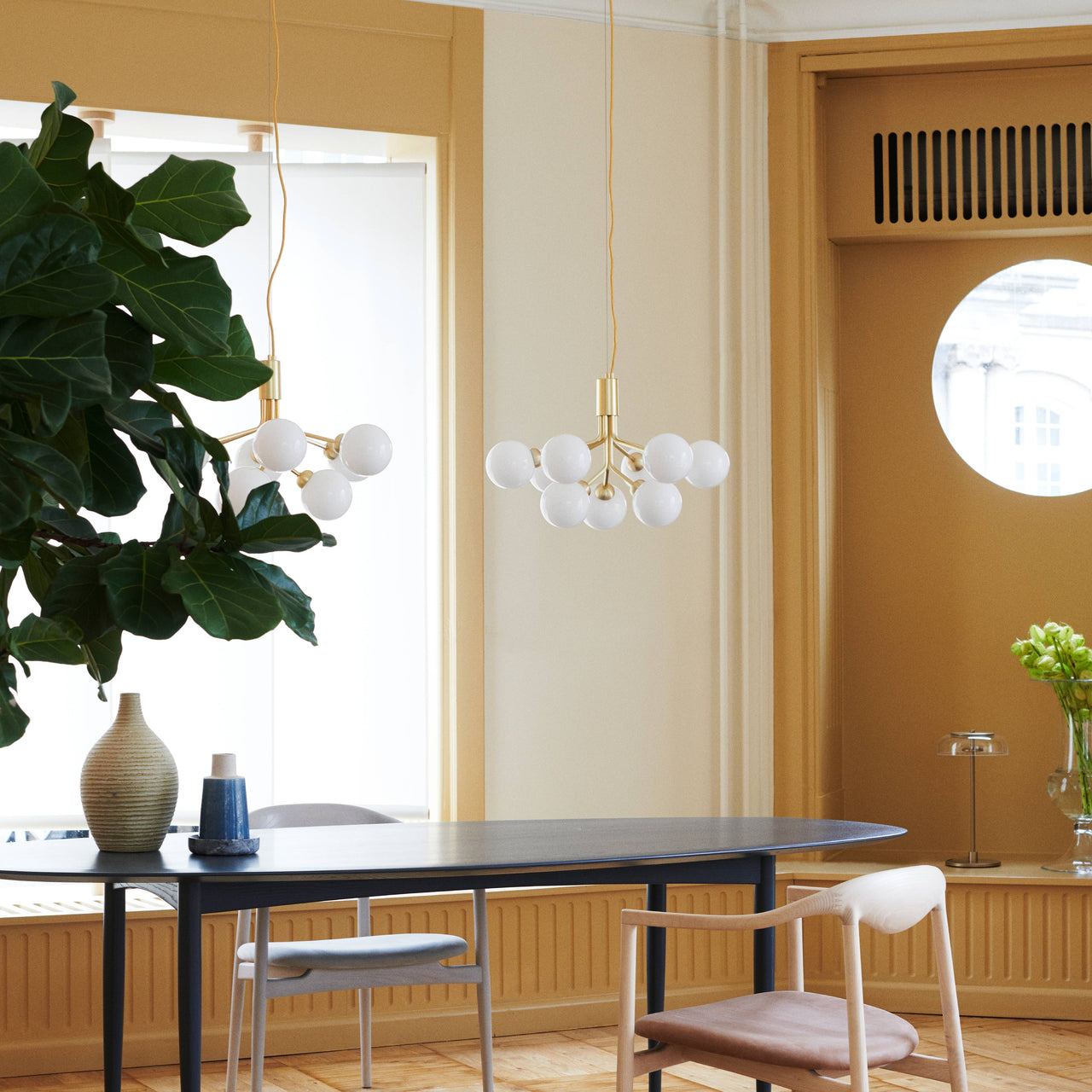 Apiales 9 Chandelier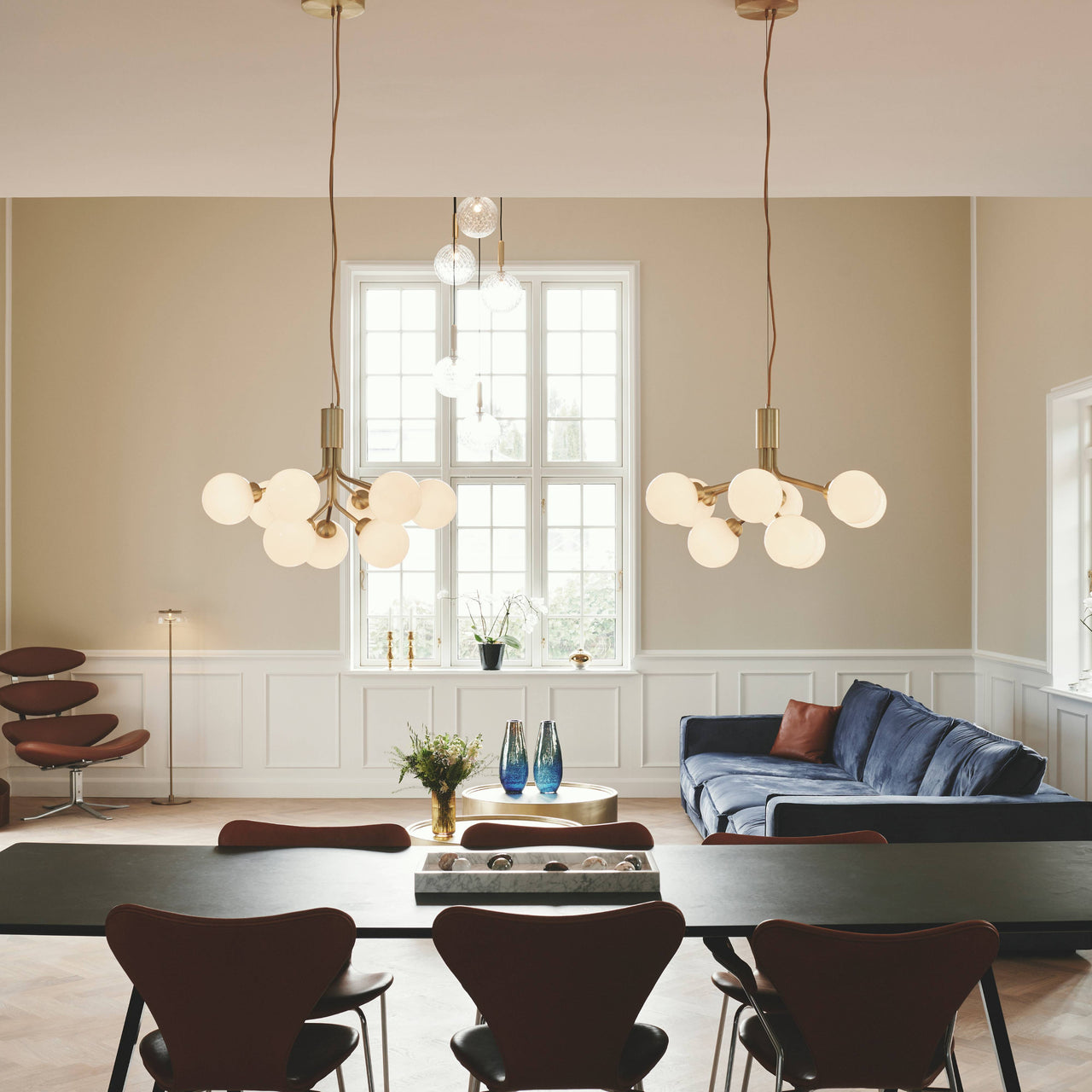 Apiales 9 Chandelier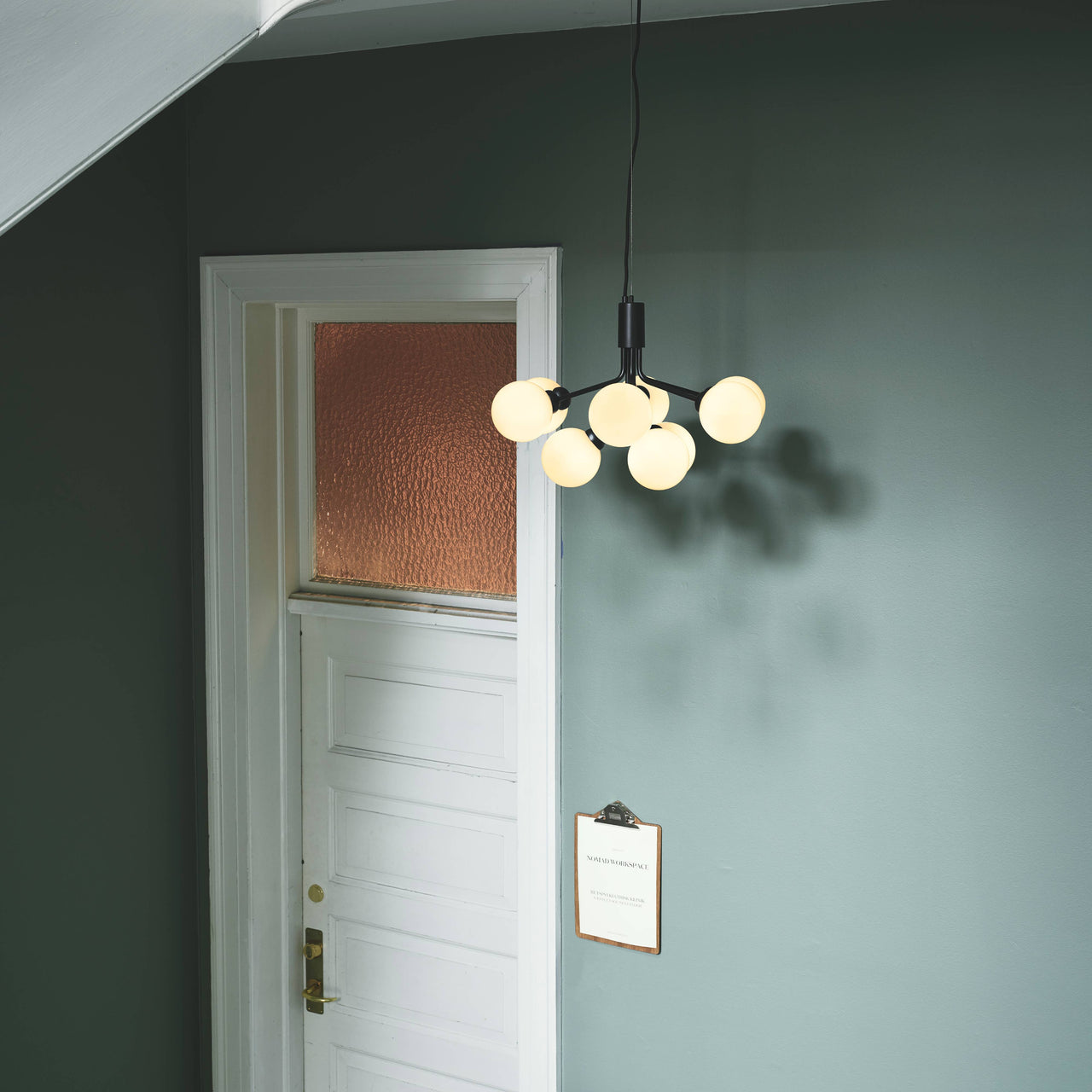 Apiales 9 Chandelier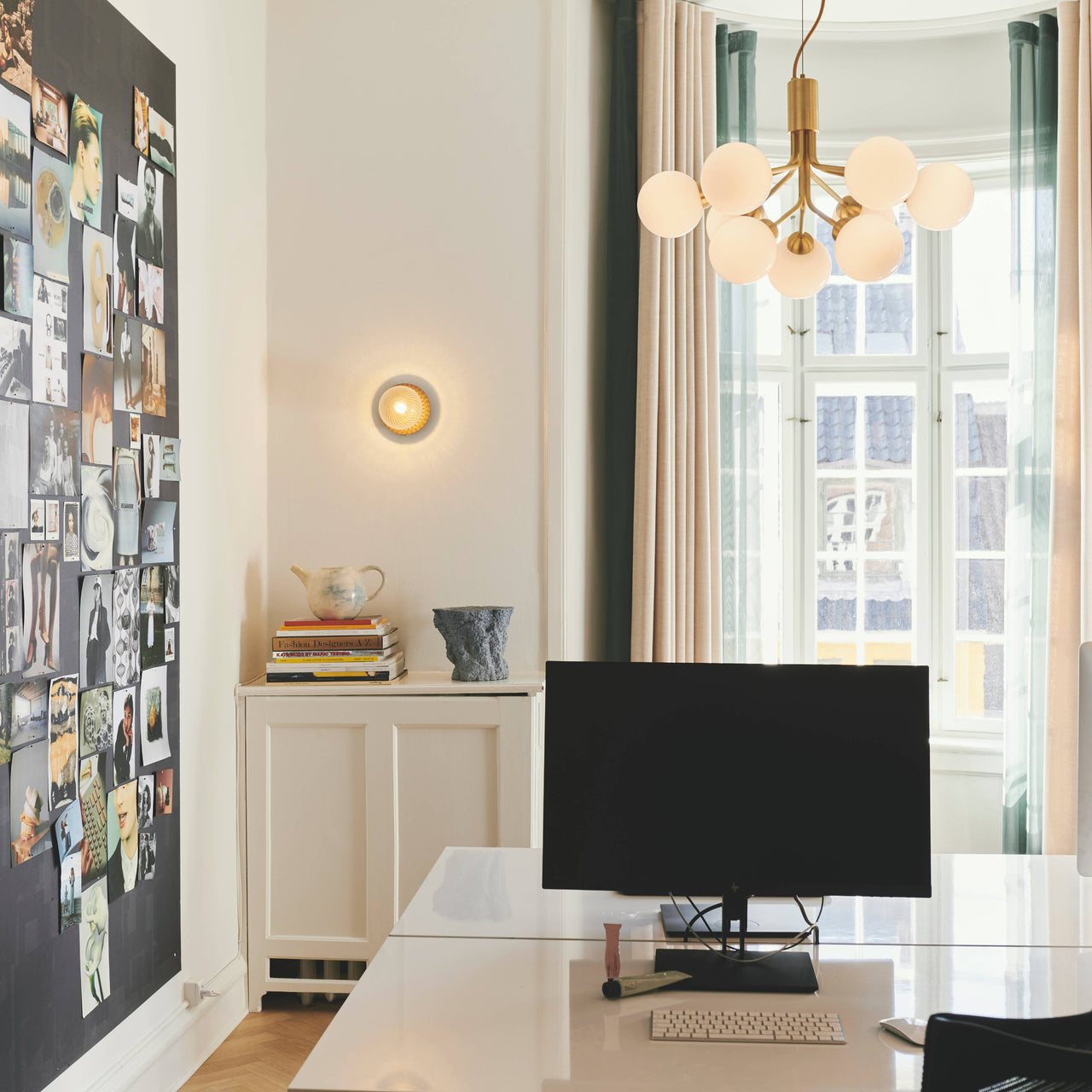 Apiales 9 Chandelier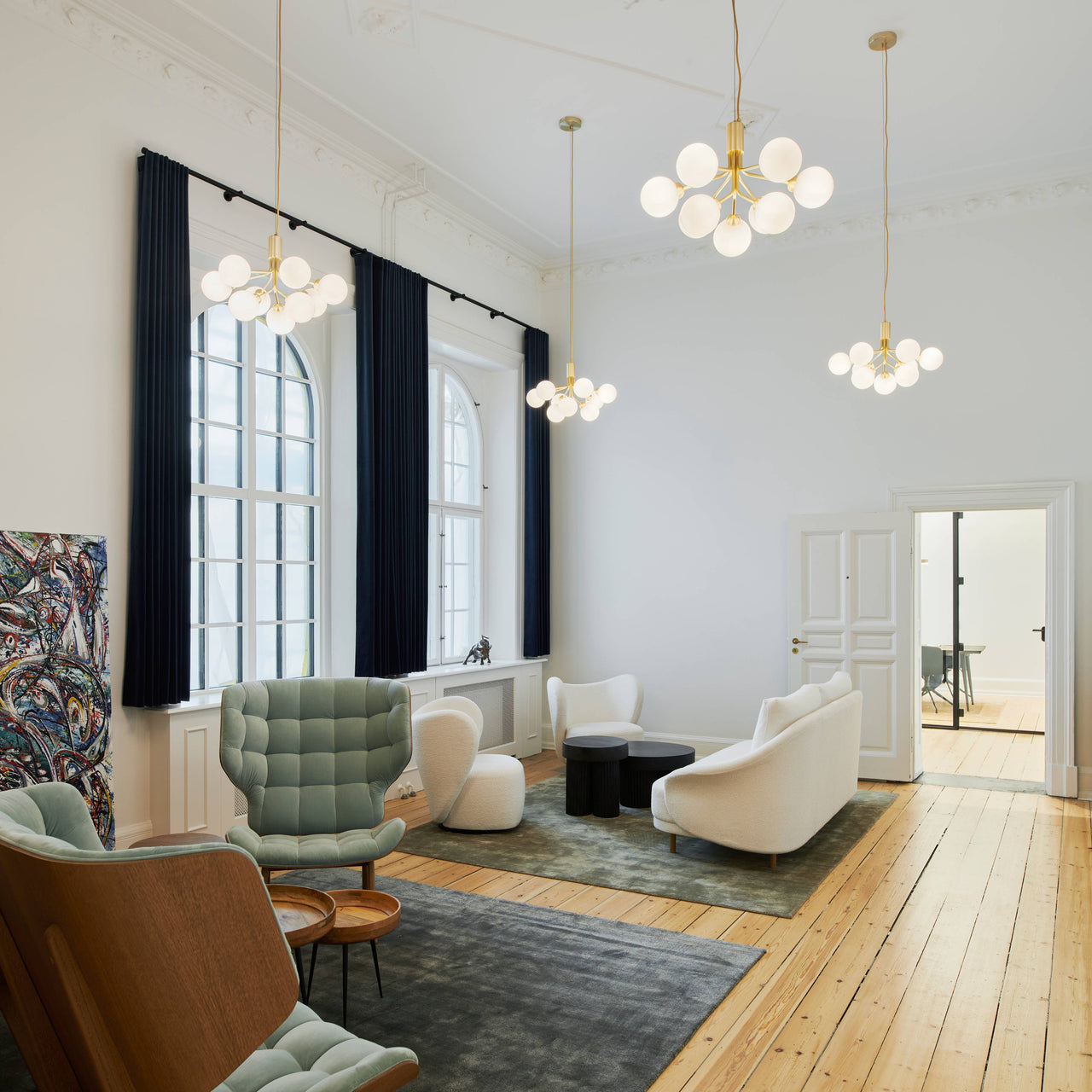 Apiales 9 Chandelier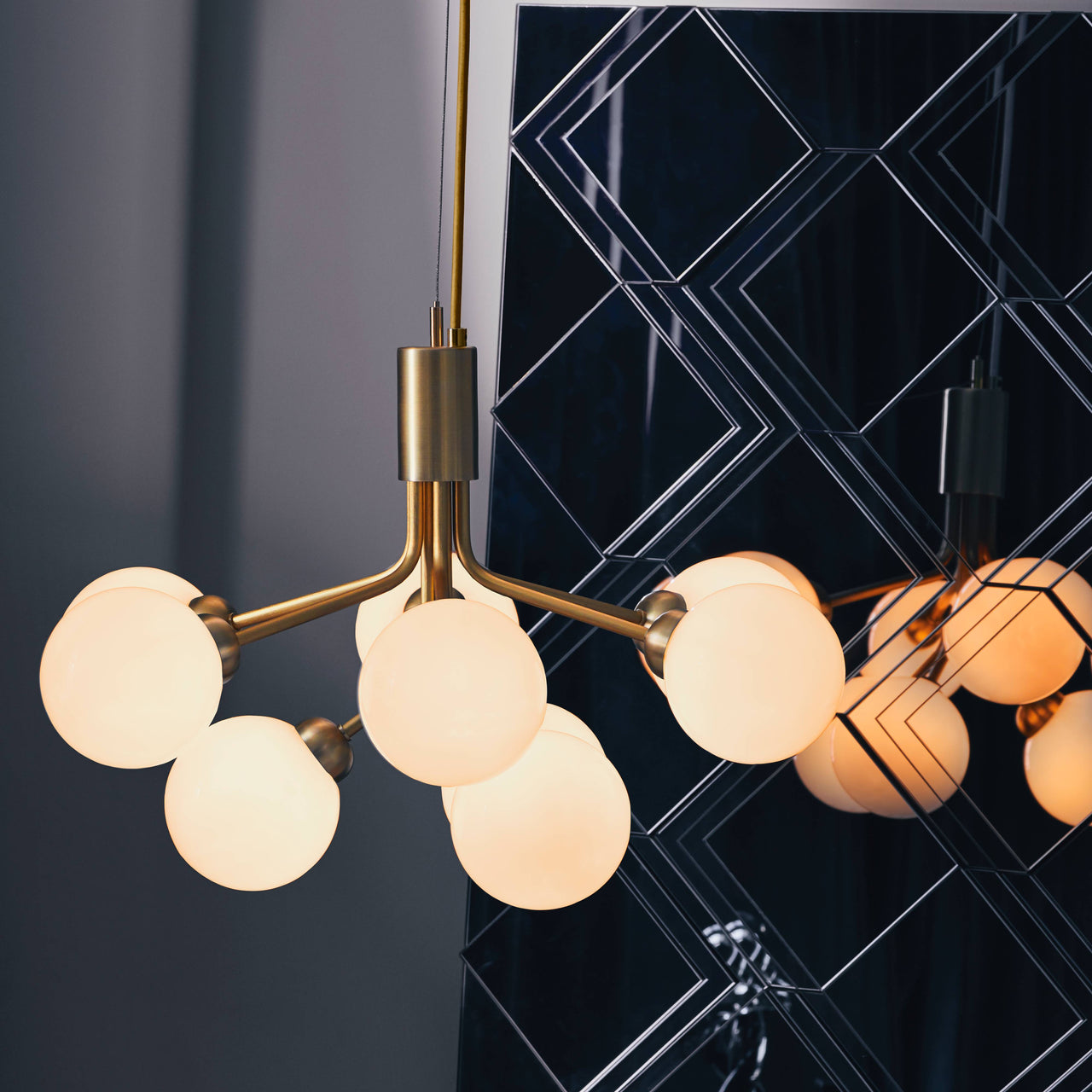 Apiales 9 Chandelier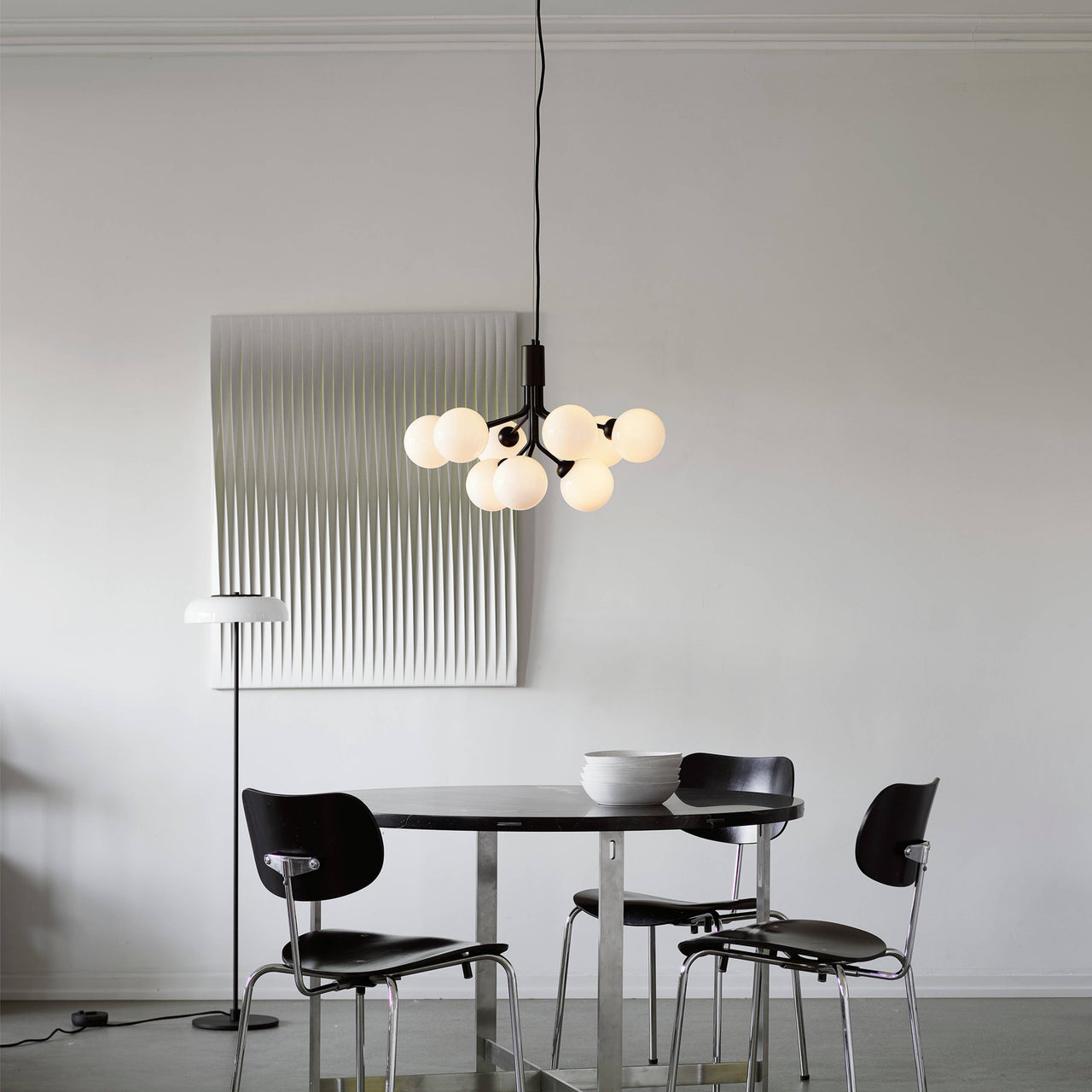 Apiales 9 Chandelier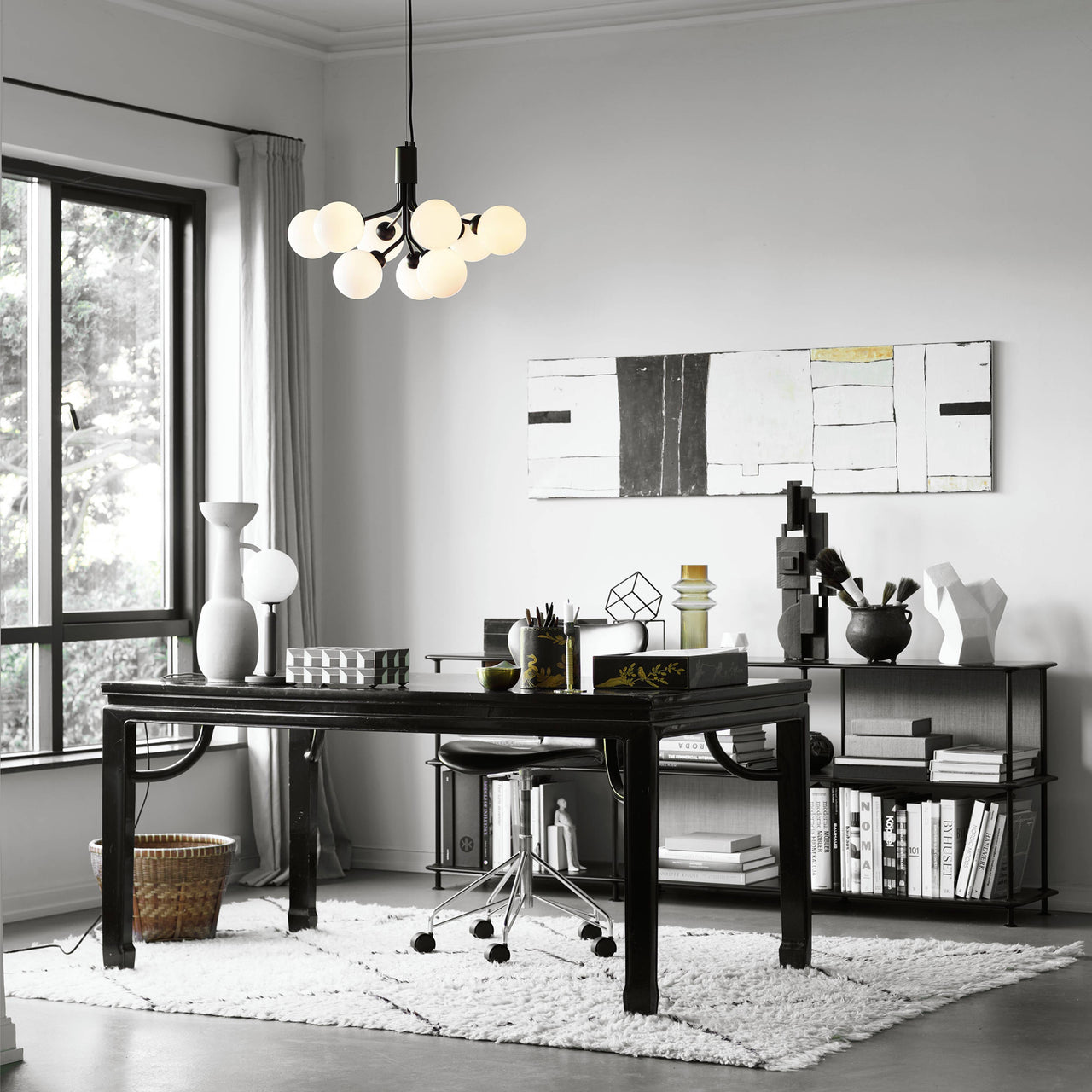 Apiales 9 Chandelier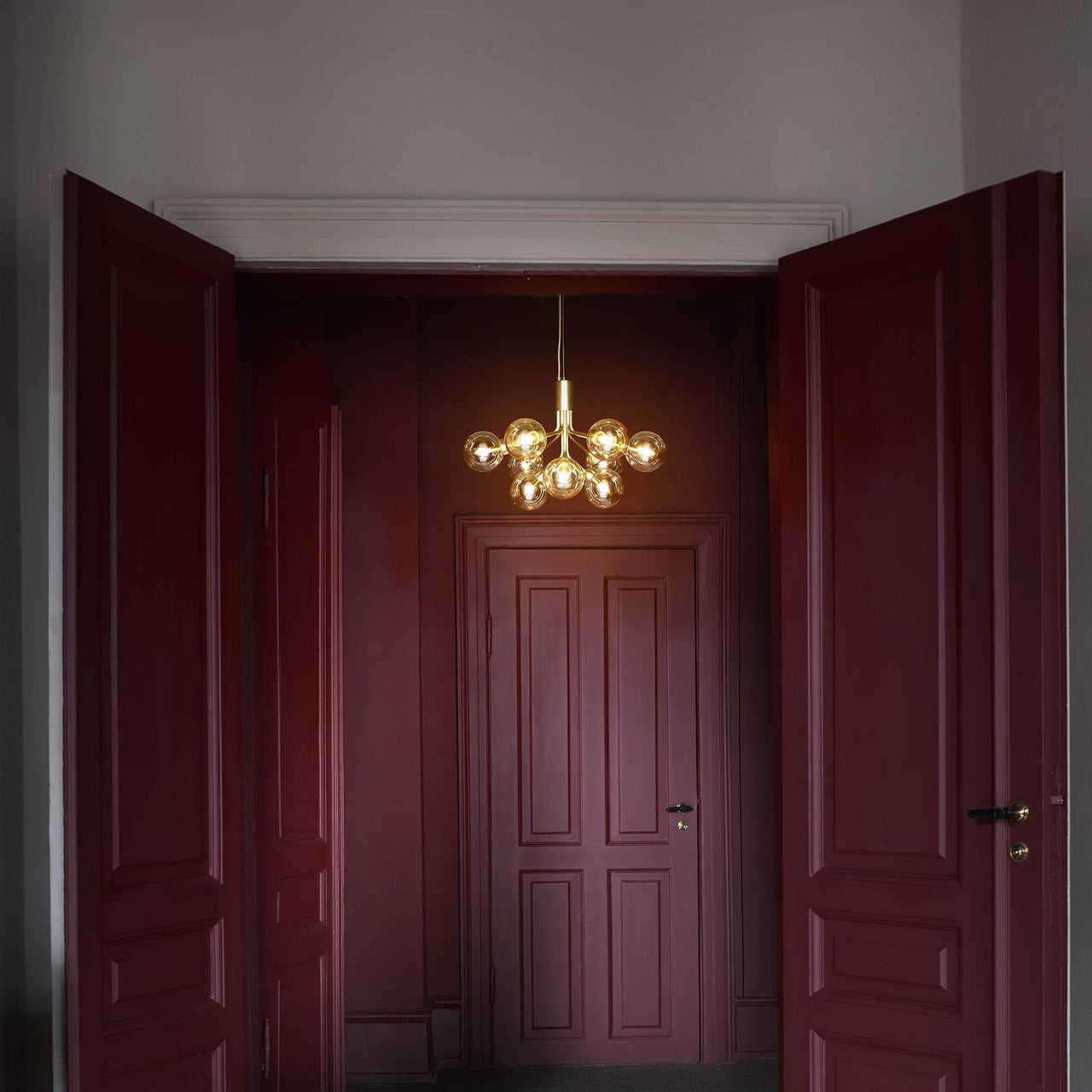 insitu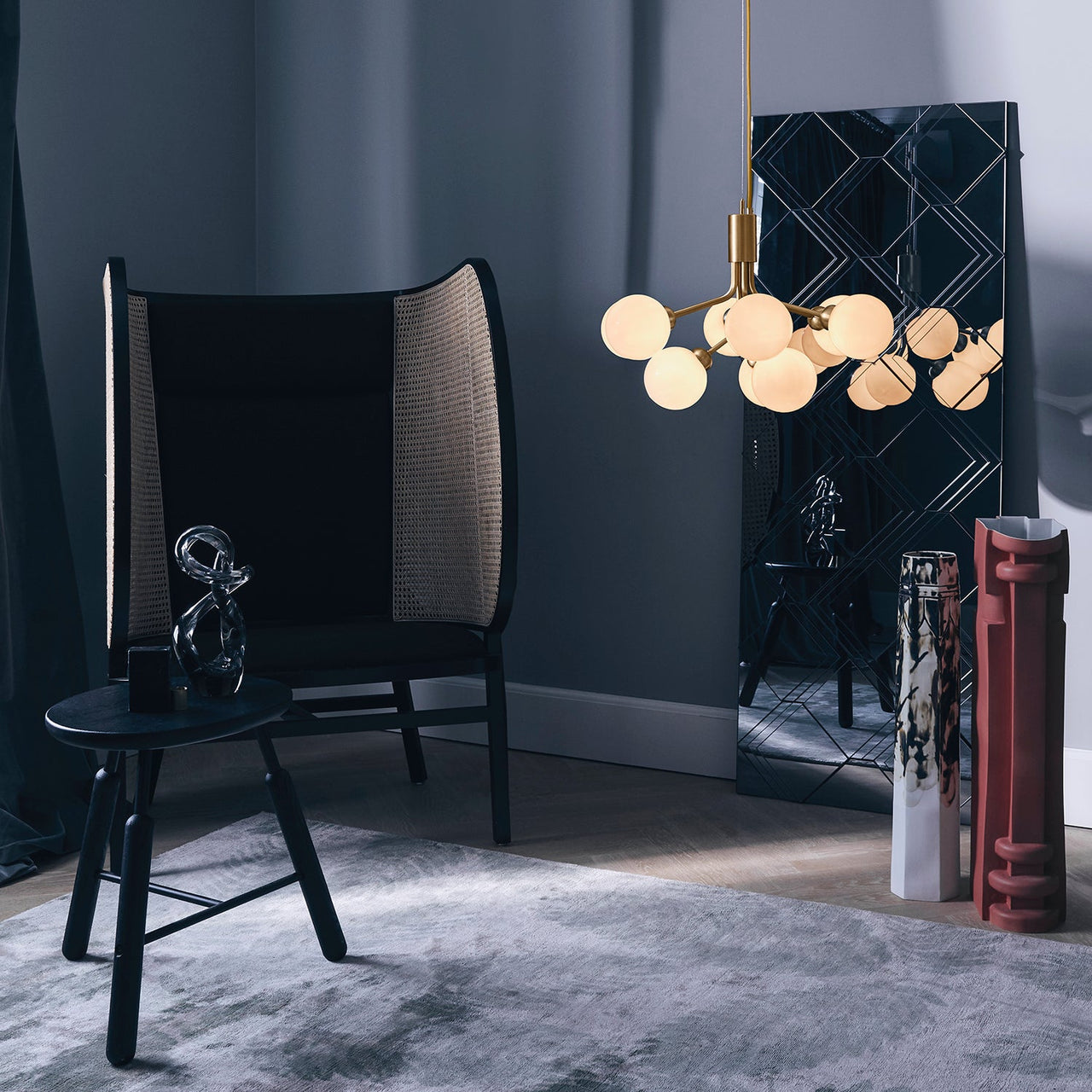 insitu
---
---
Gathered like a bouquet of flowers, the lights of designer Sofie Refer's striking chandelier make it a natural to grace smaller spaces. Apiales holds 9 exquisite mouth-blown glass globes unfolding like flower stalks suspended in space and available in a choice of brushed-brass or black-satin finishes. Spreading its illumination evenly, it's perfect over a dining table, in the bedroom, or to light an entryway or hall.
Size
15.3" h x 23.4" dia (39.9x59.5cm)
Cable length: 157.5" (400cm)
Ceiling plate: 1.1" h x 5.7" dia (2.9x14.5cm)
Material
Anodized metal, mouth-blown glass, fabric
Technical
Contact us for UL details
G9
Color temperature: 2700K
Dimmable
Bulb not included
Brand
Nuura
Nuura is an emerging Danish lighting brand that creates eclectic collections  that each revolve around an updated chandelier. Cofounder Sofie Refer (alongside Nadia Lassen and Peter Østerberg) says,  "For me, chandeliers are a beautiful symbol of generosity, a piece of art. That is why I always design a family of products around a chandelier." Inspired by the fabled Nordic light, the company's offerings meld time-honored artisanal techniques like mouth-blown glass with state-of-the-art technology.
Whether is is Anoli's elegant drop motif inspired by a rainy day during autumn or Blossi's futuristic domed shapes, each grouping extends to pendants, table lamps and wall fixtures. "I like repetitions a lot," Sofie says. "There are repetitions everywhere in the nature, and they just bring certain calmness to a room, connecting things."